Dynasty Restaurant (滿福樓) at Renaissance Kuala Lumpur Hotel welcomes the beginning of an auspicious Lunar New Year with exceptional culinary indulgences from 21 January to 19 February 2019.
Led by Executive Sous Chef Kok Chee Kin, the restaurant's MasterChefs have specially crafted 10 decadent dine-in set menus and exclusive à la carte specials that are a perfect blend of old traditions and modern tastes to create unforgettable memories.
Toss to good fortune and celebrate the occasion with 6 varieties of Prosperity Yee Sang that comprises of different seafood options and an appetizing mix of refreshing ingredients such as white turnips, carrots, yam as well as accompaniments like pickled ginger and pomelo, complemented with a homemade plum sauce.
Twin Prosperity Yee Sang with Salmon & Whitebait
Yee Sang is a must have during Chinese New Year. When all the ingredients and sauces are poured in, everyone will get ready with their chopsticks for the Prosperity Toss ritual. Do you look forward to Prosperity Toss during Chinese New Year?
Diners looking for an all-new experience must try this year's exquisite collection of Lunar New Year Dim Sum stunners conjured for the most discerning palates. Explore awe-inspiring interpretations of yum cha traditions over delicate Steamed Fu Kwei Abalone Dumplings, Golden Dumplings with Carrot Sauce, Crispy Potato with Egg Custard and more at RM19.80nett per basket.
Steamed Spinach Jade Dumpling with Prawns
Taro Ball with Prawns & Salted Egg
Golden Dumpling with Carrot Sauce
Epicureans seeking to usher in the New Year with a luxurious reunion dining experience may indulge in one of Dynasty's gourmet set menus. Offering 3 scrumptious 9-course set menus that symbolize happiness, prosperity and health. The menus on offer feature exquisite traditional selections such as the Braised Scallop Broth with Bamboo Pith and Dried Seafood, Steamed Live Sea Grouper in Premium Homemade Soy Sauce, Sun-dried Oyster with Black Moss, Flower Mushrooms and Vegetables as well as modern creations like the Sautéed Fresh Prawns with Chinese Herbs, Poached Farm Chicken with Kwei Fei abalone in Superior Stock, Crispy Almond Chicken and more.
Braised Dried Seafood Soup with Crabmeat, Scallop & Dried Abalone
Poached Farm Chicken with Kwei Fei Abalone in Superior Stock
Steamed Live Sea Grouper in Premium Homemade Soy Sauce
Sautéed Fresh Prawns with Chinese Herbs
Sun-dried Oyster with Black Moss, Flower Mushrooms & Vegetables
Steamed Lotus Leaf Rice with Dried Scallop
Double-boiled Dried Sugar Cane with Peanut, Fungus & Pear
Dynasty Fortune Pastries
Set menus start from RM1,798nett for a table of 10 persons. For intimate gatherings, diners may select the Golden or Diamond 9-course set menus priced from RM1,098nett for a table of 6 persons, while smaller groups may choose 7 or 8-course celebratory set menus from RM498nett for a table of 5 persons with highlights like Crispy Farm Chicken with Spicy Minced Garlic and Roasted Duck King.
Gourmands seeking for an even more exclusive dining experience may indulge in 3 different individual set menus featuring thoughtfully crafted dishes such as Golden Minced Garlic Soft Shell Crab with Money Bag, Chilled Chicken Roulade with Golden Soft Shell Crab and Honey Baked Cod Fish with Mushroom and Minced Duck in Golden Cup. Each individual set menu is priced at RM198nett, RM298nett and RM398nett per person respectively, for a minimum of 2 persons per order.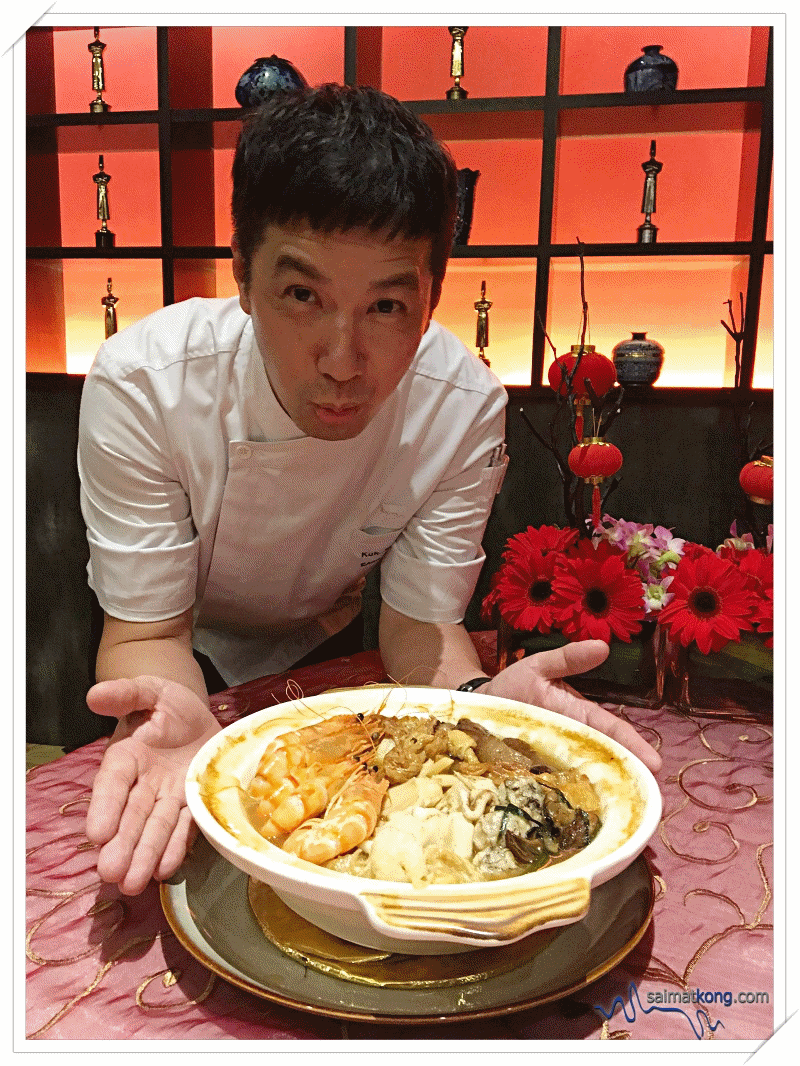 Celebrate festive reunions in the comfort of you home or office with the Dynasty's signature Treasure Pots. An impressive centerpiece for any table, the Prosperity Treasure Pot is layered with ingredients including fresh and sun-dried scallop, fish maw, fish stomach, Fu Kwei abalone, sea cucumber, roasted duck, farm chicken, flower mushroom, money bag, dried bean curd, tiger prawns and fungi mushroom.
Prosperity Dynasty Treasure Pot
Brimming with whole Hokkaido and sun-dried scallops, whole abalone, stuffed dried oyster, Sang Kang ball, smoked duck, bamboo pith and a variety of premium treasures, the Golden Prosperity Abalone Treasure Pot is an indulgent 'melting pot' of top-grade ingredients for a reunion full with abundance. Treasure Pots are available for dine-in and takeaways at RM498nett and RM998nett for 5 persons.
For restaurant reservations and to discover more, please call 03 2771 6692 or email
[email protected]. Online reservations can be www.klrenaissance.com/dining.
Address: Jalan Sultan Ismail, Kampung Baru, 50300 Kuala Lumpur, Wilayah Persekutuan Kuala Lumpur
Phone: 03-2771 6692
Comments
comments