Inside Scoop is one of my favorite places for dessert coz this place serves one of the best homemade ice-cream with waffle. However, I don't go there often coz it's hard to find a parking spot in Bangsar area. Both The Wifey and I are extremely happy when they opened a new outlet at Damansara Jaya coz it's nearer to us and parking is easier to find 😉
Inside Scoop is located next to Jin Xuan Hong Kong Dim Sum Restaurant and along the same row as Wing Hiong Bak Kut Teh in Damansara Jaya.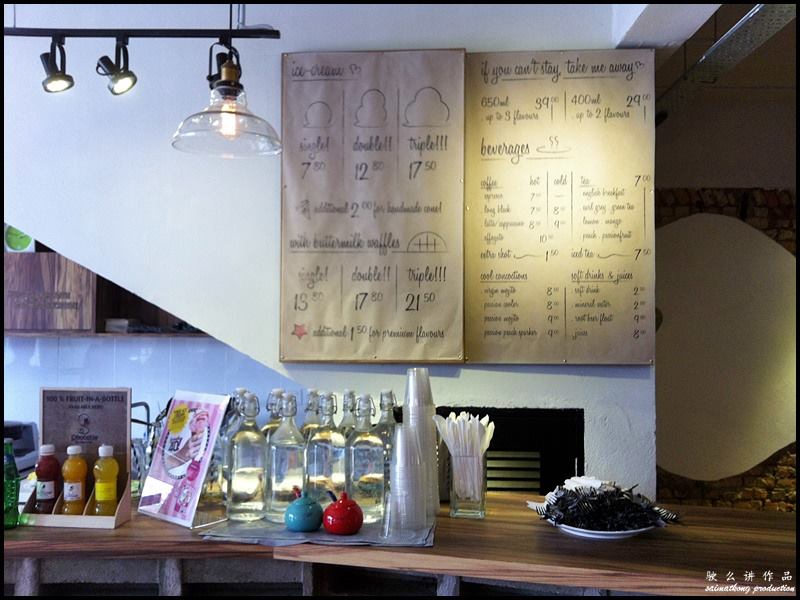 Just like their Bangsar outlet, Inside Scoop at Damansara Jaya serves a wide selection of handcrafted ice-cream, waffles, drinks. You can have your ice-cream in a cup, cone or with waffles 🙂
Unlike their Bangsar outlet which occupies half a lot with limited seating, this outlet (Inside Scoop @ Damansara Jaya) is more spacious with ample seating and it's easier to find parking here.
There's a comfy corner with swing and bean bag seats which is perfect for chilling with friends over ice-cream 😉
While waiting for our dessert to be served, The Wifey took a couple of photos for me with the swing. She taught me how to pose but I think the poses are more suitable for women. LOL
Triple scoop ice-cream (pistachio, hazelnut & yellow tango) with waffle (RM23)
I had initially wanted to have my ice cream with cone but I just couldn't resist their delicious waffle. Their waffles have a crunchy exterior and a fluffy interior which is a perfect match for ice cream. Love it!
Verdict: Ice Cream is the perfect treat for hot weather coz ice cream cool you down and it makes you feel good eating it 🙂 Inside Scoop at Damansara Jaya is a cosy cafe specializing in handmade ice cream. There are a variety of flavors to choose from which include Valrhona Chocolate, Cempedak, Pistachio, Vanilla, Durian, Cookies & Cream, Bandung and more. This cafe has a nice and relaxing environment for you to chill with your family and friends over your favorite ice cream. Inside Scoop is definitely the place to go to satisfy your sweet cravings or to have dessert after meal.
Inside Scoop @ Damansara Jaya
Address: 57, Jalan SS22/19, Damansara Jaya, 47400 Petaling Jaya.
Tel: 03-7731 4735
Opening Hours: Mon – Sun 12.30pm-11pm
Website: www.facebook.com/insidescoopkl
Photo Album : View More Here
Comments
comments