When I was a kid, I used to look forward to Chinese New Year coz it meant school holidays and I could stay up late 🙂 Besides that, I also look forward to receiving red packets from my parents and relatives, watching lion dance show, playing firecrackers and eating tidbits. Now that I'm older, Chinese New Year for me is the time to get together with friends and visiting relatives to catch up 😉 For every year on the second day of the Chinese New Year, relatives from my moms' side would gather at my grandmas' house and then we would eat out at Chinese restaurant. This year, we went to Restaurant Oversea (海外天大飯店) at PJ Armada for dinner.
Traditionally, married daughters will go back to visit her parents on the second day of Chinese New Year. Since we're joining my moms' side of family for dinner, we went back to my mom in laws' house for lunch. She cooked a table full of delicious dishes.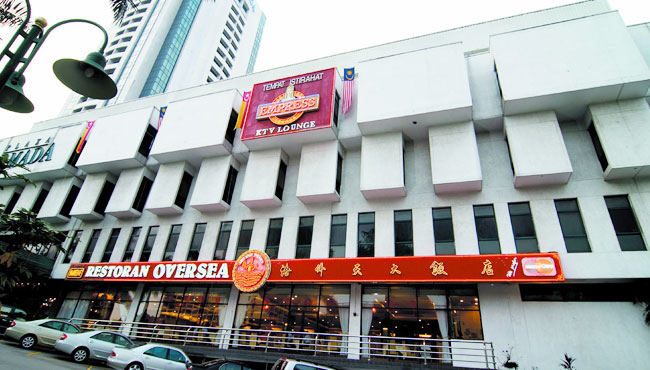 Restaurant Oversea which is located at Plaza Armada is the restaurant where I hold my wedding reception in 2013 and that was like two years ago. This chinese restaurant is packed especially during this festive period with families having dinner.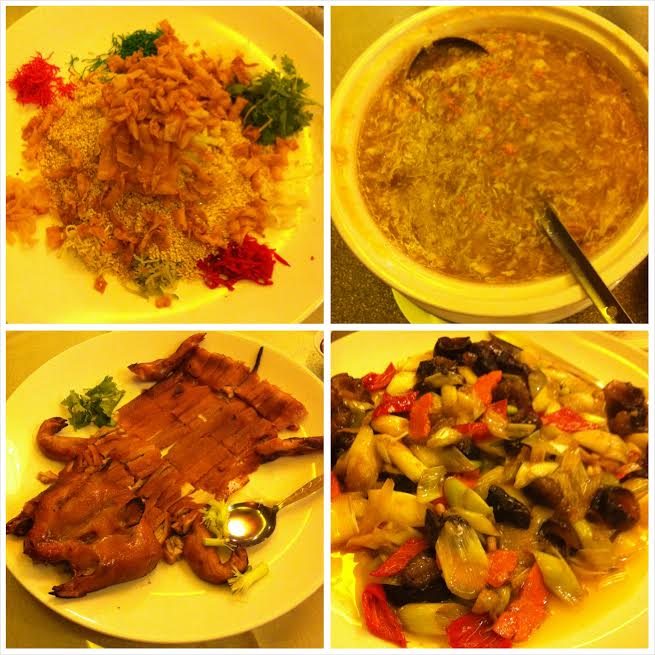 1) "Yee Sang" with Sliced Salmon Fish & Pear The Yee Sang at Oversea Restaurant doesn't only have the usual ingredients but also comes with sliced pear making it crunchy and sweet.
2) Braised Shark Fin Soup with Crab Meat
3) Roasted Crispy Suckling Piglet in Hong Kong Style The skin of the suckling piglet is perfectly crispy while the meat is juicy and flavorful. Very yummy!!!
4) Steamed Estuary Grouper Fish with Bamboo Stick and Dried Orange Peel
5) Pan Fried Crystal Prawns with Superior Soya Sauce
6) Sauteed Sea Cucumber with Garlic
7) Glutinous Rice with Waxed Meat Oversea Restaurant serves one of the best 'Lap Mei Fan', with the perfect mix of Chinese sausages, liver sausage and waxed duck. This one-pot glutinous rice is high in calories and cholesterol but we only have it once a year, so eat first and exercise later. Haha
8) Oversea Dessert Cold Pomelo Juice with Jelly
Lastly, it's dessert to end the meal. Chinese love having dessert coz it means a sweet ending to a satisfying meal. The dessert is Mochi with peanut filling. Chinese love to eat peanuts during Chinese New Year coz it symbolizes longevity and prosperity.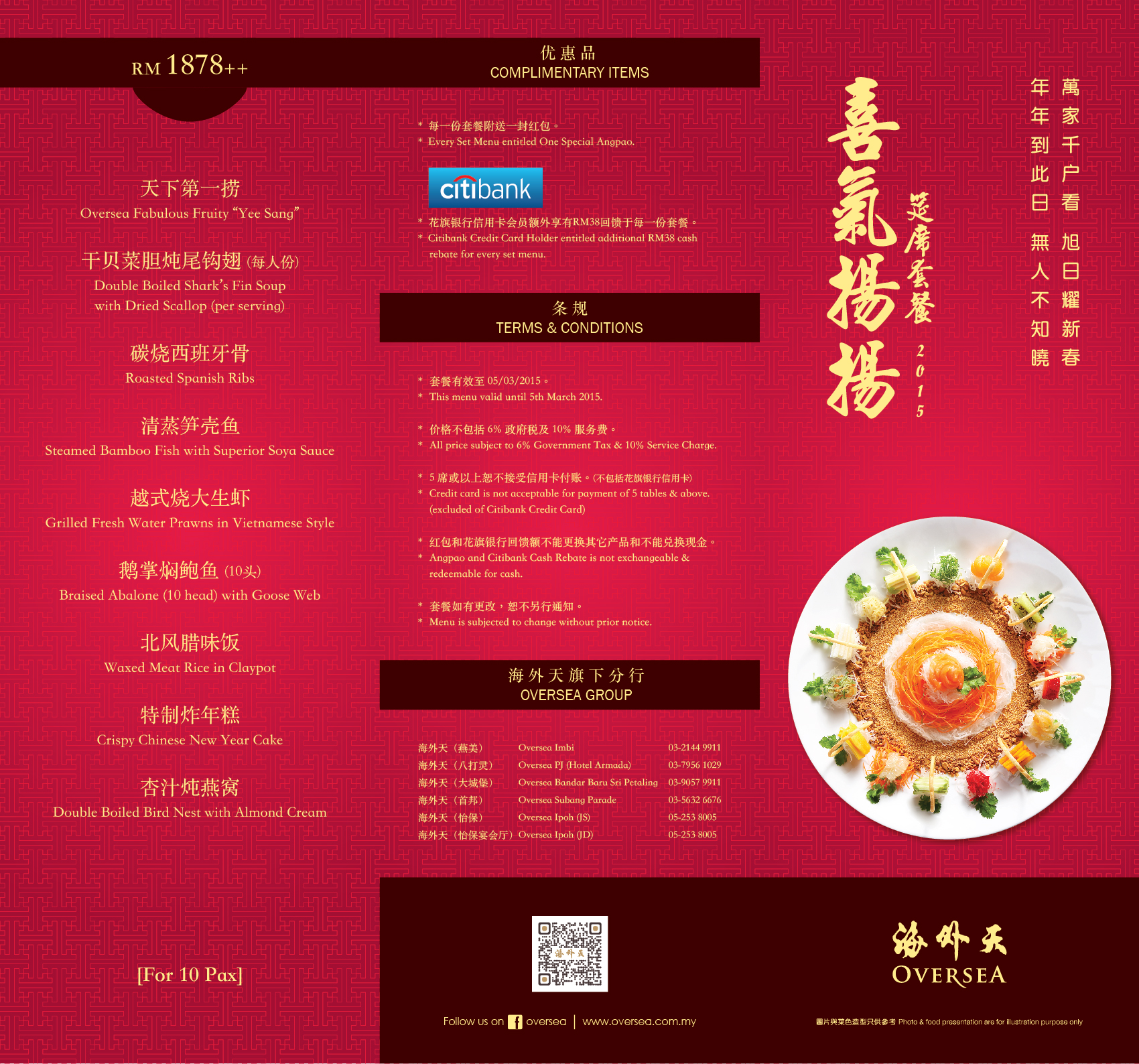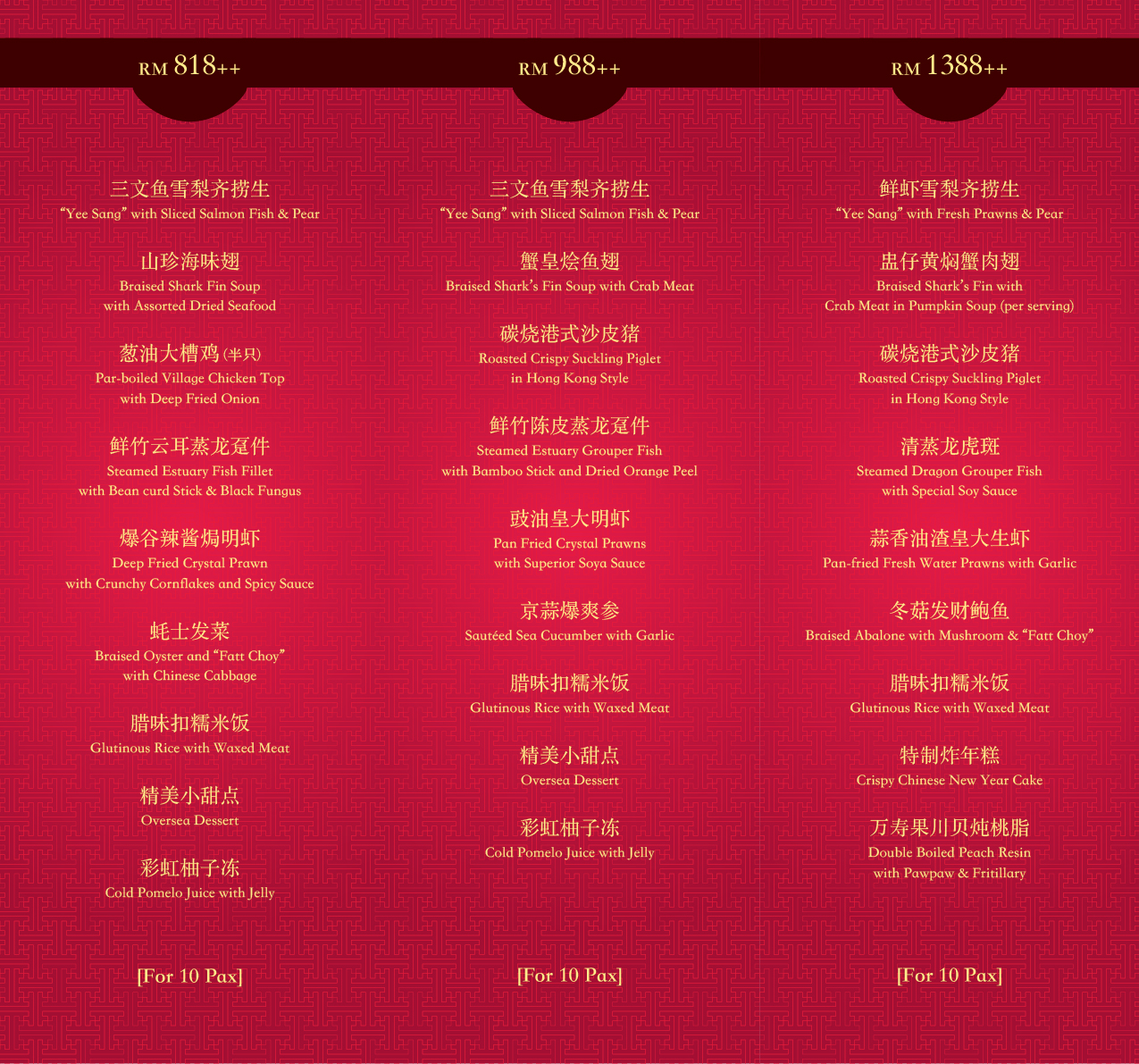 Verdict: Restaurant Oversea (海外天大飯店) at PJ Armada is a famous chinese restaurant serving authentic Chinese dishes. Their specialties include Braised Sea Cucumber with Mushroom, Crispy Roasted Duck, Drunken Fire Prawn, Deep-Fried Crispy Eggplant with Salt & Pepper and more. They have several branches in Malaysia; Imbi, PJ Armada, Jaya One and Subang Parade to name a few.
Restaurant Oversea (海外天大飯店)
Address: Lot 28-Ground Floor, Lorong Utara C, 46200 Petaling Jaya, Malaysia.
Tel: 603 – 7956 1029
Business Time: 11.30 am – 2.30 pm; 5:30 pm – 10.30 pm
Website: www.oversea.com.my
Comments
comments