Sterilizing is a common practice in any household with babies. It's important to sterilize all feeding equipments as babies are most vulnerable to viruses, bacteria, and parasitic infections. I used to sterilize Aiden's milk bottles with electric steam sterilizer which is quite a hassle as I had to always discard deposits that accumulate in the steam sterilizer. Recently, I had the opportunity to review uPang UV Sterilizer and I must say that it provides a more convenient and efficient way to sterilize. I'm gonna share with you soon why I prefer UV Sterilizing to Electric Steam Sterilizing.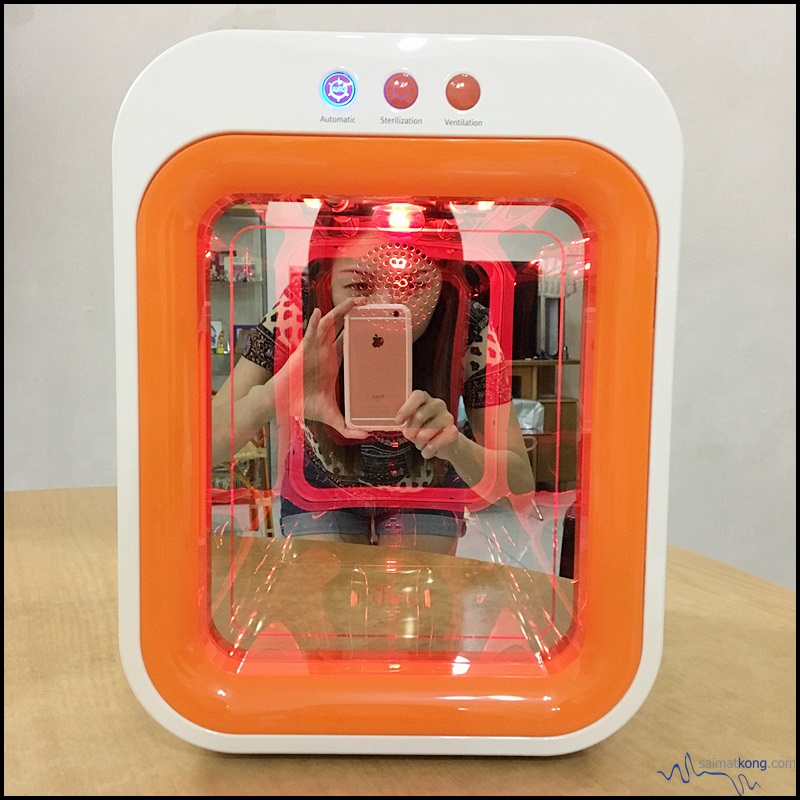 uPang is the World 1st & Korea No.1 Top Selling UV Waterless Sterilizer. It is designed and made in Korea.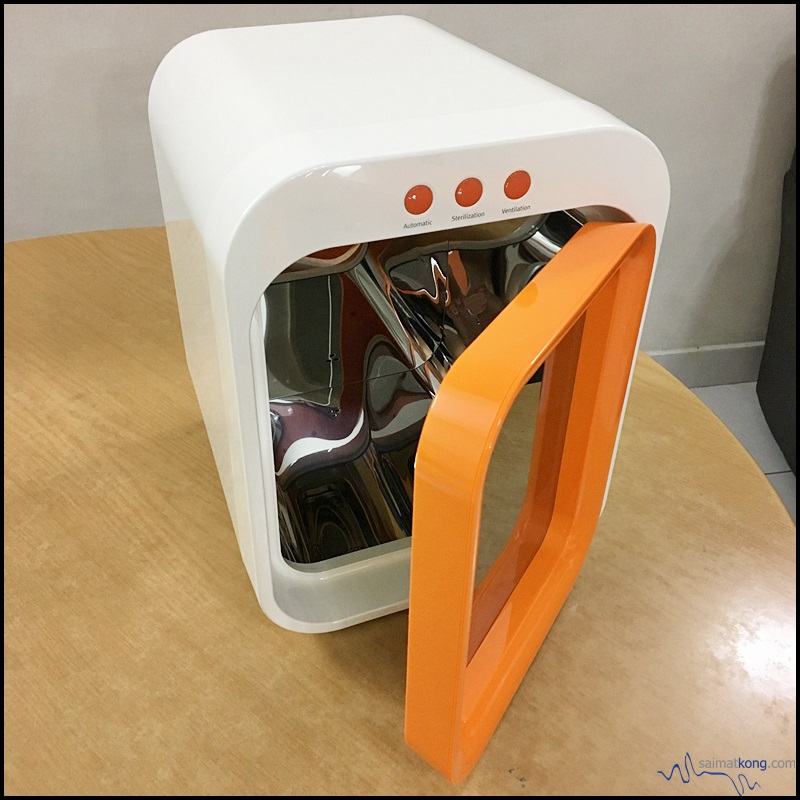 uPang is the only Korean brand UV Sterilizer that passed Europe S Mark Certification for Baby Bottle Sterilization (instead of Kitchenware Sterilization), FDA registered as medical device product and six other health organisations of the world.
Here are the reasons why I love and prefer uPang UV Sterilizer to Conventional Sterilizers:
• Beautiful design with bright & fun colours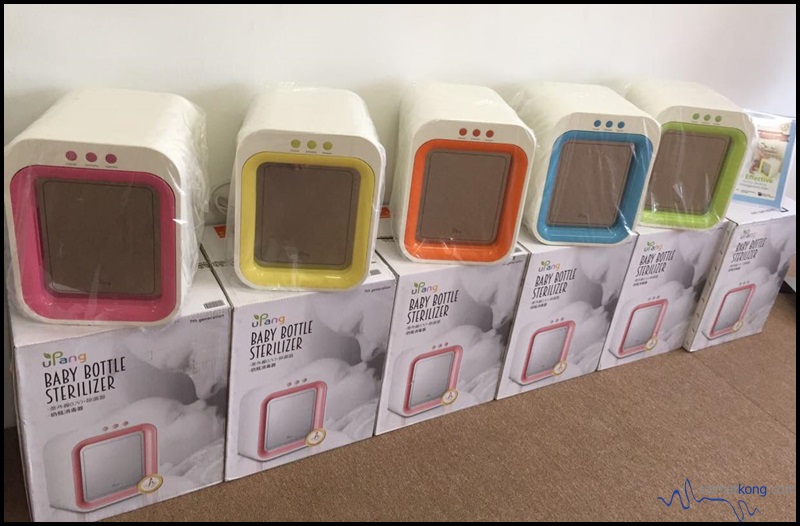 Weighing about 5kg, uPang UV Sterilizer comes in bright colours; Pink, Green, Blue, Orange and Yellow. I chose ORANGE because it's a neutral and happy colour 🙂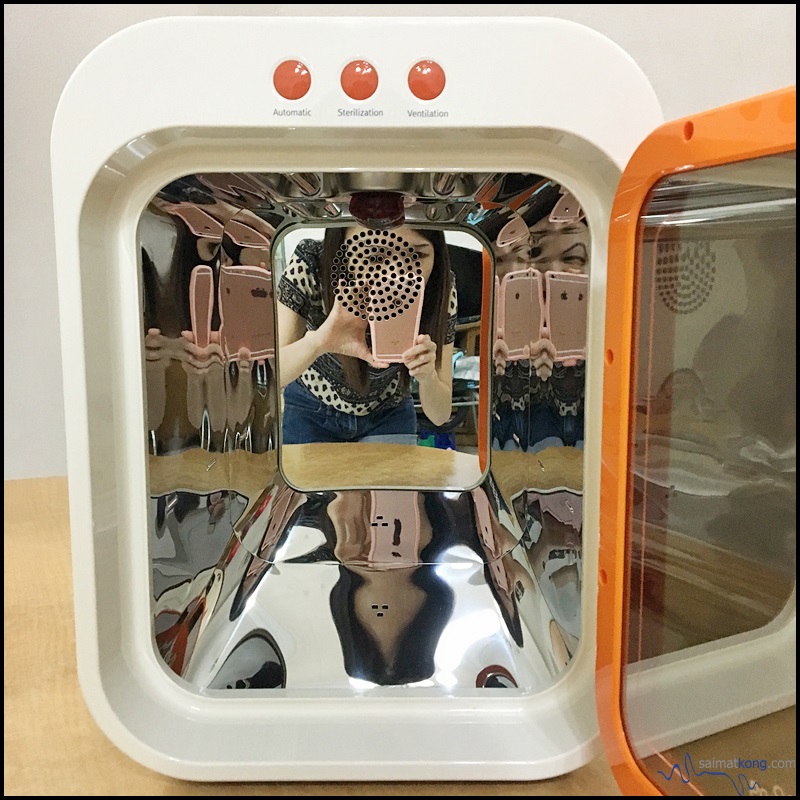 The uPang UV Sterilizer comes with 5 sided High Quality Super-Mirror 304 Stainless Steel with 1 sided UV High Reflective Glass Panel to ensure 360 Degrees of Effective Reflection of UV Light Penetration. The sterilizer has no plastic surfaces on its inside walls including the back panel on the back of the door which means there's no dead angle as plastic cannot reflect UV light.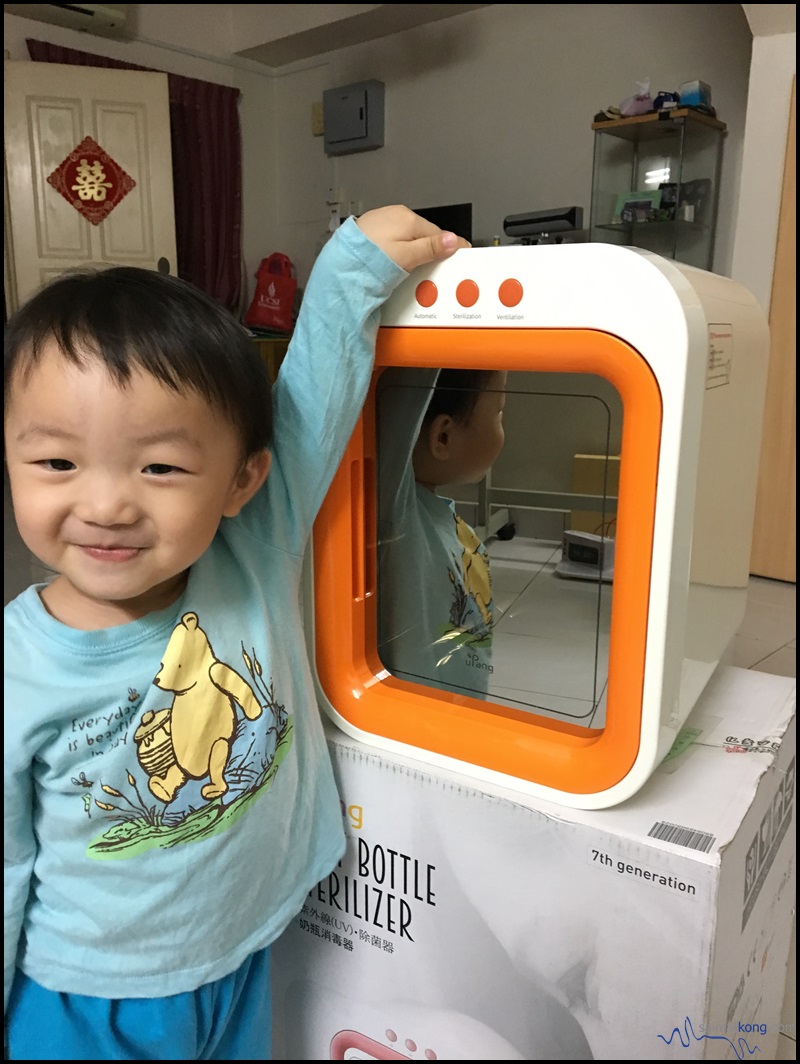 Aiden got so excited when we unboxed the uPang UV Sterilizer coz he thought we him a new toy 😄
• Efficiency – Dry & Sterilize, 2-in-1
Upang utilizes Philips UV Purification Lap Technology which can effectively kill 99.999% of germs and bacteria. I used to believe that the super-hot steam from electric steam sterilizer would kill all the germs and bacteria, but in actual fact steaming cannot fully eliminate germs and bacteria.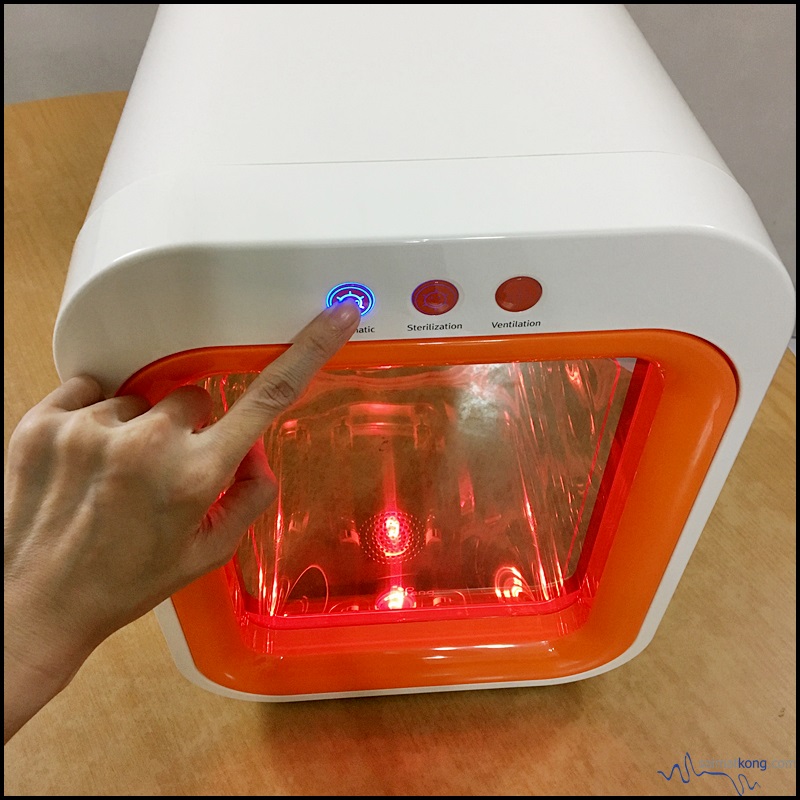 There are three buttons function: Auto, UV Sterilization and Ventilation. I really like the Auto mode (dry + sterilize) as all things will be nicely dried and sterilized, which means that I didn't have to spend any additional time drying the items. After it's done, I can just leave the sterilized items in the sterilizer until I need them, which means I no longer have to place them all over my kitchen and then worry about dust 😉
• Safety
uPang UV Sterilizer uses Infrared Light Low Temperature Drying at a controlled 40 degrees celcius. I reckon this is much better than boiling or steaming at high temperature will damage baby bottles nipple much quicker. Also, boiling and steaming at high temperature will increase the amount of harmful chemicals released by plastic bottles.
• Storage
The uPang UV Sterilizer may look small but don't be deceived by its size. I'm amazed that it can fit 14 bottles coz my steam steriliser could only fit about 6 bottles.
Look at how much things I can fit in there nicely!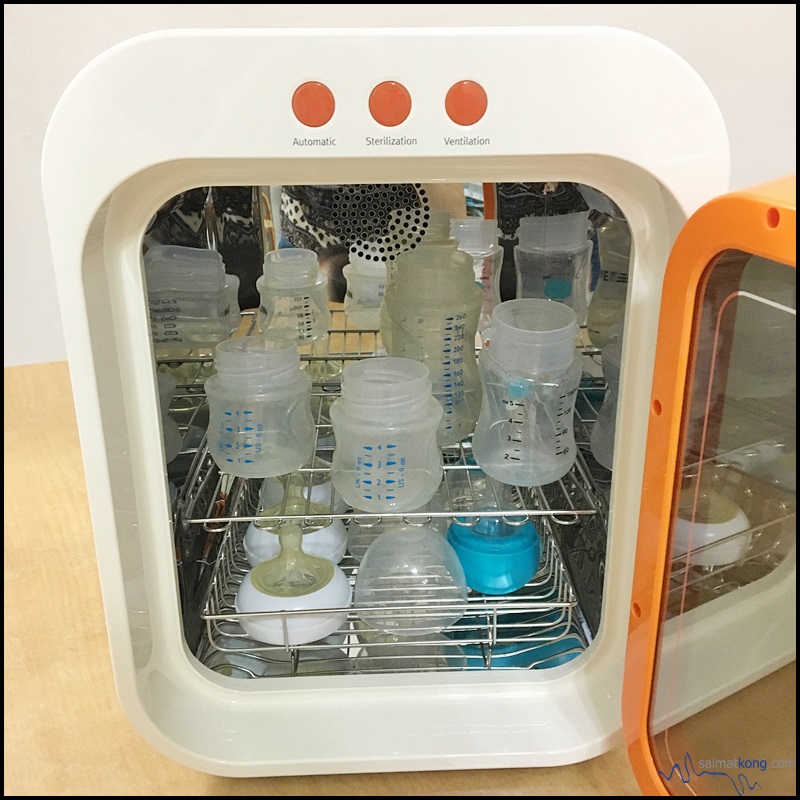 Top rack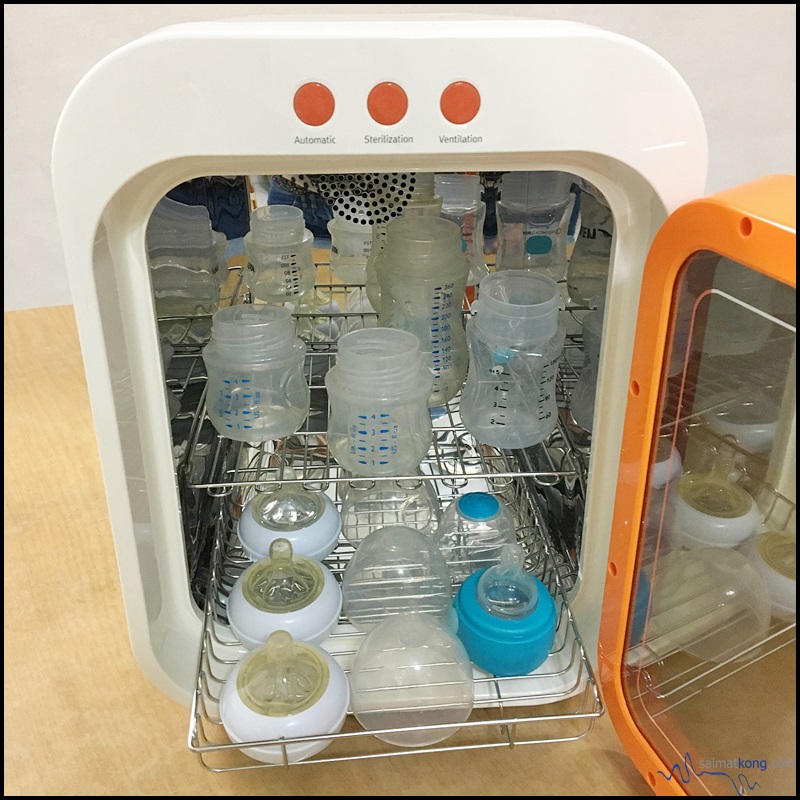 Bottom rack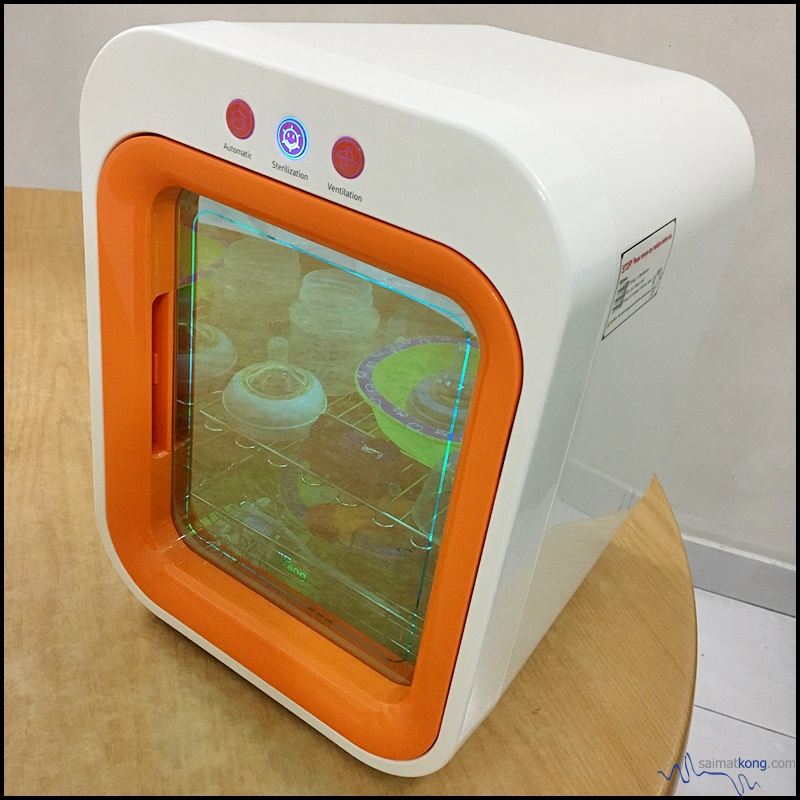 This is how the interior looks like with all the things that need to be sterilize. I like that I can just store the dried and sterilized items inside the sterilizer until I need them again and this actually save me lots of space 😉
• Convenient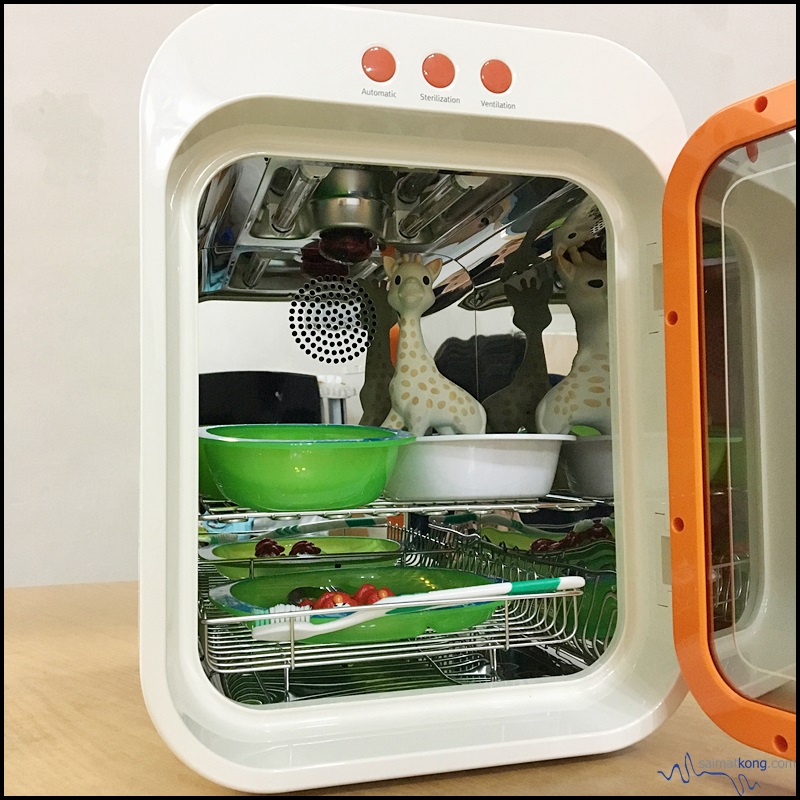 One of the good feature of this sterilizer is that I can also use it to sterilize any household items like toys, cutleries, remote controls, mobile phones, toothbrush, and basically everything that my baby touches all the time. This actually save me lots of time and give me a peace of mind that whatever my baby touches and put in the mouth are free from germs and bacteria.
• Hygienic
Another feature that I like about uPang UV Sterilizer is that it's waterless which prevents the growth of mold and bacteria. With my previous steam sterilizer, I had to remember to take out the sterilized items from the sterilizer and transfer it to a drying rack for air-drying. There was one particular time when I forgot and the next day, I found black spots on the bottle 🙁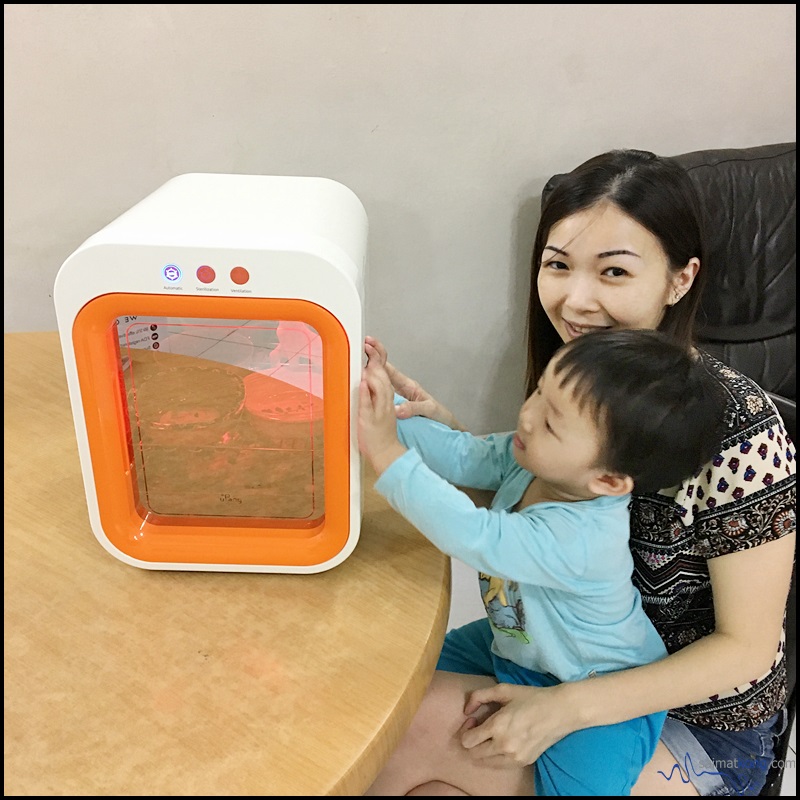 The uPang UV Sterilizer offers a more convenient method of sterilizing as it can dry and sterilize right away. It's also safer as it's waterless which prevents the risk of bottles damaged by boiling water. And the best part is, the sterilizer uses the power of Ultra Violet Light (UV) to eliminate 99.9% of harmful bacteria and germs which is harmful to babies. When babies are safe and healthy, we as parents are happy 😀
If you haven't gotten a sterilizer and planning to get one, you may want to consider this uPang UV Sterilizer. It's very efficient in killing germs and harmful bacteria, easy to use, convenient and did I forget to mention that it looks pretty too 😉
You can get uPang UV Sterilizer now here from Lazada or Shopee.
—
You can subscribe to
my blog, follow me on Facebook, follow Instagram, follow Twitter and Youtube for more updates!
—
Comments
comments