Win RM1000 Supermarket Vouchers!? Carrefour, Giant, Tesco
OOhhhh yeah… Want to Win RM1000 Supermarket Vouchers!? You may choose either Carrefour, Giant, Tesco?
Did you received this email? Saying that you could win RM1000 Supermarket Vouchers??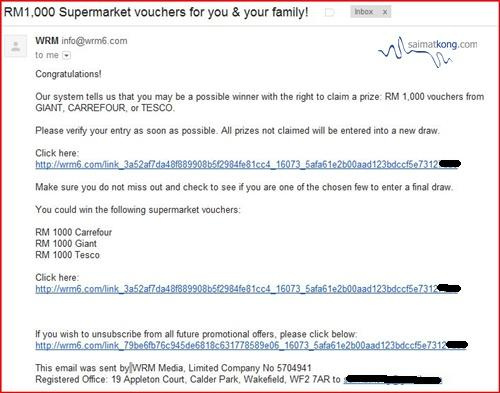 RM1,000 Supermarket vouchers for you & your family!

Congratulations!

Our system tells us that you may be a possible winner with the right to claim a prize: RM 1,000 vouchers from
GIANT, CARREFOUR, or TESCO.

Please verify your entry as soon as possible. All prizes not claimed will be entered into a new draw.

Click here:
http://wrm6.com/link_…

Make sure you do not miss out and check to see if you are one of the chosen few to enter a final draw.

You could win the following supermarket vouchers:

RM 1000 Carrefour
RM 1000 Giant
RM 1000 Tesco

Click here:
http://wrm6.com/link_…

If you wish to unsubscribe from all future promotional offers, please click below:
http://wrm6.com/link_…

This email was sent by WRM Media, Limited Company No 5704941
Registered Office: 19 Appleton Court, Calder Park, Wakefield, WF2 7AR to [email protected]
When you click on the link it will lead you to http://www.yourvoucher-malaysia.com/
Out of curiosity, I try to submit and I think it's merely a mock page to collect information and will be using all the details to spam you?
After fill up the information, you will received a missed call from either one of this number 0049694056370 or 00496926012260. It sound suspicious right? Why want to miss call to the number? Just to verify the number that you fill in is correct or valid? Is this against the privacy? Why missed call??!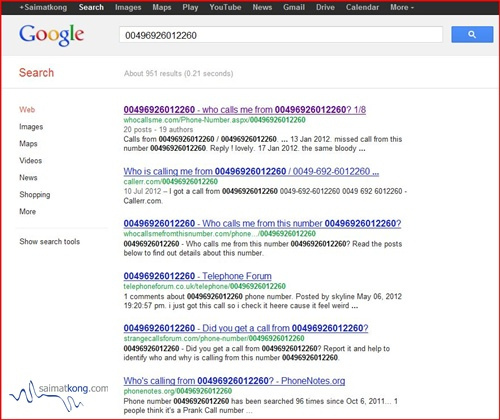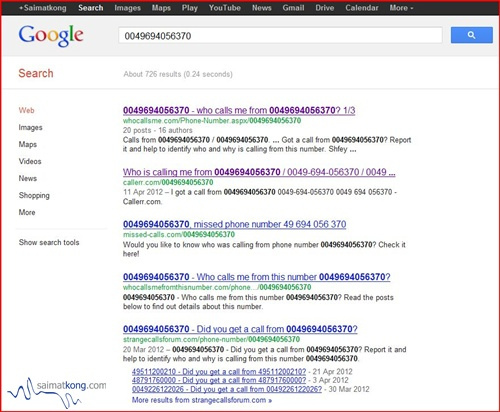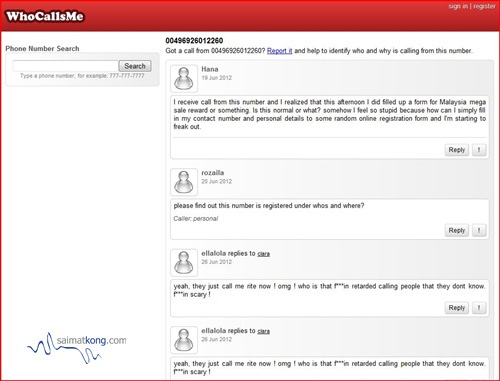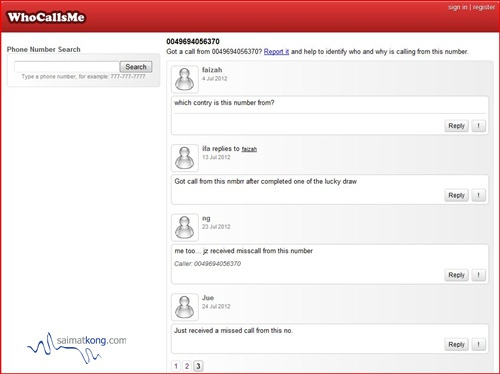 Check and read up the PRIVACY POLICY below.
PRIVACY POLICY

1. Purpose of Privacy Policy
This Privacy Policy is designed to assist you in understanding how we collect and use the personal information you provide to us, and in making informed decisions when you are using our website.

2. What information do we collect?
When you visit our website, you may be providing us with two types of information:

personal information you knowingly choose to disclose to us, e.g., your name, mailing and email addresses and telephone number which you provide to us during the registration process for the Lucky Draw; and
website use information collected on an aggregate basis as you and others browse our website.

3. What do we use your personal information for?
The personal information we collect from you may be used in one of the following ways:

To promote and market products or services offered by us, our sponsors and our clients;
To improve on our website;
To enable us to send periodic emails and/or newsletters, and to contact you via any media pertaining to updates and information on products or services offered by us, our sponsors and our clients;
To enable our sponsors to contact you directly via any media, on their products and services; and
To transfer, sell or assign such information to any entity to which we divest all or a portion of our business, or to such of our clients as we deem appropriate.

4. Will your personal information be passed on to any third parties?
We treat the personal information that you have provided to us confidentially. We do not release any of your data for identification or convey it to third parties if you have not given your explicit consent permitting us to do so. However, please note that we will release your personal information if required to do so by law, including without limitation, by search warrant, subpoena or court order. In the event that you have provided information directly to our sponsors, such data will be subject to the respective privacy policies of our sponsors. We shall not be held responsible for the protection of the information supplied by you directly to our sponsors.

5. Can your personal data for identification be updated, corrected or deleted?
You can have your account deleted or deactivated by sending an email to [email protected]. However, please keep in mind that once you have deleted or deactivated your account, your user alternatives regarding our range of services will then be limited to those of a non-member.

6. What security measures are put in place to protect your personal information against loss, misuse or alteration?
We take reasonable precautions to keep your personal information secured. All personally identifiable information is subject to restricted access to prevent unauthorized access, modification or misuse. However, we cannot assume responsibility for the publication of information due to errors in data transmission or unauthorised access by third parties.

7. What else should you know about data protection?
You should be aware that information which you voluntarily reveal over the Internet, e.g. in discussion forums, via email or in chat rooms can be used by other parties. We do not monitor the actions of our visitors and registered members. If you reveal personal information to such third parties, you do so at your own risk.

8. Changes in our policy
We reserve the right to change or remove this Privacy Policy at our absolute discretion. We will post any new policy here and we encourage you to visit this area frequently to stay informed.

9. Who to contact? Please write to us at [email protected] if you have any comments or questions about this Privacy Policy, or if you wish to be removed from our mailing list or report any violations of the Privacy Policy. We will respond to you as soon as we receive an email or notification from you.
Terms and Conditions of Participation

The following terms and conditions shall apply to the Online Contest ("Contest") which is organized by Planet49 Asia Pacific ("Planet49"), a company incorporated in the Republic of Singapore whose main business activity is to collect data for purposes of promoting and marketing of products or services offered by sponsors and clients of Planet49.
So, did you all receive this email as well? Is this a scam or something? Or it's just a gimmick to collect database of Malaysian users?
Should you fill up as well and hoping that you will get the RM1000 Supermarket Vouchers?? Anyone can confirm it's legitimate? Seems like a Singapore company running this contest and collecting the database? Hmmm… Most probably not till I receive it in my had! Let's see. Lolz.
Now there's another email telling you that you win Apple products! Win Apple iMac, Apple iPhone…!
Congratulations, select and WIN your favourite Apple product!

Congratulations!

Our system tells us that you may be a possible winner with the right to claim a prize: Apple iMac, iPhone 4 or New iPad.

Please verify your entry as soon as possible. All prizes not claimed will be entered into a new contest.

Click here:
http://wrm6.com/link_adc97d7be11f87509de…

Make sure you do not miss out and check to see if you are one of the chosen few to enter a final contest.

If you wish to unsubscribe from all future promotional offers, please click below:
http://wrm6.com/link_6751c990d5090a7456…

This email was sent by WRM Media Pty Ltd, ABN 66 150 071 980
Registered Office: Level 15, 309 Kent Street, Sydney, NSW, 2000 to [email protected]
Comments
comments