Tony Pua vs Chew Mei Fun – Tony Pua Won, Chew Mei Fun Lost Petaling Jaya Utara P106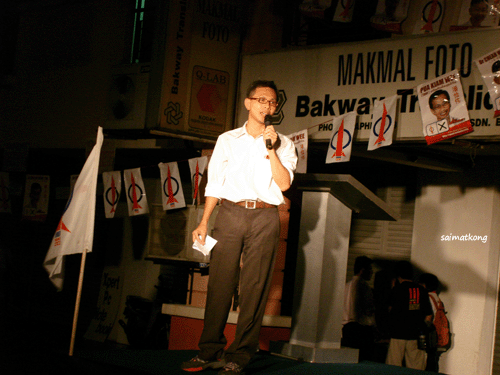 some of the previous video during the campaign in Taman Mayang
Tony Pua Kiam Wee (born 1972) is a Malaysian politician. Pua was the former Malaysian CEO of Cyber Village Sdn Bhd, a SESDAQ (SGX secondary board)-listed company. In early 2007, he disposed of all his interests in the company and tendered his resignation to join the Democratic Action Party (DAP).

Pua graduated from Keble College, Oxford University with a degree in Philosophy, Politics and Economics under a scholarship from the MTC Foundation in 1994. Prior to that, he received Asean and Shaw Foundation scholarships to pursue his "O" and "A"-Levels in Raffles Institution and Raffles Junior College.

In the 2008 general election, Pua is running for the Parliamentary constituency of Petaling Jaya Utara on a DAP ticket. He is running against the incumbent, Chew Mei Fun, Parliamentary Secretary to the Ministry for Women, Family & Community Affairs, and Deputy Chief of the Malaysian Chinese Association women's wing.[1]
Thank You Malaysians!

Thank you Petaling Jaya, Thank you Malaysians!

The people has spoken overwhelmingly and we at the DAP look forward to serving you with all our hearts.

I've received countless sms's and emails (not to mention tens of Facebook messages) of congratulations, as well as kind words of encouragement. I'd like to take the opportunity to thank all friends and supporters for the encouragement! 😉

I'd also like to apologise if I can't respond to every sms or email as I can tell you that my phone is jamming and hanging and re-booting (it takes forever) so often due to the sheer volume of calls and sms's coming in. There are also literally hundreds of emails I've received! 😉

Do know that I will be getting on with work even today as we have unexpected won not only a large number of seats, but also the Selangor, Perak and Penang state government. Now I have to think about how we can come up with consistent and constructive policies as the governing party to make these states the most forward looking states in the country. (Assistance from talented Malaysians willing to serve in Government to make a positive change welcome).

Thank you, thank you once again for being part of history in the making! Carpe Diem!
BAHAGIAN PILIHAN RAYA NAMA CALON PARTI BILANGAN UNDI STATUS
P.106-PETALING JAYA UTARA Tony PUA KIAM WEE DAP 37,851 MNG
CHEW MEI FUN BN 17,879
JUMLAH PEMILIH : 76,618
KERTAS UNDI DITOLAK : 527
KERTAS UNDI DIKELUARKAN : 56,295
KERTAS UNDI TIDAK DIKEMBALIKAN : 38
PERATUSAN PENGUNDIAN : 73.47%
MAJORITI : 19,972
as expected Tony Pua won against Chew Mei Fun. Dap have a big fight over BN in Selangor. Chew Mei Fun no longer PJU and not longer YB.
Chew Mei Fun website kena hack? Why it redirect to blogspot? Check it out here http://www.chewmeifun.org edited… now the website, it's back to normal.
more official election results from SPR
Comments
comments