Tian Xiang Yuan Vegetarian Restaurant (天香苑) @ OUG
The wife believe that it's good to once in a while follow a vegan diet in order to detox and cleanse your body of all the toxins accumulated.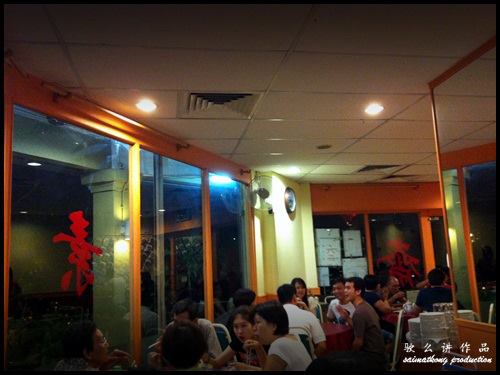 The vegan diet means eating more fiber-rich foods and cutting down on all types of meat, which means no fish, chicken, beef or pork. And so, we make it a point to go for vegetarian at least once or twice a month.
That's quite a struggle for a meat lover like me! However, this is also part of the slimming down secret ya?! Lolz.
Tian Xiang Yuan (天香苑) is one of the vegetarian restaurant we frequent whenever we feel like having a meatless meal. The restaurant occupied a corner lot and can be easily spotted as it's facing the roadside. It's at OUG near Steven's Corner Mamak. The service is good and fast. We usually order dishes to go with rice.
Vegetarian Assam Fish
This dish have a complex taste – sweet, sourish and spicy thick gravy with slices of mock fish with tomato, okra, egg plants, pineapple etc. Paired well with a bowl of hot steamed white rice.
Vegetarian Yam Basket
This Yam Ring aka Fatt Put in Cantonese has a crispy skin and a powdery centre enveloping mushrooms, assorted vegetables, mock meat and cashew nuts. Even vegetarian version of yam ring can taste this good!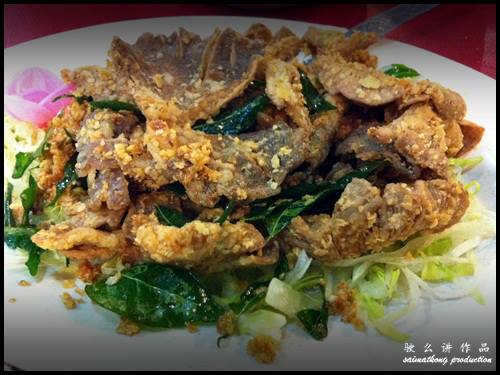 Buttered Flavoured Abalone Mushroom
Despite the name of this dish, I think the butter is replaced with non- dairy margarine. The abalone mushroom is deep fried and then stir fry with all the ingredients until crispy and aromatic. Highly addictive dish!
Double-Gen Beancurd
Simple and nice beancurd dish consisting of ingredients in Loh Hon Chai such as Chinese cabbage, shiitake mushrooms , button mushrooms , carrots, broccoli, gluten puffs, snow peas, baby corn, wood's ear fungus and etc.
Vegetarian Sambal Petai
This vegetarian version of stink beans is cooked with mock anchovies and vegetarian sambal. Not a bad dish but the mock anchovies somehow lack in texture and crunchiness. We prefer the meat version :/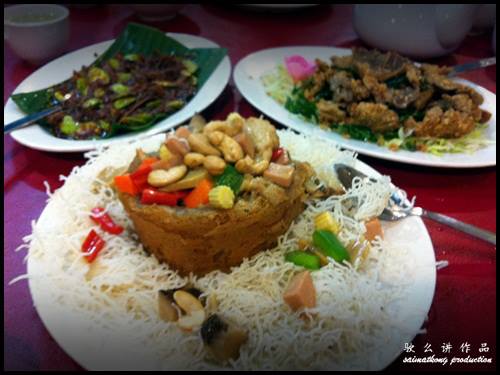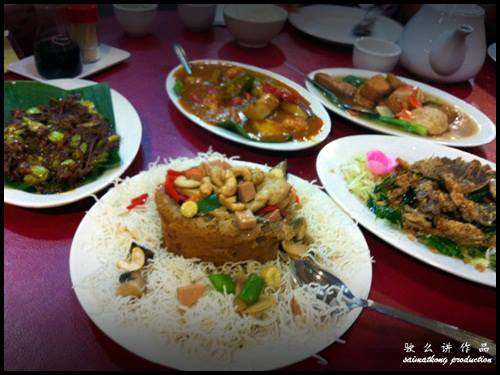 It's Wesak Day this Friday! It's a day for Buddhists to go vegetarian but for non-Buddhist, it's good to have vegetarian once awhile to cleanse the toxins in our body.
Be healthy and start off today!
"HAPPY WESAK DAY and HAPPY HOLIDAY PEEPS!"
To those not celebrating, have a great day with your family and loved ones!
Tian Xiang Yuan Vegetarian Restaurant (天香苑) @ OUG
Address: 65, Jalan Hujan, Taman Overseas Union, 58200 KL (same row as Rue Ee Chinese Restaurant)
Business Hours: 11am – 2.45pm
6pm – 9.45pm
Tel: 03-7784 2348
Comments
comments