Sharlinie Mohd Nashar Missing in Taman Medan area
Another girl missing after Nurin Jazlin Jazimin case. A nationwide search is on for Sharlinie Mohd Nasyar who was abducted near her home on Wednesday. This time the victim is five-year-old Sharlinie Mohd Nashar who disappeared while playing about 200m from her house in Taman Dato Harun on Wednesday.
Please take good care of your children and don't let any culprit got chance. Please…!!! Don't let your children be the next victim.

Sharlinie is missing… If you see her please contact police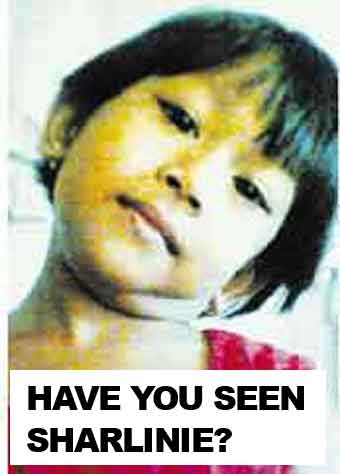 Those with information on Sharlinie's whereabouts could contact
her father Mohd Nashar Mat Hussain at 016-258 3450 / 016-270 9096
or police at 03-7966 2222
or Rakan Cop at 03-2115 9999.
Have you seen this man? This is the photofit of the possible molester which connected to the case.

PETALING JAYA: Another girl has gone missing. This time the victim is five-year-old Sharlinie Mohd Nashar who disappeared while playing about 200m from her house in Taman Dato Harun on Wednesday.

Missing: Mohd Nashar holding Sharlinie's picture as Suraya and Sharliena look on at their home in Taman Dato Harun, Petaling Jaya, on Wednesday.

Police are not ruling out the possibility that the "Kampung Baru molester" " the man responsible for the cruel killing of Nurin Jazlin Jazimin " could have abducted Sharlinie, the second to be reported missing in the Taman Medan area in two days.

On Monday, a six-year-old girl was abducted by a man on a motorcycle when she was playing alone near her flats in Kampung Sepakat, Taman Medan, about 2km from where Sharlinie went missing. The girl was found three hours later in Wangsa Maju in Setapak.

Police do not rule out that the Kampung Baru molester is involved in the case. In the 11am incident Wednesday, Sharlinie had followed her sister Sharliena, eight, to a playground about 200m from their double-storey link house in PJS 2. Half an hour later, Sharliena decided to return home but Sharlinie did not respond when she called out to her.

Sharliena rushed home to inform her mother, Suraya Ahmad, 28, who went to the playground to search for Sharlinie. About two hours later, Suraya lodged a police report at the district police headquarters. Petaling Jaya OCPD Asst Comm Arjunaidi Mohamed said Sharlinie was last seen wearing a light blue dress with white stripes and pink slippers.

"Anyone who has seen this child at the playground or its vicinity must contact us immediately. She is just over 1m tall, about 20kg in weight, has short hair and a tanned complexion.

"We have formed a task force to find Sharlinie and our focus is to locate her. The incident is similar to the case of the six-year-old girl who went missing on Monday," he said.

Sharlinie's father, Mohd Nashar Mat Hussain, 29, said he hoped his daughter would be found as soon as possible.

"I appeal to the public to help find her before anything untoward happens to her. I am sure someone would have noticed the two kids playing there," he said.
Join effot in searching Sharlinie Mohd Nashar from Suria FM with hourly update on the case.
KUALA LUMPUR: Suria FM has joined in the efforts to locate missing five-year-old Sharlinie Mohd Nashar.

Chief executive officer Engku Emran Engku Zainal Abidin said the Bahasa Malaysia radio station would give hourly updates on the little girl.

"Everyone should take part in the search to help the police. We hope Suria FM listeners will help to look for the girl.

"We will continue to make the hourly announcement until she is found," he said Thursday.

Engku Emran said the radio station would also distribute 500 copies of Sharlinie's photograph and include printed with the Rakan Cop and police operations room numbers via its on-the-road promotion crew Suria Wheel every day.

"We will also post the girl's picture on our website," he said.

He said listeners who wanted the latest news on the search of Sharlinie should tune in to Suria FM at 105.3 in the Klang Valley or visit its website at www.suriafm.com.my.
Comments
comments