Sambutan Hari Kemerdekaan ke-55 Tahun : Janji Ditepati – Himpunan Merdeka 2012 di Stadium Nasional Bukit Jalil
OMG! Celebrating National Day in style? There's so many lucky draw here? Giving out Proton Preve, Chevrolet Cruze, air ticket to London and Sydney, gadgets etc? Wow! There's more give and more cash gonna give away!?
Sambutan Hari Kemerdekaan ke-55 Tahun : Janji Ditepati
How to join this Sambutan Hari Kemerdekaan ke-55 Tahun : Janji Ditepati – Himpunan Merdeka 2012 in Stadium Nasional Bukit Jalil?
Rakyat will be given a Lucky draw invitation card at the stadium entrance and also given to people around Klang Valley, in order for them to enter the stadium? Anyone got that lucky draw invitation card? Haha… I also want to join in lucky draw leh! Hmmm…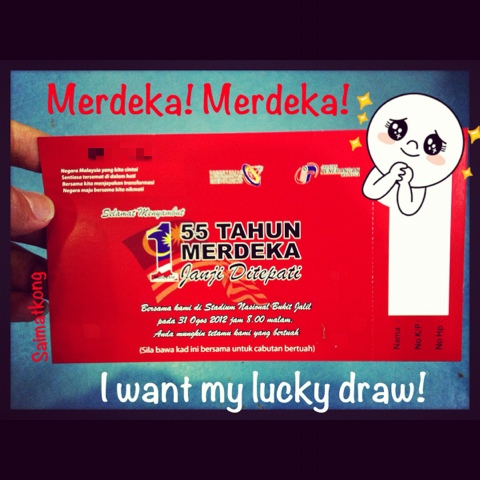 Sejumlah RM1 juta hadiah cabutan bertuah ditawarkan kepada pengunjung yang hadir ke Himpunan 55 Tahun Merdeka: Janji Ditepati di Stadium Nasional Bukit Jalil, Jumaat ini.

Ketua Setiausaha Kementerian Penerangan, Komunikasi dan Kebudayaan, Datuk Seri Kamarudin Siaraf (gambar) berkata, hadiah tersebut disediakan bagi menyemarakkan lagi suasana sambutan ulang tahun kemerdekaan tahun ini, selain menarik lebih ramai pengunjung.

"Sebanyak satu juta kad cabutan bertuah telah disediakan dan diedarkan kepada orang ramai di sekitar Kuala Lumpur dan Selangor.

"Para pengunjung yang belum mendapatkan kad tersebut boleh memperolehnya di pintu-pintu masuk stadium pada hari berkenaan," katanya pada sidang akhbar Cabutan Bertuah 55 Tahun Merdeka: Janji Ditepati di Kompleks Sultan Abdul Samad, di sini hari ini.

Menurut Kamarudin, hadiah-hadiah tersebut adalah sumbangan beberapa syarikat korporat di negara ini yang berbesar hati untuk berbuat demikian sempena bulan kemerdekaan.

"Antara hadiah menarik yang ditawarkan termasuklah sebuah kereta Proton Preve dan Chevrolet Cruze, tiket penerbangan, empat buah motosikal, 10 basikal Fixie serta puluhan gajet seperti iPhone, iPad, Macbook, dan BlackBerry.

"Orang ramai hanya perlu mengisi nama dan nombor telefon pada kad cabutan tersebut dan memasukkan keratan ke dalam kotak-kotak yang disediakan di semua pintu masuk stadium berkenaan," katanya.

Menurutnya, kad cabutan tersebut adalah serampang dua mata kerana ia bukan sekadar untuk cabutan bertuah tetapi turut mengandungi ucapan hari raya daripada Perdana Menteri dan Timbalannya untuk semua pengunjung.
Marilah kita bersama meraikan kemerdekaan negara di Stadium Nasional Bukit Jalil

Bersama kita cipta rekod untuk perhimpunan Twitter paling ramai di dunia.

Jangan lupa Tweet #Merdeka55 antara jam 8.15-9.15 malam pada 31 Ogos 2012. Kita mahu mencipta rekod tweet paling banyak dalam masa sejam pada waktu tersebut.

Ohhh ya, jangan lupa juga @NajibRazak. Sesiapa yang bertuah mungkin mendapa reply terus daripada Perdana Menteri kita.
Comments
comments