MY FM 飞天遁地阳光帮 caught in action…
Have you seen any of this? My Fm was having this contest MyFM 飞天遁地阳光帮 whereby the contestants need to bring this board of MyFM DJ, Jack Lim, Mei Yan, Nicholas wherever they go and let ppl take picture. Those who caught them and take picture of the board will get RM100. Now the contest is ended and one of the contestants finally won the contest and grabbed RM15k wow. I must say this event is a successful one and it actually attract a lot of ppl and make a successful marketing for Brands.
I myself caught them in somewhere nearby Jaya ONE. I guess that was there because BRAND'S 白兰氏鸡 office there or something.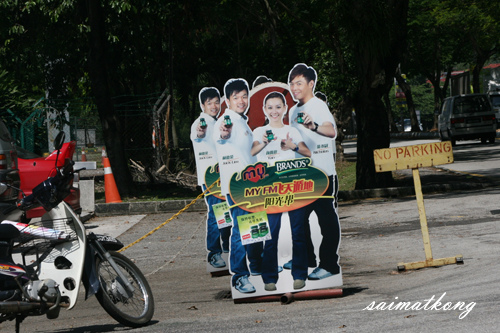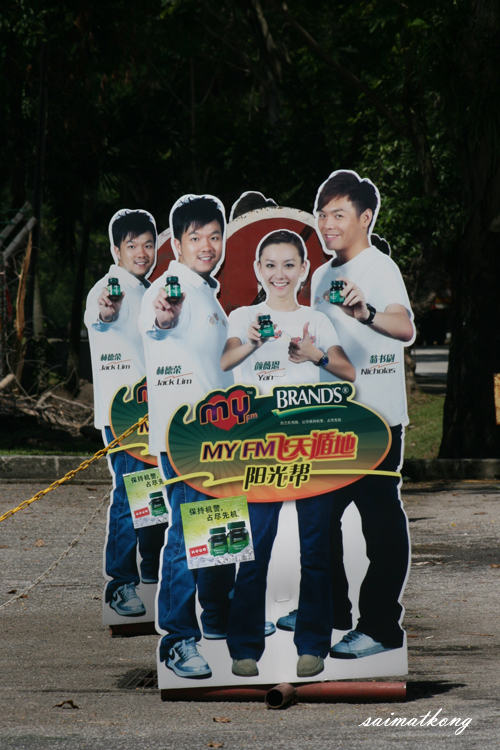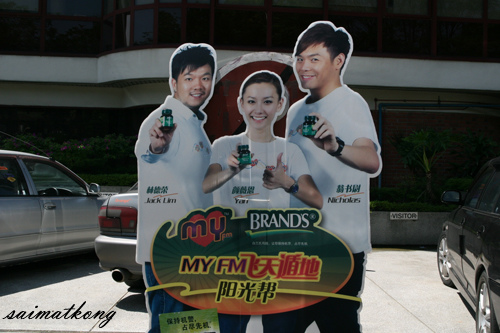 This is one of the creative video done by the winner – William Kok.
《MY FM 飞天遁地阳光帮》大奖得主终于出炉,那就是来自蒲种的郭伟良。他凭借自己的实力、勇气和毅力勇挫其他999位参赛者,成为1万5千令吉的大奖得主!

从 2月19日开始一直进行到3月15日的《MY FM 飞天遁地阳光帮》,要求所有参赛者拿着MY FM《阳光灿烂》三位主持人林德荣、颜薇恩和Nicholas翁书尉的人形站牌到人潮汹涌的地方,争取最多的曝光率。随着这项活动的结束,MY FM于今天中午12时30分通过电台宣布大奖得主,同时于今天的颁奖仪式上颁发模拟支票予10位优胜者以及大奖得主。

MY FM与BRAND'S白兰氏鸡精联合呈献的这项《MY FM 飞天遁地阳光帮》活动自展开以来获得非常热烈的反应。参赛者在取得三位主持人林德荣、颜薇恩和Nicholas翁书尉的人形站牌后都绞尽脑汁,不管吃喝玩乐、上班逛街购物睡觉都与他们三人形影不离,并展开为期约一个月的"新同居生活",务求让更多的人看到自己,同时争取最多的曝光率,然后拍照并上载到MY FM网站以作为"证据"。除了大奖得主将获得1万5千令吉的现金奖之外,10名表现最好的参赛者也将各获得一千令吉现金。

在上载的照片当中可以看到每一位参赛者都非常努力的让自己曝光,有些参赛者更把林德荣、颜薇恩和Nicholas翁书尉的人形站牌带到国外,包括泰国曼谷、澳门、新加坡;有者带"他们"乘坐邮轮;有者带"他们"全国走透透,包括前往马六甲各旅游景点如红屋、鸡场街;从吉隆坡前往槟城、浮罗交怡、亚罗士打、怡保、麻坡、云顶、瓜拉雪兰莪等地方;其它出现的地点还包括黑风洞、菜市场、夜市场、机场、东禅寺、天后宫、地铁站、医院、富都车站、购物商场、水上乐园、饮食中心、老人院、孤儿院、皇宫、动物园、学校、学校运动会现场、雪邦赛车场、瀑布等等。

主办当局透露,大奖得主郭伟良胜出的原因,除了是他为这项活动发挥了无限的创意,如创作歌曲并上载到you tube之外,他还把人形站牌带到一些保安森严的地方去拍照,当然最让人感动的是他经常到人多的地方不断寻找公众与他合照,同时"不辞劳苦"地向公众介绍这项活动,让更多人对这项活动有所了解。

Source : MyFM
Comments
comments