Lee Chong Wei Lost To Lin Dan @ Badminton Beijing Olympic 2008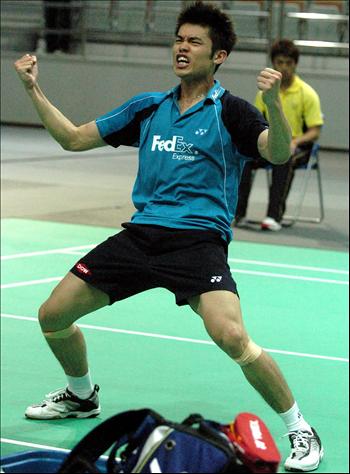 Lin Dan Won! He is "Super Dan"!
Lee Chong Wei with dejected and upset look.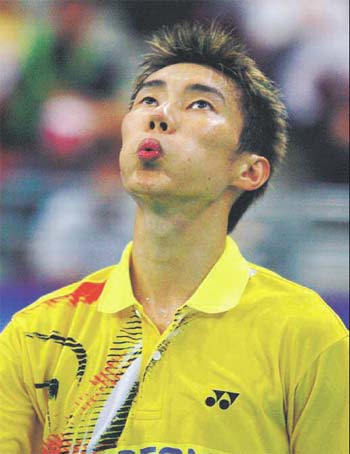 Lee Chong Wei Lost!
Lee Chong Wei Lost To Lin Dan again! Sigh. Was very disappointed. From the start, Lee Chong Wei already showed that he was over power by China Lin Dan and the China crowd. Always shouting "Lin Dan Jia You – 林丹加油"… I think Lee Chong Wei wanted to hear Malaysia Boleh but … Lee Chong Wei too nervous and stressed out. Nothing that we could do, Lee Chong Wei only managed to win silver medal in the badminton men's singles after losing in the final to China's Lin Dan 12-21, 8-2.
He could not keep his steps and skills and was over power and fully in control by Lin Dan. He could not break Lin Dan speed and skills. Work harder Mr. Lee.
Anyway still proud and congrats to Lee Chong Wei. RM300,000.00 in his pocket d. All the best and keep your training and trash Lin Dan in the next meet. Go LCW!
Silver medal for Chong Wei

BEIJING: Lee Chong Wei won the silver medal in the badminton men's singles after losing in the final to China's Lin Dan 12-21, 8-21.

The world No 2 lost in two straight sets, faltering to Lin Dan, who remains the top men's singles shuttler in the world.

In previous clashes between the two, Lin Dan had won nine times while Chong Wei had won five times.

The last time a Malaysian shuttler won a medal at the Olympics was in Atlanta in 1996 when Rashid Sidek took the bronze in the men's singles and Cheah Soon Kit-Yap Kim Hock won the silver for the men's doubles.

Rashid's brothers Razif and Jailani won Malaysia's first Olympic medal in Barcelona , Spain, in 1992 when they won a bronze in the men's doubles.

Chong Wei got to the final by beating South Korean Lee Hyun-il, 21-18, 13-21, 21-13, while Lin Dan defeated fellow countryman Chen Jin in the semi-final, 21-12 , 21-18.

Despite failing to get the gold medal, Chong Wei is set to obtain RM300,000 from the Government for winning the silver medal. The Government had promised RM1mil as an incentive to any athlete who returns with an Olympic gold medal; RM300,000 for silver and RM100,000 for bronze.

Source : TheStar
Chong Wei offers no excuse after tame loss to Lin Dan

The expectations of the whole nation to bring back Malaysia's first-ever Olympic gold medal proved to be too heavy a burden for Lee Chong Wei.

He failed to bring out his best and blew the chance to win the RM1mil reward for gold – suffering a 12-21, 8-21 thrashing by top seed Lin Dan of China in the men's singles final at the Beijing University of Technology Gymnasium last night.

Chong Wei was erratic on court. He made half-court returns and the strong net-play performance he showed in earlier rounds was missing from his game.


Malaysian shuttler Lee Chong Wei striking a pensive mood with the silver medal around his neck after the men's single badminton final against Lin Dan of China. – Kamarul Ariffin/The Star

Lin Dan pulled away from 8-3 to 16-8 and wrapped up the first game in 20 minutes. The two-time world champion's confidence grew as he took control in the second game and was already up 8-0 before Chong Wei picked up his first point.

The slouched shoulders and grim look were telling as Chong Wei eventually conceded defeat in 19 minutes.

Despite the tame loss, Chong Wei will receive RM300,000 from the government for securing the silver medal. He will also enjoy a reward of RM3,000 monthly under the Olympic incentive scheme and it will take effect from next month.

The Olympic silver medal from Chong Wei is still the first for Malaysia in 12 years.

The pressure was on Lin Dan to ensure China match their three-gold haul from the 2004 Athens Games.

And he let out a giant scream of delight after securing the winning point while Chong Wei was left pondering on what might have been.

"I tried to follow his speed at the start but he was in total control. My heart wanted to take him on but I just could not bring it out," said the second seeded Malaysian.

On what coach Misbun Sidek told him before the start of the second game, Chong Wei said: "He told me to play a faster game but I could not follow. But there's no excuse for losing. This is my worst defeat by him."

On whether he would still aim to play in the 2012 London Olympics, Chong Wei said: "I will have to wait and see first after the 2010 Asian Games in Guangzhou."

Lin Dan, who became the first men's singles player to win the Olympic title as the top seed, said he had sleepless nights thinking about delivering the gold for China.

"I concentrated hard on trying to play a stable game each time. I am glad I was able to do it here," he said.

Although Chong Wei lost, Badminton Association of Malaysia president Datuk Mohd Nadzmi Salleh hoped that his success to make the final would inspire younger players.

"Although he did not win, I am happy that Chong Wei has made it to such a level. We will try again in London Olympics in four years' time but the important thing is we have to start planning now. We have to bring in our juniors into the national set-up," he said.

Source : TheStar
'Super Dan' lives up to his World No. 1 rank

(BEIJING, August 17) — Men's Singles World No. 1 Lin Dan of China thrashed Malaysia's World No. 2 Lee Chong-wei 21-12, 21-8 to win the gold in the Beijing Olympic Badminton tournament on Sunday, August 17.

The anticipated heart-pounding dream final turned out to be a frustrating exit for Lee, who was bidding for Malaysia's first Olympic gold.

"I suffered a lot of pressure tonight but I do not want to use it as an excuse for my defeat," he said.

Maybe it was the pressure that made a normally sharp Lee lose his edge on court and essentially provide no match for Super Dan's quickly-adapted strategies and crosscourt smashes.

In the first game Lin raced into a 7-1 lead. Eager to close the gap, Lee made too many unforced errors, enabling the World No. 1 to stretch his winning margin to 16-8 before closing out the game 21-12.

Lin continued to attack Lee in the second game, opening up an 8-0 lead and forcing his opponent to chase shuttles to all four corners of the court before killing rallies off with his smash. As the game progressed, Lee simply had no answers to Lin's speed and the Chinese left-hander closed out the match in just 41 minutes.

"I have tried my best but Lin Dan played perfectly tonight," said Malaysian sport icon Lee. "I couldn't match his shuttle speed. He was much stronger than me and controlled the whole match."

"At the end of the match it is not who is playing at a higher level, it is all about who is mentally stronger," Lee commented on his loss.

"I felt a lot of pressure playing in front of my home crowd," said an exhilarated Lin. "I thought it would be difficult to play the match and the pressure of the crowd might even be to my disadvantage, but I played well.

Source : beijing2008.cn
Comments
comments