Lee Chong Wei Lost To Lin Dan Again @ LI NING CHINA OPEN SUPER SERIES 08
World No. 1 Lee Chong Wei marged into the final in the China Open Shanghai 2008 to set up a repeat of the Olympics meet with world No. 2 Lin Dan. Malaysia's top women's doubles pair of Wong Pei Tty and Chin Eei Hui made it into their third straight finals.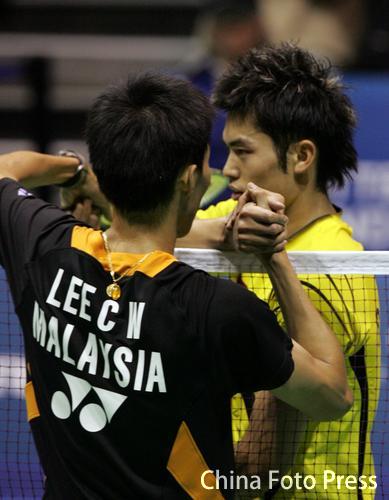 Again… Lee Chong Wei lost to Super Dan…
From the start Lee Chong Wei showed a good performance and taking the lead… but in the end lost to Super Dan in just two straight games 21-18 21-9.
I just don't understand why Lee Chong Wei don't want to attack and just play the same way he played during the Olympic match with Lin Dan. Dato Lee Chong Wei just play skill with Lin Dan but I think his skill is still not match with Lin Dan and the speed sure lost to Super Dan, anyway keep it up Data Lee!
On the other hand, Malaysia Women Double lost to China too, but they did tried their best and gave a good fight, keep it up.
Yawen ZHANG & Tingting ZHAO – Chin Eei Hui & Wong Pei Tty, 21-14 21-19
Lin Dan reigns again

"Super Dan" blew world No. 1 Lee Chong Wei away in the final of the China Open after coming back three months since his Olympics victory. Chow How Ban reports from Shanghai, China.
Chong Wei, women's pair fail to land China Open titles

Lin Dan reigns again

KUALA LUMPUR: It was double blow for Malaysia when world number one Lee Chong Wei and the women's doubles pair of Chin Eei Hui-Wong Pei Tty failed in their bids to nail their first China Open title in Shanghai yesterday.

The top seeded Chong Wei failed to get the better of Olympic champion Lin Dan in their first meeting since the Beijing Games final last August. He crashed to a 18-21, 9-21 defeat in 39 minutes.


Still invincible: Lin Dan got the better of Lee Chong Wei again in the final of the China Open yesterday. The Beijing Olympic champion won 21-18, 21-9.

Eei Hui-Pei Tty also had high hopes of bagging their second Super Series win after their breakthrough victory in the Danish Open last month but failed to get their game going and lost 14-21, 19-21 to China's Zhang Yawen-Zhao Tingting.

While Lin Dan had scored a more comprehensive win in their last meeting, Chong Wei did offer some resistance in the first game.

He led 4-1 and 11-9 but the second seeded Lin Dan caught up at 15-all and pulled away to take the first game.

Lin Dan took the second game easily to cap a perfect comeback to competition since his Olympic triumph three months ago. It was Lin Dan's third China Open title after 2003 and 2004.

The defeat for Chong Wei was not much of a surprise as he had put up shaky performances en route to reaching the final.

He came back from a game down to beat Chinese junior Qiu Yanbo in the first round and was also taken to the distance by team-mate Wong Choong Hann and South Korean Park Sung-hwan in the quarter-finals and semi-finals respectively.

On the other hand, Lin Dan came through a draw of a host of Chinese upstarts and had the luxury of saving his best performance for the final.

It is the fourth consecutive time Chong Wei had failed to win a tournament since he took the top spot in the world rankings.

He lost to Sony Dwi Kuncoro of Indonesia in the Japan Open final. Chong Wei also suffered two successive defeats by former Olympic champion Taufik Hidayat, also from Indonesia, in the final of the Macau Open and semi-final of the French Open.

As for Pei Tty-Eei Hui, their third successive Super Series final appearance did not bring them joy as Yawen-Tingting avenged their defeat by the Malaysians in the semi-finals of the French Open.

Despite this, doubles chief coach Rexy Mainaky was satisfied with their performance.

"They are playing consistently. They fought all the way in the second game and could have levelled the score at 19-all. But a dropshot from Eei Hui failed to clear the net," said Rexy in a telephone interview from Shanghai yesterday.

All-England men's doubles champions Lee Yong-dae-Jung Jae-sung, playing in their first tournament since suffering a shock first-round exit at the Beijing Olympics, came from behind to beat Danish pair Mathias Boe-Carsten Mogensen 17-21, 21-17, 21-13.

Yong-dae partnered Lee Hyo-jung to beat Chen Xu-Zhao Yunlei of China 21-16, 21-15 to add the mixed doubles title to his collection.

Source : TheStar
Comments
comments