DRB-HICOM AUTOFEST 2013 @ Setia SPICE (PISA) – Penang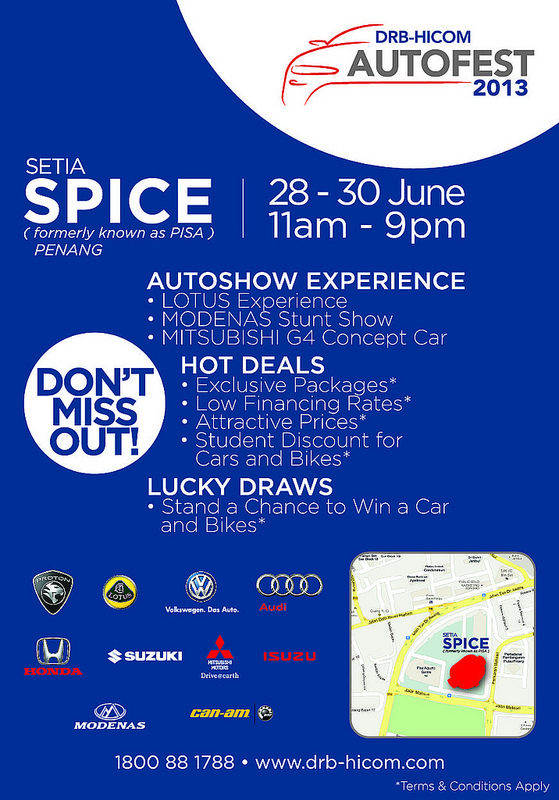 With the success of the first DRB-HICOM AUTOFEST 2013 held in January at EON Complex in Glenmarie, Shah Alam; DRB-HICOM Berhad the leading automotive conglomerate in Malaysia will be organizing the second DRB-HICOM AUTOFEST 2013 at the SPICE (Subterranean Penang International Convention Exhibition or formerly known as PISA, Penang from 28th – 30th Jun 2013.
The main objective of this DRB-HICOM AUTOFEST 2013 is to promote DRB-HICOM's automotive brands to the public in support of the humanity in Penang. DRB-HICOM will be showcasing 10 automotive brands under the group, namely Proton, Lotus, Honda, Suzuki, Mitsubishi, Volkswagen, Audi, Isuzu, MODENAS and Can-am Spyder at the DRB-HICOM AUTOFEST 2013.
DRB-HICOM AUTOFEST 2013 Highlights
Those who is attending this AUTOFEST can take this brilliant opportunity to grab fabulous deals and attractive promotions on various makes of the showcase vehicles.
Among the highlights of the event is the debut of the Mitsubishi G4 Concept Car, special preview of Suzuki Jimny, previews of latest cars and bikes and Modenas bike stunt show.
In addition to the motorsport exhibitions, you can also test drive your dream car or take an exhilarating ride in the luxurious Lotus sports car.
On top of that, there are other attractive deals to be grabbed including automotive-related services such as financing, leasing and trade-in packages. Penangnites do not miss the super great deal!
Contest
There will be a few interesting contests running during the AUTOFEST such as Creative Photo Contest, PROTON Best Dress Car Contest, Best Dress Bike Contest, Best Car Sound System Contest with lucrative prizes to be won! So, if you think you have the talent and creativity, participate in the contest and win yourself a prize!
Lucky Draw
You will also stand a chance to win a grand prize of a brand new car in a special lucky draw, in addition to 3 Modenas CTric electric motorcycles and other attractive prizes during the event.
DRB-HICOM AUTOFEST 2013 @ Setia SPICE (PISA) – Penang
Date: 28 to 30 June 2013
Venue: SETIA Spice (formerly known as Penang International Sports Arena, PISA), Jalan Tun Dr. Awang,11900 Relau, Pulau Pinang
Time: 11am – 9pm
Official website : www.drb-hicom.com
This event is open to public and it's free of charge! Come and join us! (Free gifts for early birds!)
For more enquiries, please call the event hotline at 1-800-88-1788 (during office hours – 8.30am – 5.45pm)
Parking is available at SETIA Spice (formerly known as PISA with the capacity of 200 parking bays (open space car park), 190 (surrounding perimeter), and 240 (basement). There will be auxiliary police, security guards and RELA team manning the car park. So you do not have to worry about your safety when you visit the AUTOFEST.
Comments
comments