China Open 2007, Syabas Wong Mew Choo
Lee Chong Wei and Wong Mew Choo make history in China Open 2007, Guangzhou. They have made it into final today.
It has never happened before but today Malaysia's Wong Mew Choo pulled off amazing feats to reach her first ever finals in the China Open at Guangzhou by beat Xie Xingfang of China and claimed the China Open Super Series Women's Single Title.
Yesterday, the 24-year-old Wong Mew Choo came full circle as far as beating players from China is concerned when she put on an incredible show to beat defending champion and Athens Olympic winner Zhang Ning 21-16, 21-19 in a fiery 41-minute encounter. With her first ever victory over the lanky Zhang Ning in their eight meetings yesterday, Mew Choo, the world No. 8, now holds the record of having beaten every current top national Chinese women players. Just a day ago, she sent world champion Zhu Lin packing in the quarter-finals. I predict her ranking will be increased very soon and she will be the one Malaysia depend on claiming a title in the Olympic next year 2008.
National No. 1 Wong Mew Choo won the China Open Super Series' women's singles in Guangzhou, China. She defeated world No. 1 Xie Xingfang of China, 21-16, 8-21, 21-17. It was Wong's first Open title in her badminton career and Mew Choo pocketed US$17,250 (RM58,650) for her historic feat Sunday.

I was watching it live on RTM1 because it's not showing in Astro Super Sport, it was showing tennis Malaysia Open. The match between Wong Mew Choo and Xie Xing Fang is definitely incredible, she really show the true Malaysian Spirit which is Malaysia Boleh (Malaysia Can) during the match.
Even she lost at the second match with the score of single digit which is 21-8 but she fight back and with the fire burning in her heart, she finally made it. Congrats Wong Mew Choo, you really made Malaysian proud. Malaysia women has never been into final and win any women title in badminton and you have made a Malaysia Record.
On the other hand, Malaysian No. 1 men's singles Lee Chong Wei's hope of winning his fourth Super Series title was dashed at the China Open in Guangzhou Sunday by Bao Chun Lai. The world No. 2 went down 12-21, 13-21 to China's Bao Chunlai in a 39-minute final.
Chong Wei faced a lot of stress and the line's men were all against him. He against 3 line called by the line's men and he had to continue the match. Beside, there's also a net fault called by the judge which made Lee Chong Wei not happy. I think he is mentally disturb by that and with the cheers and support from the audience to Bao Chun Lai it definitely make the condition even worst. I feel very disappointed and angry at the same time but nothing can be done bout that. Just hope that Lee Chong Wei will continue to be the top player.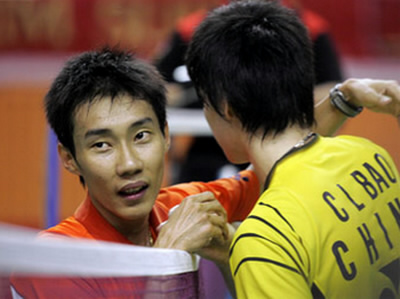 Lee Chong Wei vs Bao Chun Lai in total 12 matches including this match, 4 goes to Bao and 8 goes to Lee.
Comments
comments