The All New Nokia N82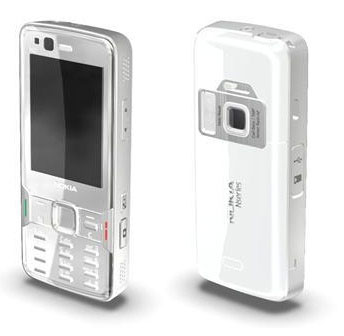 Capture the stories of your life in vivid detail with the all new Nokia N82. The 5 megapixel camera with Carl Zeiss optics and xenon flash allows you to preserve your stories so you can share them directly from your Nokia N82. This is good for you and me, coz we do not need to carry both camera and phone anymore. What's more, with built-in Assisted-GPS and Nokia Maps, you'd be exploring more places and sharing more stories wherever you are and wherever you go.
The functions and all are good but the design is a bit ugly or off for me personally and my lovely Nokia 6670 still serve me well although I treated it badly. ahah =p
Still yet to know the price for this phone though. I think it should be around RM1.5k maybe?

Some of the Specs that you would like to know about this all new Nokia N82:-
Dimensions
Volume: 90 cc
Weight: 114 g
Length: 112 mm
Width: 50.2 mm
Thickness (max): 17.3 mm
Memory Functions
Up to 100MB internal dynamic memory* for messages, ringing tones, images, video clips, calendar notes, to-do list and applications
Hot swappable microSD memory card slot
*Dynamic memory means that the available memory is shared between dynamic memory functions. When any of these functions is used, there is less available memory for other functions which are also dependent on dynamic memory.
Power Management
Battery: Nokia Battery (BP-6MT) 1050mAH
Talk time: up to 190 minutes (WCDMA),up to 260 minutes (GSM)
Stand-by time: up to 210 hours(WDCMA),up to 225 hours (GSM)
Still images: up to 290 pictures (with flash)
Video capture: up to 110 minutes (VGA, 30fps)
Video call: up to 120 minutes
Video playback time: up to 200 minutes (VGA, 30 fps)
Music playback time: up to 10 hours(offline mode)
*Operation times may vary depending on radio access technology used, operator network configuration and usage.
Display
2.4″ LCD QVGA (240 x 320 pixels) TFT color display with up to 16.7 million colors
User Interface
Operating system: S60 software on Symbian OS
User interface: S60 3rd edition, Feature Pack 1
Automatic screen rotation
Call Management
Logs: keeps lists of your dialed, received, and missed calls
Voice dialing (with Speaker independent name dialing (SIND)) and voice commands
Nokia Push to talk (PoC)
Messaging
E-mail (SMTP, IMAP4, POP3), MMS, SMS
Video Features
Video player – supports MPEG4, AVC/H.264, H.264, H.263, WMV, RV
OMA DRM 2.0/1.0 & WMDRM support for video
Resolution: MPEG4 VGA @ up to 30 fps scaled to QVGA on device or VGA in TV-out mode
Transfer your videos from compatible PC: Windows Media Player, USB mass-storage file transfer or Nokia Nseries PC Suite using full-speed USB 2.0 connectivity
RealPlayer media player
Full-screen video playback to view downloaded, streamed or recorded video clips
Supported video formats: MPEG-4, H.264/AVC, H.263/3GPP, RealVideo 8/9/10
Imaging and video
-Up to 5 megapixel (2592 x 1944 pixels) camera, Carl Zeiss Optics: Tessar™ lens, MPEG-4 VGA video capture of up to 30 fps
-Direct connection to compatible TV via TV-out or wireless LAN/UPnP
-Front camera, CIF (352 x 288 pixels) sensor for video telephony
-Video call and video sharing support (WCDMA network services)
-Integrated xenon flash
-Slideshow from gallery
-One-click upload of photos & videos to web
-Nokia XpressPrint: direct printing via USB(PictBridge), Bluetooth connectivity (BPP), and WLAN (UPnP) or via online printing
Mobile Video
Video resolutions: up to VGA (640 x 480 pixels) at 30 fps
Recording indicator
Audio recording: AAC (AMR for MMS)
Digital video stabilization
Video file format .mp4 (default), .3gp (for MMS)
White balance, scene and color tone setting
Zoom: Digital up to 10x (VGA up to 4x)
Front camera: CIF (352 x 288 pixels) sensor for video telephony
On-device video editing
Mobile Photography
Image resolution: up to 5 megapixels (2592 x 1944 pixels)
Auto focus
Amber colored auto focus assist light and recording indicator
Still image file format: JPEG/EXIF
Auto exposure – center weighted
Exposure compensation: +2 ~ -2EV at 0.5 step
White balance: automatic, sunny, cloudy, incandescent, fluorescent
Scene: automatic, user, close-up, portrait, landscape, sports, night, night portrait
Color tone: normal, sepia, black & white, negative, vivid
Zoom: digital up to 20x (5 megapixel up to 6x)
Xenon flash
On-device photo editing
Camera Specifications
Sensor: CMOS, 5 megapixel (2592 x 1944)
Carl Zeiss Optics: Tessar™ lens
F number/Aperture: F2.8
Focal length 5.6 mm
Focus range 10 cm ~ infinity
Macro focus distance 10-50 cm
Music Features
Digital music player – supports MP3/AAC/eAAC/eAAC+/WMA/M4A with playlists
OMA DRM 2.0/1.0 & WMDRM support for music
Integrated stereo hands-free speaker
Stereo FM radio (87.5-108MHz) with Visual Radio support
Nokia Stereo Headset HS-43 in-box
Bluetooth wireless technology 2.0 with A2DP Stereo audio
Navigation GPS
Integrated Assisted Global Positioning System (A-GPS)
Pre-installed Nokia Maps application and free downloadable maps*
* The service is available free of charge, although any data transferred over the network will incur charges from your network operator. To check the availability and cost of the service, contact your network operator or service provider.
E-mail
Easy-to-use e-mail client with attachment support for images, videos, music and documents
Compatible with Nokia Wireless Keyboard SU-8W (sold separately)
Browsing
Full web browser support (HTML)
Other Applications
Personal Information Management (PIM)
Advanced S60 PIM features including calendar, contacts, to-do list and PIM printing
Settings Wizard for easy configuration of e-mail, push to talk and video sharing
Data transfer application for transfer of PIM information from other compatible Nokia devices.
WLAN wizard
Connectivity
Integrated wireless LAN (802.11 b/g) and UPnP (Universal Plug and Play)
Bluetooth wireless technology with A2DP stereo audio
USB 2.0 via Micro USB interface and mass storage class support to support drag and drop functionality
3.5 mm stereo headphone plug(Nokia AV Connector)and TV out support (PAL/NTSC)
Nokia Nseries PC Suite connectivity with USB, and Bluetooth wireless technology
Local synchronization of contacts and calendar to a compatible PC using compatible connection
Remote over-the-air synchronization
Send and receive images, video clips, graphics, and business cards via Bluetooth wireless technology
Standard Sales Package Contents
Nokia N82
Nokia Battery BP-6MT
Nokia Travel Charger AC-5
Nokia Music Headset HS-43
Nokia Connectivity Cable CA-101
Nokia Video Connectivity Cable CA-75U
Nokia 2GB microSD Card MU-37**
*Sales package content may vary by region.
** Card pre-installation may vary by region.
Comments
comments