1Utama Old Wing and New Wing Power Failure, Outage, Blackout! Then 1Utama On Fire?
Just now around 8.00pm while having family "Chap Goh Meh" dinner at Dragon-I 1Utama, suddenly blackout for few seconds and luckily there's emergency light in the new wing so it's not that bad.
This candle was given to every table that having dinner in Dragon-I. It's a candle light dinner at 1utama! Whole 1u blackout! Aircond also tak da! Everyone kalam kabut.
Everyone rushing to get out of the restaurant and to get out of 1Utama soonest. Luckily, there's still barely enough emergency lights covered and the car park was not in total darkness.
Some of the shops in 1 Utama were forced to close as they do not want people "Chan Foh Ta Gip"! If not someone might steal or take advantage of the power failure and crime might happen?
The traffic was terrible as all of the 1Utama shoppers rushing out from the mall not knowing what's the caused of the blackout and do not want to risk themselves.
Old wing was badly hit by the power failure I guess, because when I passed by, the either old wing was dark and I'm guessing there was no emergency light installed in the old wing?
I'm not sure what's the caused of the power failure / outage, someone mention that there's fire in 1Utama but I don't see any. Moreover, Centre Point was affected by the power failure too! Center Point McDonald's was affected too!
Updates :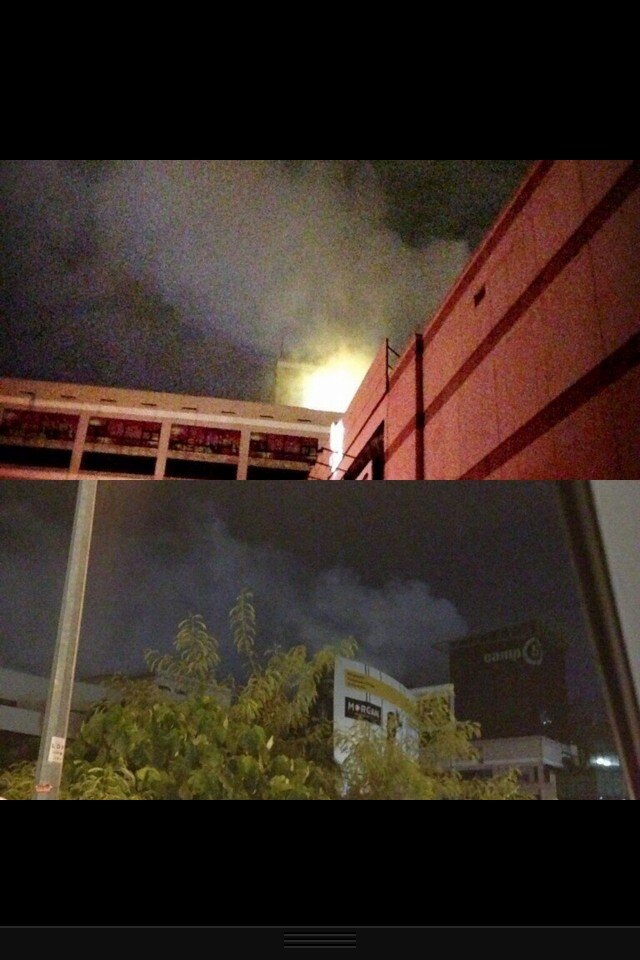 I have seen some ppl mention and tweeted a photo of a fire near the new wing roof top on twitter. I think the fire happened only after the blackout?
1Utama Facebook Page Updated about the blackout or fire incident too but not much details were reviewed yet! Hope nobody got hurt.
Official Updates From 1 Utama Facebook Page
So I was right, the fire breakout at the mall's garden rooftop shed after the power outage from TNB. Don't spread the false information and create hoax. Read the details below.
Dear 1 Utama Shoppers,

We would like to give you a quick update to clarify and explain the actual situation that took place at our mall yesterday. There has been speculation and factual inaccuracies over online reports that we would like to urgently address. Actual timeline as follows:

• At approximately 8.00pm on 24 February 2013, 1 Utama suffered a power supply outage by Tenaga Nasional Berhad (TNB) which the mall had unfortunately no control over.

• When this happened, the mall's electricity backup system was automatically put in operation, while TNB worked to urgently address the matter. Mall emergency lights were switched on. Lifts and escalators were also working. Electricity was then restored section by section throughout the mall, and power fully restored by 8.50pm.

• Due to this downtime, our car park boom gate barriers had to be manually operated. Our car park personnel were immediately deployed to control traffic by stopping car entry and also managing car exits the best way we could. We sincerely apologise to patrons for the heavy car park traffic resulting from this.

• At 9.00pm, another unlucky incident took place, which was a minor fire that broke out at the mall's garden rooftop shed. The fire alarm was set off and our safety personnel rushed to extinguish the fire, with Bomba authorities notified and arriving shortly after.

• The fire was properly contained and put out within a few minutes. Other than items stored in the small shed, damage was absolutely minimal as can be seen in the enclosed photo, with the surrounding garden plants and flowers intact and unaffected.

• The minor fire did not spread to other areas of the mall, and there were no casualties. However there was still heavy smoke lingering on the rooftop due to rain and wind during this time.

• At the time of this statement, we are still awaiting for Bomba to investigate and autopsy the source of the fire.

Please help to share this so that the public has a clearer and better understanding over these incidents. It is regrettable and unfortunate that two unlucky incidents took place on the same evening. We hereby apologise for the inconvenience caused to all parties for our shortcomings, as we wish to be always be on the go to constantly improve and ensure the mall is safe and comfortable for all shoppers.

Thank you for your kind understanding.
Sincerely,
1 Utama Management
Comments
comments