This year, the Lunar New Year or also known as the Spring Festival falls on 28 January 2017. How's your preparations for the Chinese New Year? I'm sure you have been shopping for groceries, clothes and gifts 😉 One of the perks of shopping throughout the festive period that is that shoppers get to redeem freebies which come in the form of exclusive and limited edition red packets 😀
For this post, I'll be featuring some of the Ang Pow packets from shopping malls from Malaysia, Singapore and Hong Kong! 😀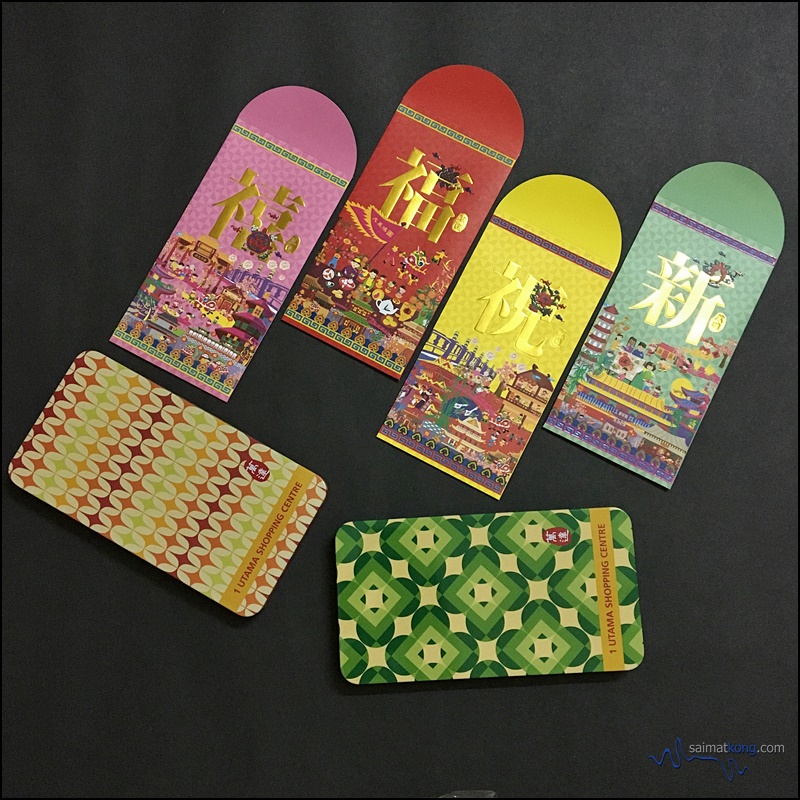 1 Utama Shopping Centre Ang Pow
1 Utama Shopping Centre's exclusive red packets has never disappoint. This year, their red packets come in a pretty metal tin box. Classy, beautiful and it's definitely one of the must-have sets for your ang pow collection.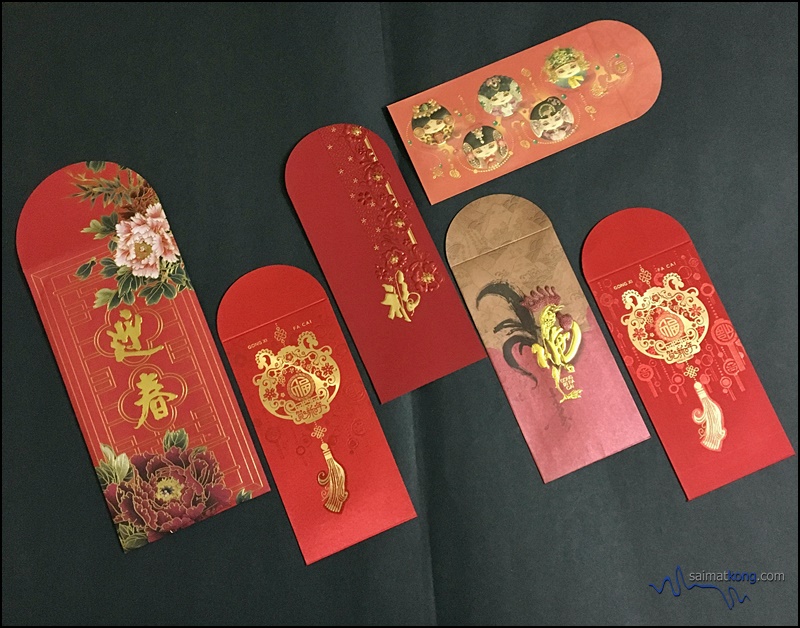 Berjaya Times Square Kuala Lumpur Ang Pow
The Red Packets of Fortune from Berjaya Times Square Kuala Lumpur features a set of ang pow in bright shades of auspicious red colour with traditional design. To match the Year of Rooster, one of the red packet features a bright gold rooster. Very nice set for ang pow collectors!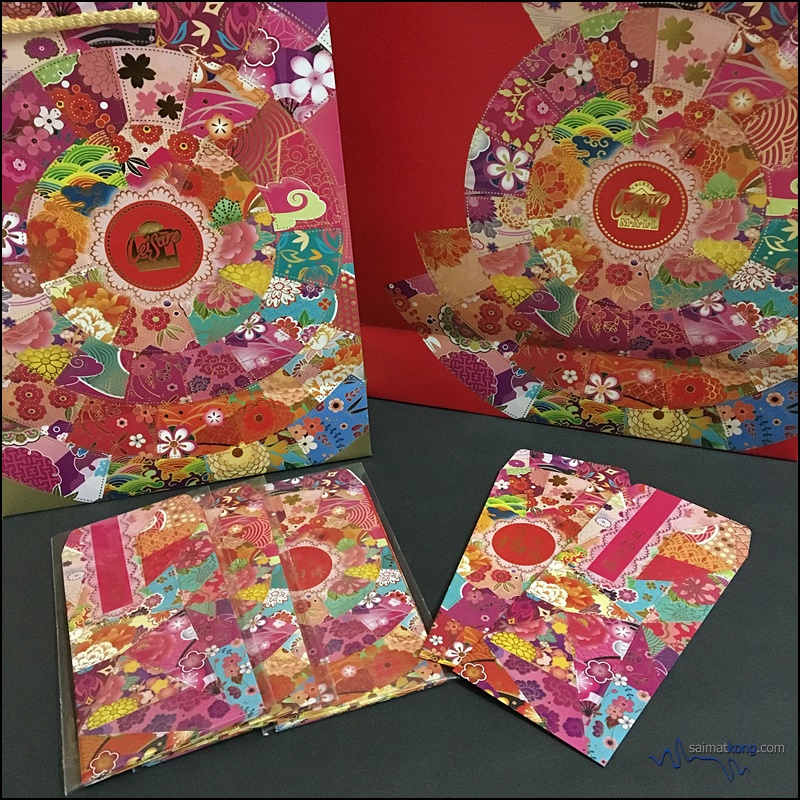 Cheras Leisure Mall Ang Pow
To match their theme "Rainbow of Blessings", Cheras Leisure Mall designed their exclusive red packets based on the concept of colourful traditional woven quilts which is meant to spread blissful blessings. Their beautiful ang pow packets come matching with a red and gold Chinese New Year gift bag which can be redeemed with a minimum spending of RM200 and RM300 respectively. I really quite like their gift bag which is perfect when you go visiting during Chinese New Year 😄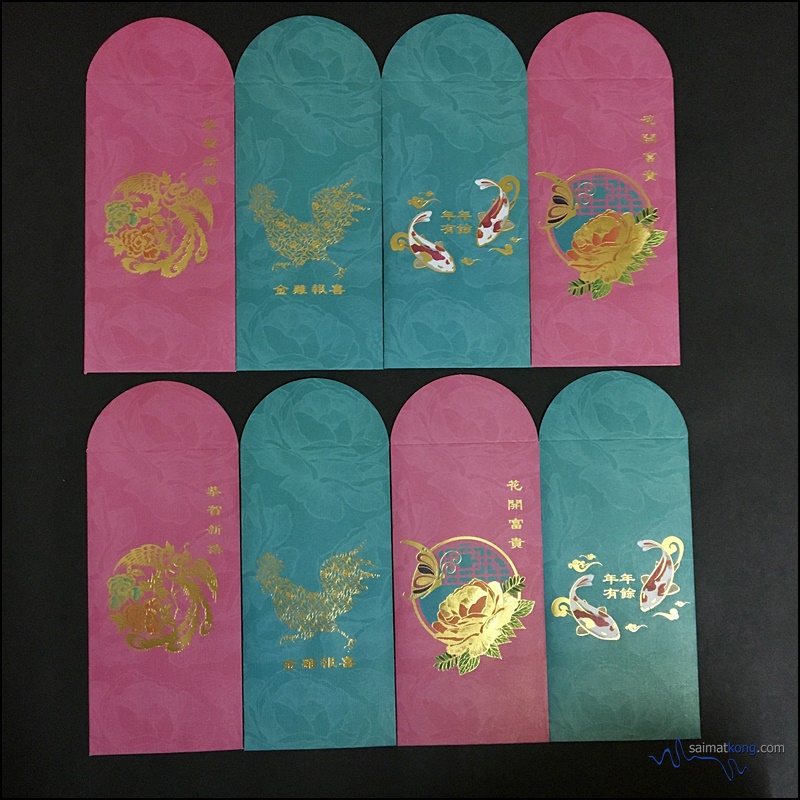 Main Place USJ Ang Pow
The exclusive red packets from Main Place has always been one of my favorites. This year, it comes in a set of 4 piece with beautiful colour combination.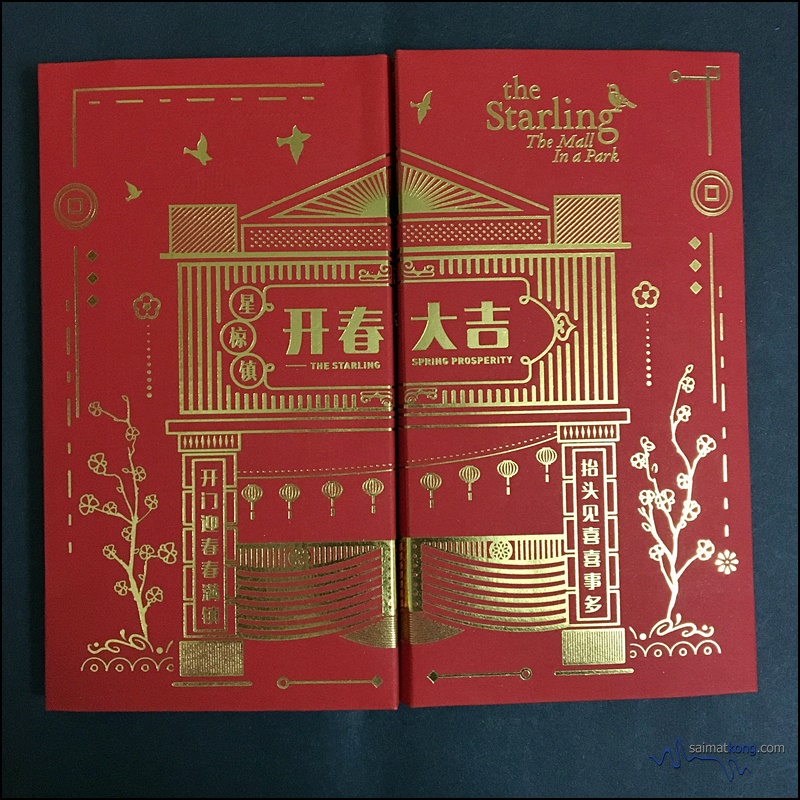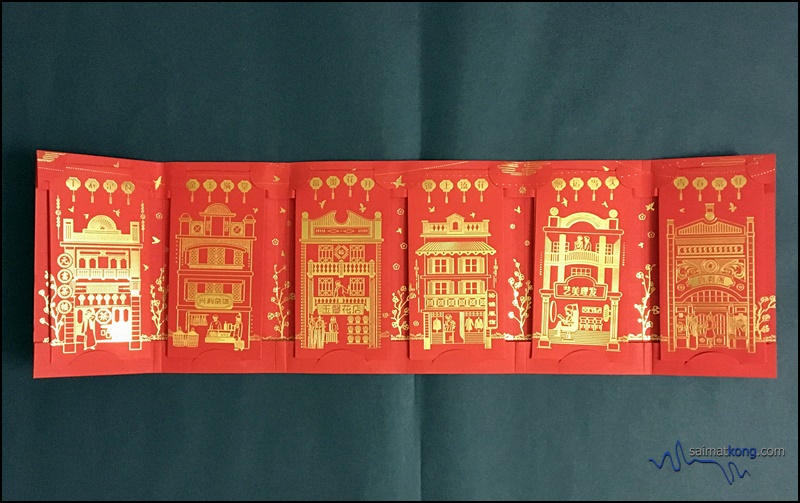 The Starling Mall Ang Pow
The Starling Mall, a new shopping mall at Damansara Uptown printed a set of exclusive ang pow in 6 designs. The set of ang pow features a traditional design in bright shade of red and comes in a nice holder which is great to display.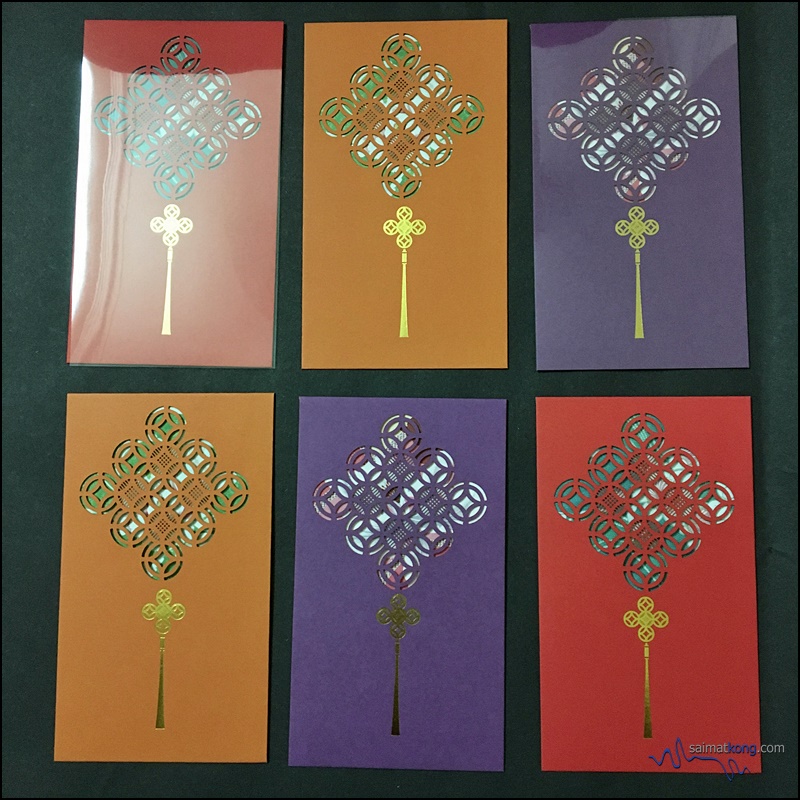 The Gardens Mall Ang Pow
This year, The Gardens Mall printed a set of modern and colourful red packets with die cut design. I really love the bright colour combination of the red packets which is suitable for Chinese New Year!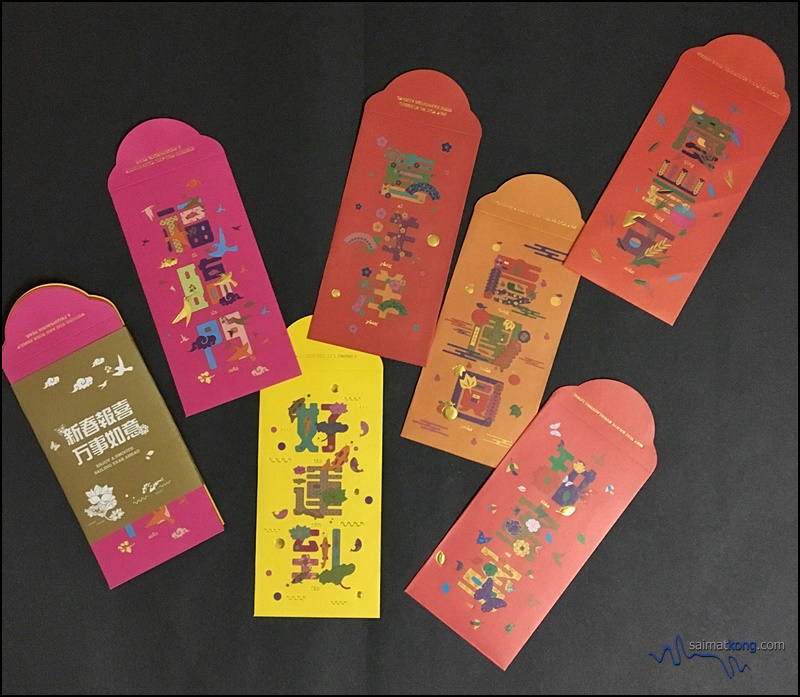 Sunway Putra Mall Ang Pow
Sunway Putra Mall's limited edition Prosperity ang pow packets comes in a cheerful colours which matches their theme "The Splendour of Spring". Each of the red packets are printed with different auspicious greetings!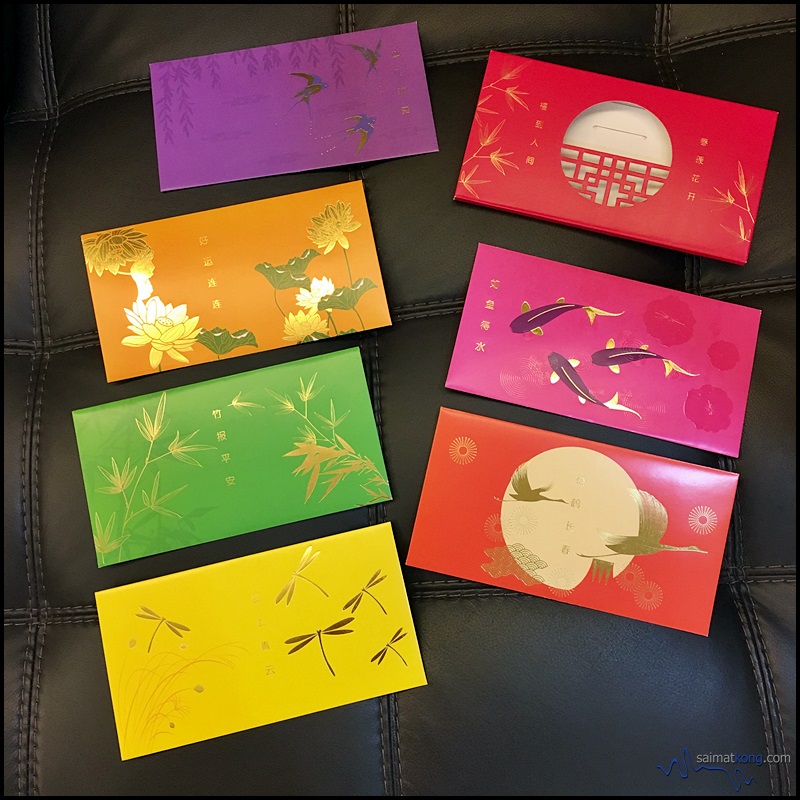 Empire Shopping Gallery
This year, Empire Shopping Gallery's uses back the same design as last year. It's a very pretty papercut set which is not only suitable for CNY but also for other occasions.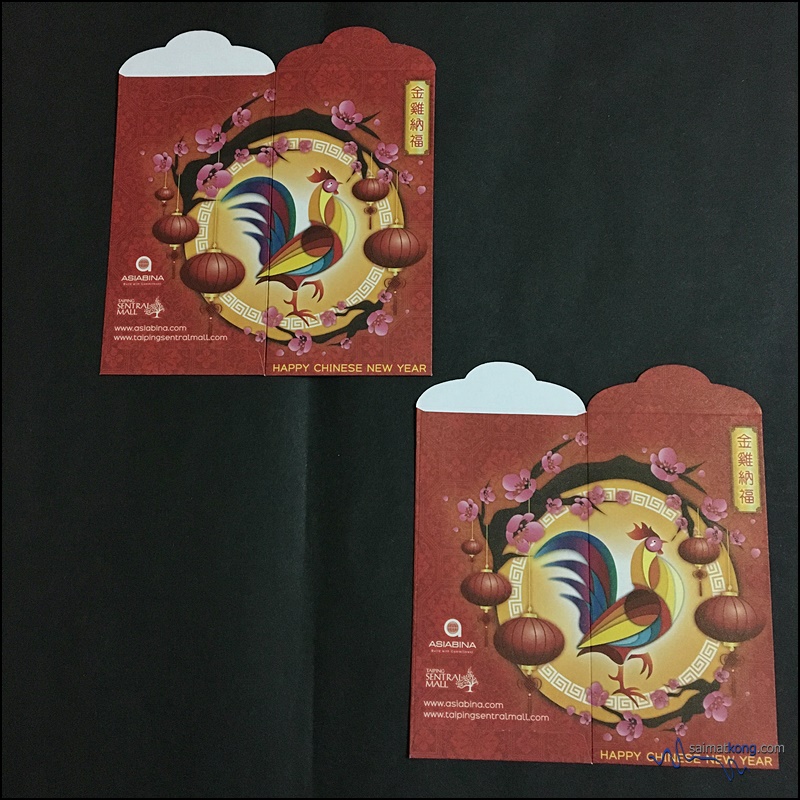 Taiping Sentral Mall Ang Pow
The Prosperity red packets from Taiping Sentral comes in a single piece but combined two pieces together to form a beautiful picture of a colorful Rooster.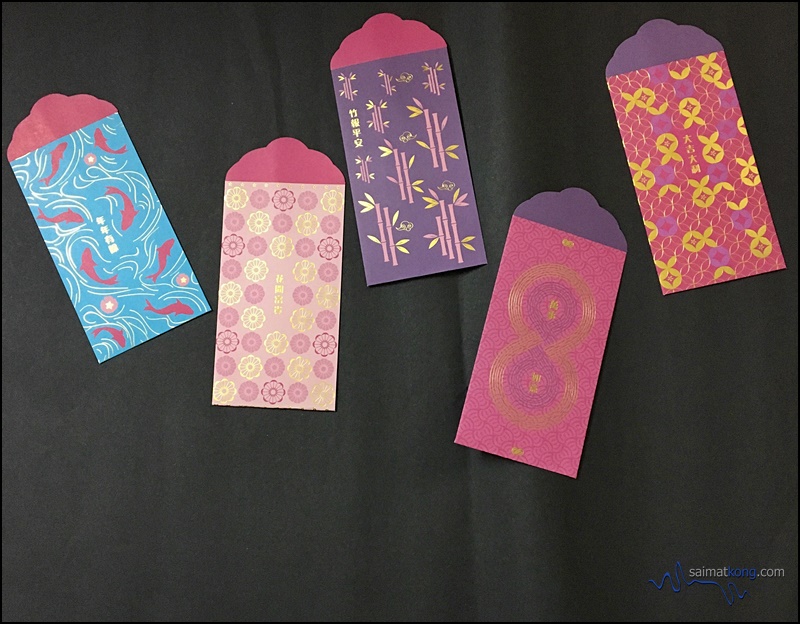 Avenue K Ang Pow
There's no reason not to fall in love with the vibrant and colorful exclusive red packets from Avenue K. The chic design of the red packets add a modern touch to it.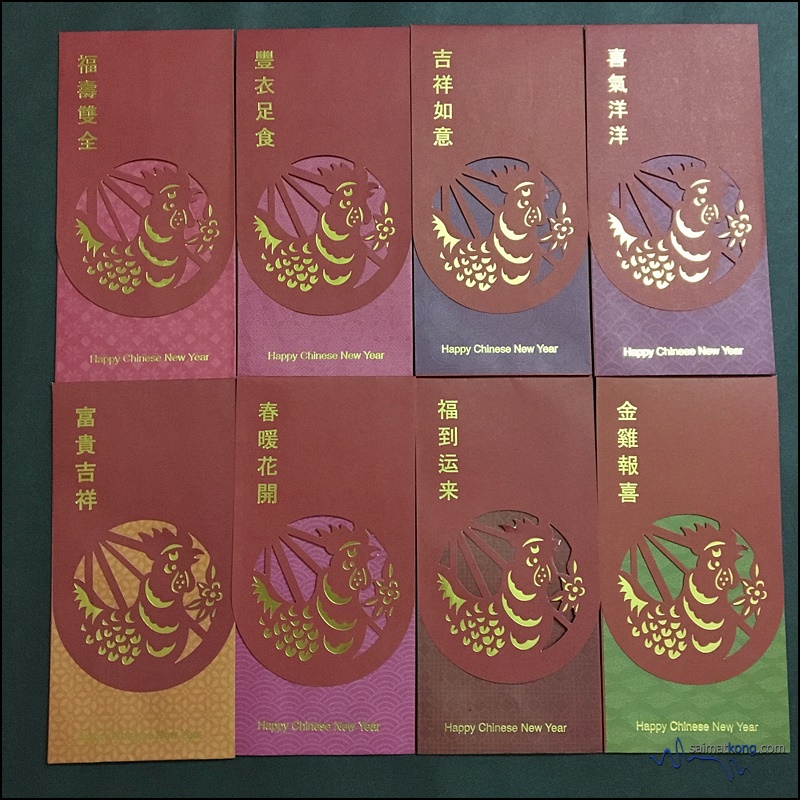 Subang Parade Ang Pow
Subang Parade features a set of Rooster theme red packets in a variety of colours.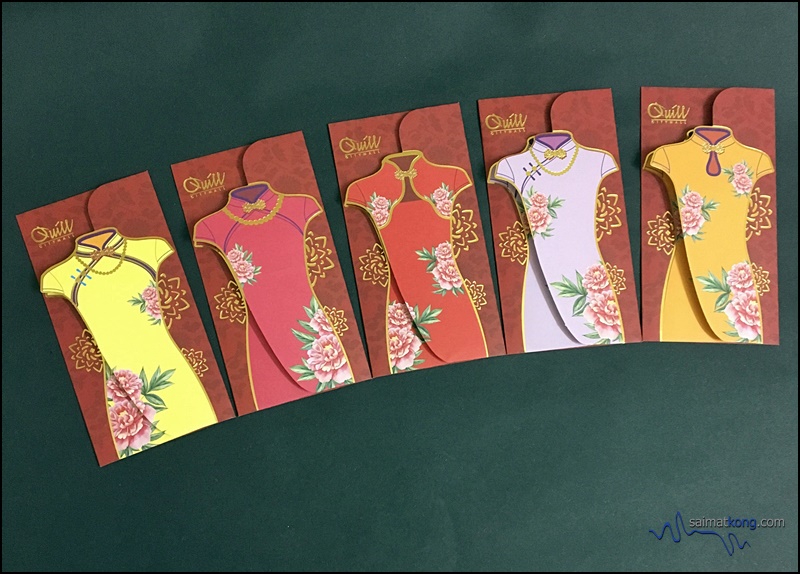 Quill City Mall Ang Pow
Quill City Mall exclusive red packets is such gorgeous set featuring beautiful traditional wear, cheongsam which I reckon suit the malls' theme "Grand Shanghai, A Reunion of Timeless Tales".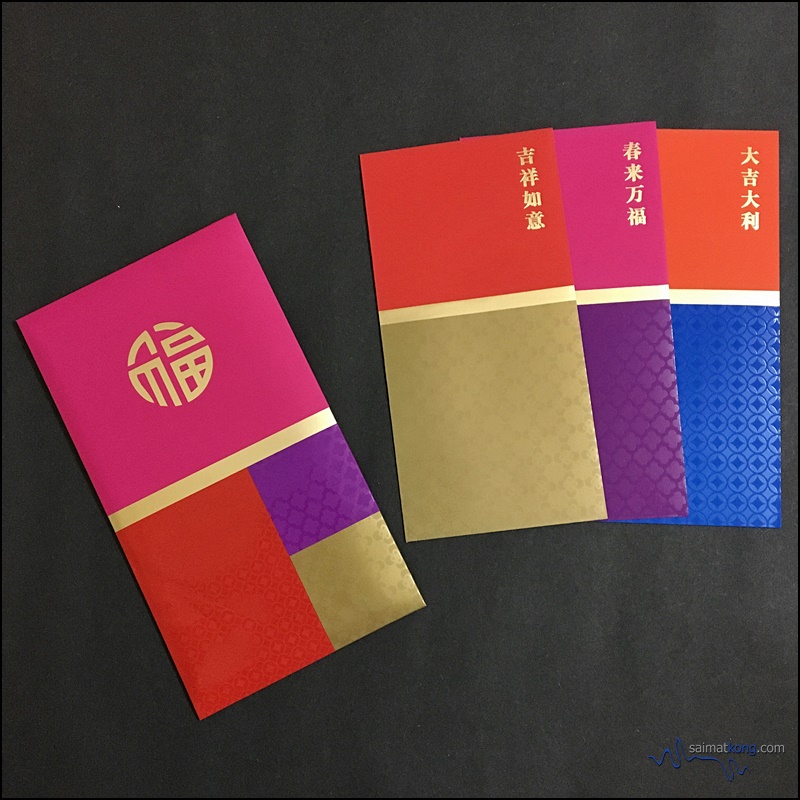 Frasers Centrepoint Malls Ang Pow
The red packets from Frasers Centrepoint Malls are always very classy. This year, their set of red packets comes in vibrant colours and I absolutely love the design of their red packets which is very artistic.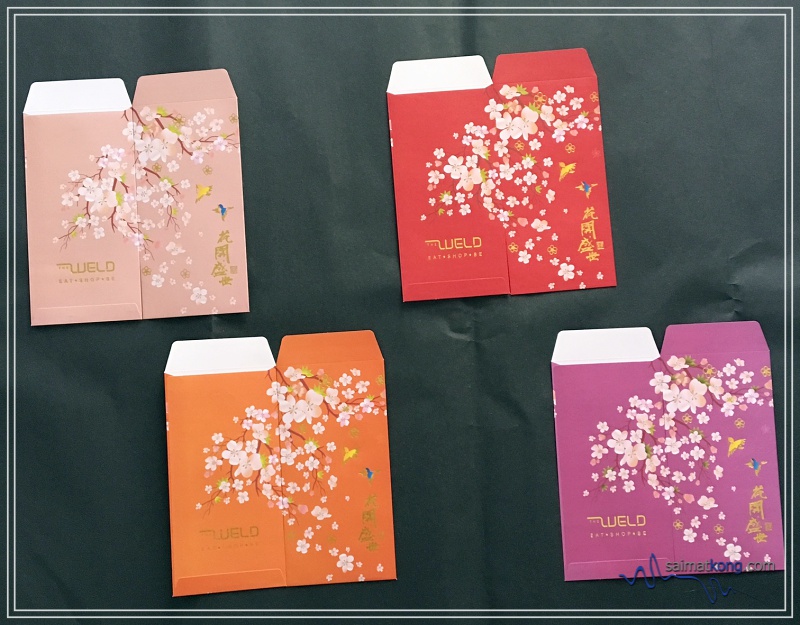 The Weld Ang Pow
Floral-themed red packets from The Weld in 4 different colours. You can form a beautiful picture of blooming flowers when two red packets are combined together. Lovely!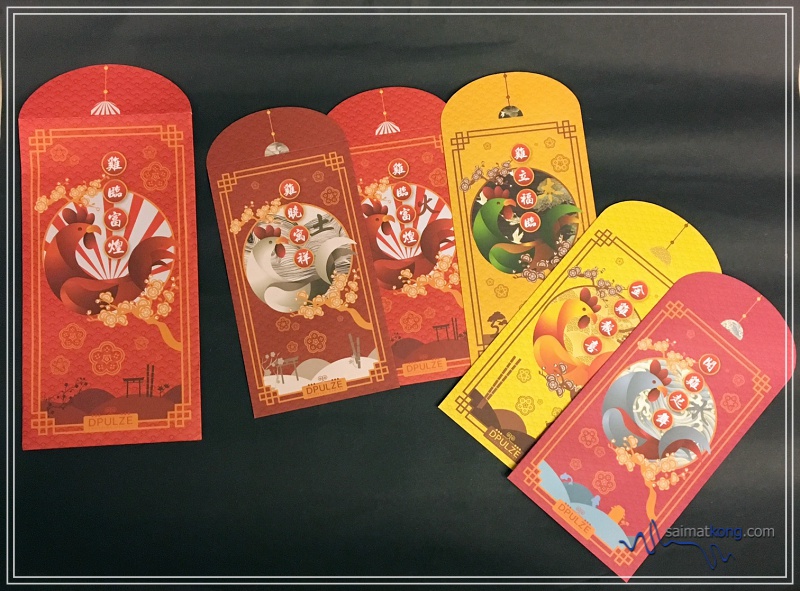 DPulze Cyberjaya Ang Pow
DPulze Cyberjaya exclusive red packets feature a combination of colourful and beautiful rooster with auspicious greetings on each of the red packet.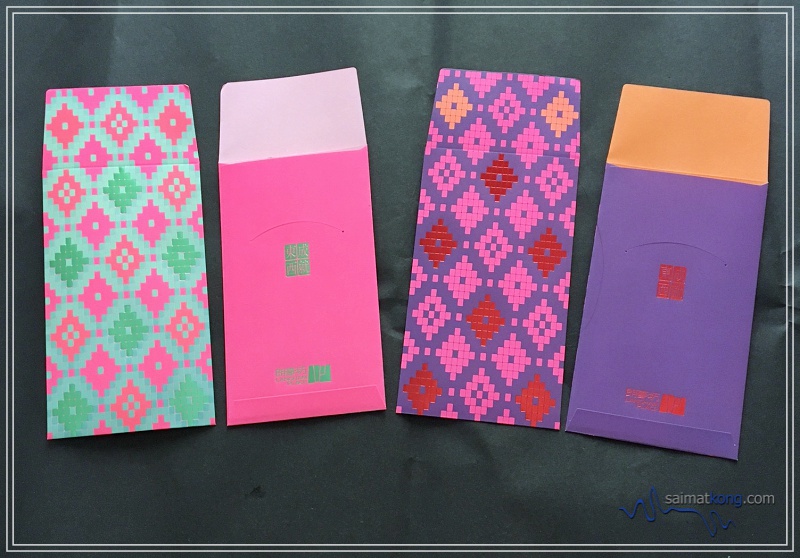 Langham Place Ang Pow
This year, Langham Place offers vibrant and bright colored red packets for their shoppers.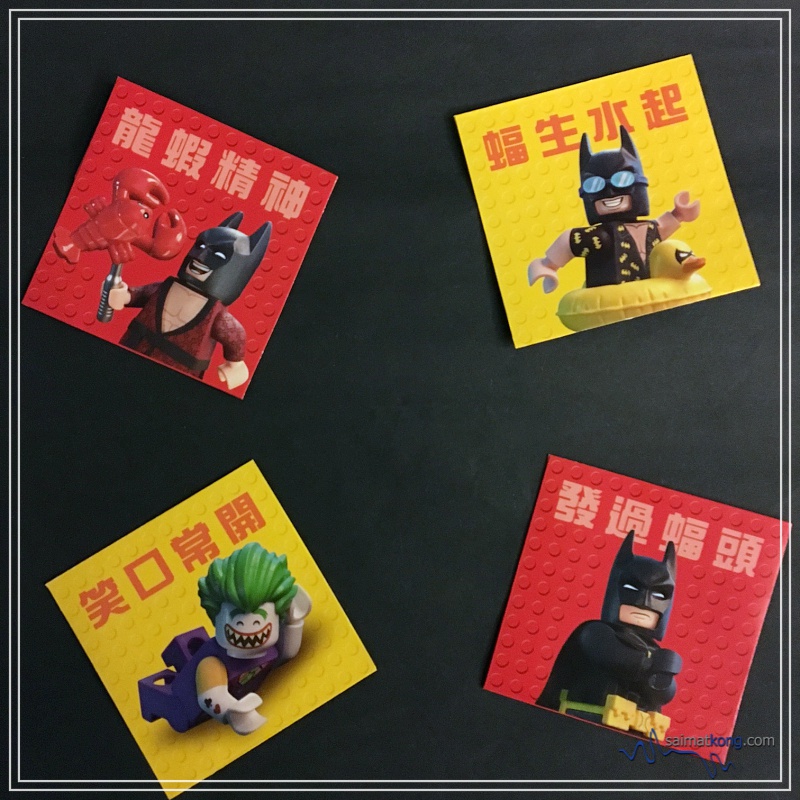 Olympian City Ang Pow
For Year of Rooster, Olympian City printed a set of super cute red packets in shades of red and yellow featuring the famous superhero Batman and the notorious Joker. Besides ang pow collector, I'm pretty sure Lego & superhero fans will love to have this set of red packets too!
Kenanga Wholesale City
The exclusive red packets from Kenanga Wholesale City looks like a coin pouch with lots of roosters print on it. Very chic and creative!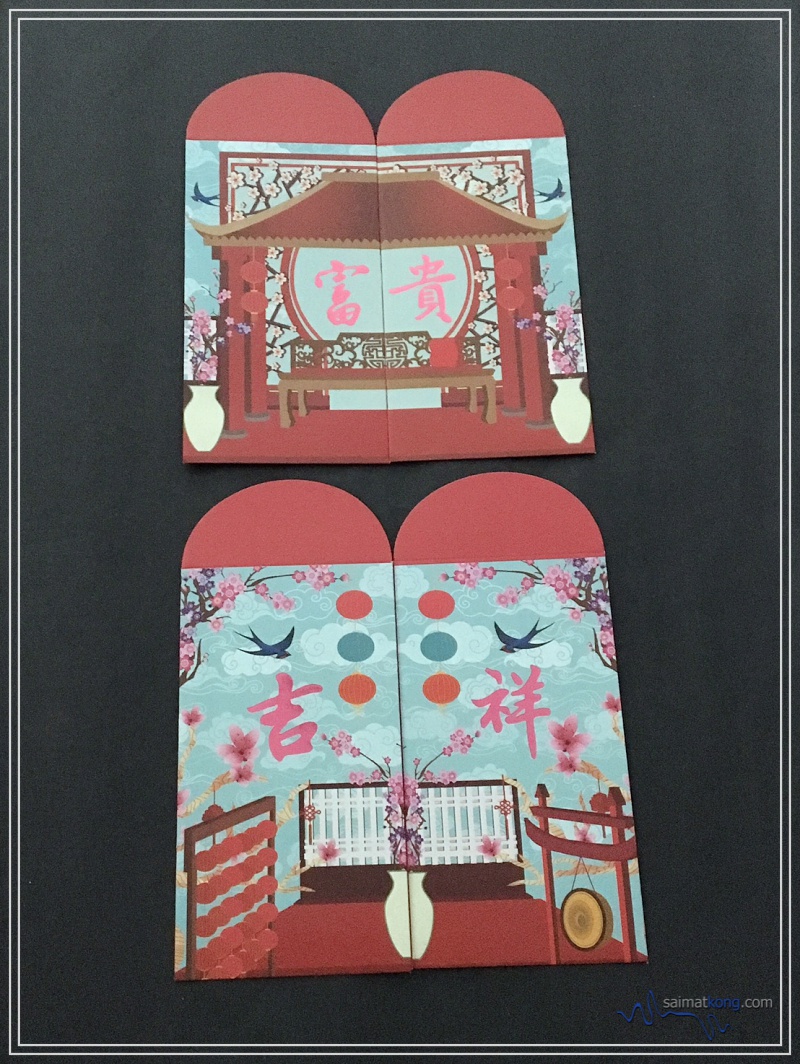 SS 15 Courtyard
The exclusive red packets from SS 15 Courtyard features oriental design and can be combined to form two pictures.
If you would like to have your ang pow packets to be featured in my blog, kindly email me at

—
You can subscribe to
my blog, follow me on Facebook, follow Instagram, follow Twitter and Youtube for more updates!
—
Comments
comments