The Wok Restaurant @ Bandar Puteri, Puchong
We passed by this The Wok Restaurant many times but this was the first time we decided to dine here. This restaurant serves Penang Nyonya and Hawker's Cuisine.
The Wok Restaurant is located about 500 meters on the right from Public Bank, Bandar Puteri, opposite of Tractor Malaysia or Puteri Mart.
You will see a mini swing when you enter the restaurant.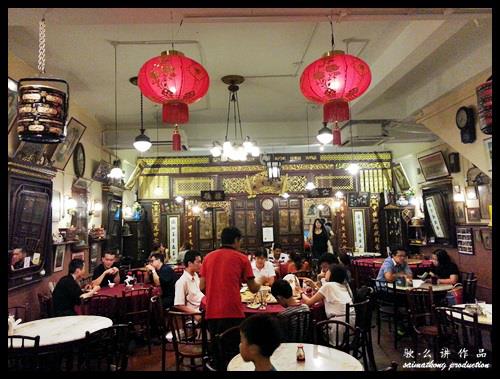 The restaurant interior is very exquisite with mahogany furnitures and decorated with priceless antiques and unique decors. Even the lightings are just nice; not too bright or too dim. You cannot help but feel like you've stepped into a Baba Nyonya house.
Gulai Tumis Snapper RM44.00
The whole red snapper is steamed with mint leaves and ladies finger (okra). The hot and sourish sauce is very appetizing and goes very well with a bowl of hot rice.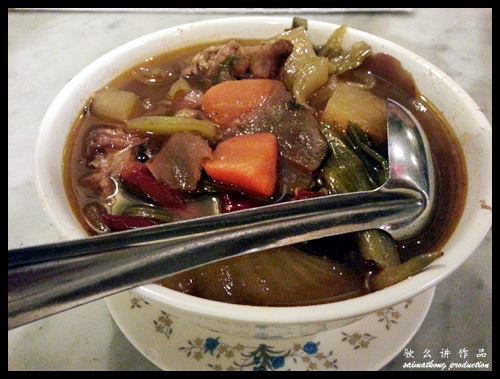 Kiam Chye Boey RM12.00
Kiam Chye Boey (sour vegetable stew) is also known as "Leftovers" soup. This spicy-salty-sourish soup is cooked with meat, salted vege (ham choy), carrot, radish, assam, dried chili and etc.
Jiu Hoo Char RM11.00
This traditional Nyonya dish is one of their Signatures. It is mixture of turnips, carrots, mushrooms and cuttlefish stir-fried together and served with sambal and fresh lettuce for wrappings.
Ma Thai Teik Chia RM4.50
This Ma Thai Teik Chia (Red Sugar Cane and Water Chesnut) is truly refreshing. The sweetness it just right.
Penang Ice Kacang RM7.50
The corn ice cream were soft and flavorful. There are numerous toppings such as mashed red beans, creamy sweet corn, grass jelly, attap chee (palm nuts), cendol, peanuts and etc. What makes this Penang Ice Kacang special and different from those you eat outside- they add nutmeg. This is a perfect thirst quencher for humid days.
Sago with Gula Melaka Syrup
The friendly lady boss, Adelyn threw in a complimentary dessert (Sago with Gula Melaka Syrup kuih) for us. Yes, it's F-R-E-E!!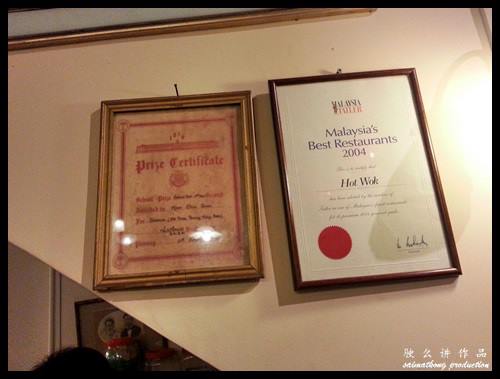 This restaurant was awarded as Malaysian's Best Restaurant 2004!
Verdict: We really like The Wok's cozy atmosphere as it makes you feel right at home. The food quality is good, we will definitely return to try other dishes or whenever there's a mood for Nyonya food.
The Wok Restaurant @ Bandar Puteri, Puchong
Address: G-3, Jalan Puteri 4/6, Bandar Puteri, 47100 Puchong, Selangor
Tel: 012-391 6183
Website: http://thewokcafekl.blogspot.com
Comments
comments