Seoul Palace Korean BBQ just opened its 5th branch on 26th July 2013 in Bandar Puteri, Puchong. They have several other outlets in Klang Valley; USJ 19 Subang, Bandar Baru Klang, Bukit Tinggi 1 Klang and Kuchai Lama.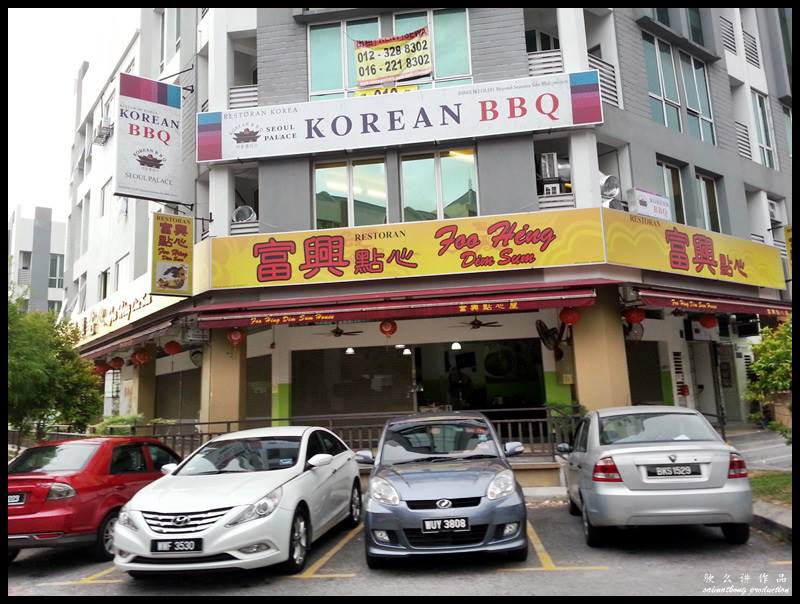 This restaurant occupies a corner lot and is situated on the first floor, just above Foo Hing Dim Sum 富兴点心屋) and opposite 32 Bistro Bar in Bandar Puteri, Puchong.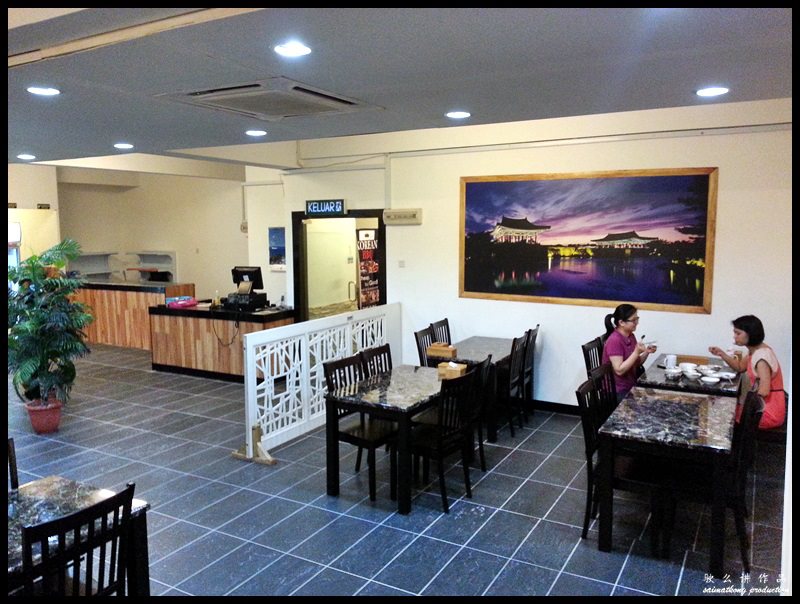 The interior of this place is like any other Korean restaurant; nice, clean and well-lighted. There are two separate dining area in the restaurant; the traditional tatami style and the regular seats. We opted for the tatami-style seating for a complete Korean dining experience.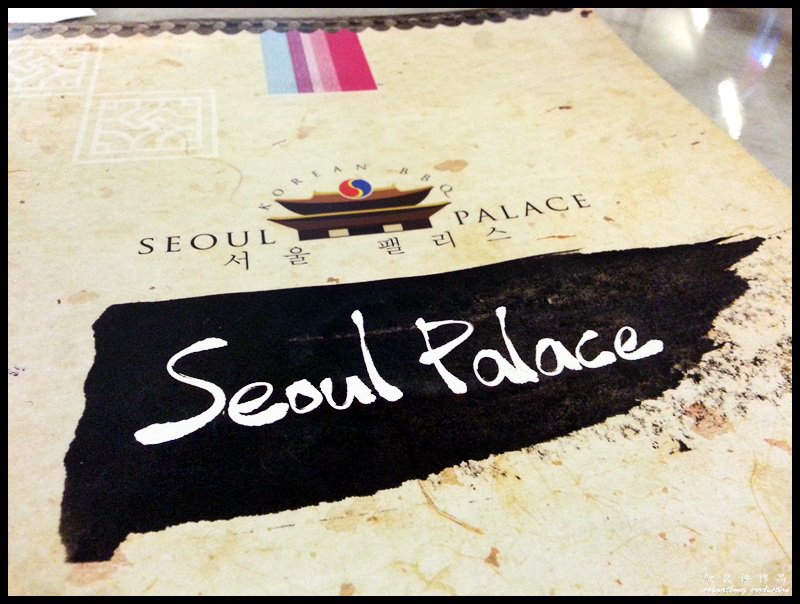 Their menu consists a wide selection of Korean cuisine which includes BBQ, Hot Pot, Noodles, Rice, Beef, Pork, Chicken, Lamb, Kim Chi,Pancake, Rice Cake and etc. Spoilt for choice, we decided to go for set meals.
The set (for 2 pax) that we ordered includes:-
– BBQ Pork
– 1 Kimchi Jjigae
– 1 Dolsot Bibimbap
– 2 Glass of Korean Orange Juice
Besides the above, our set comes with refillable banchan.
Banchan (side dishes)
The servers served us with 10 different types of side dishes (banchan). The best part is, all the side dishes are refillable.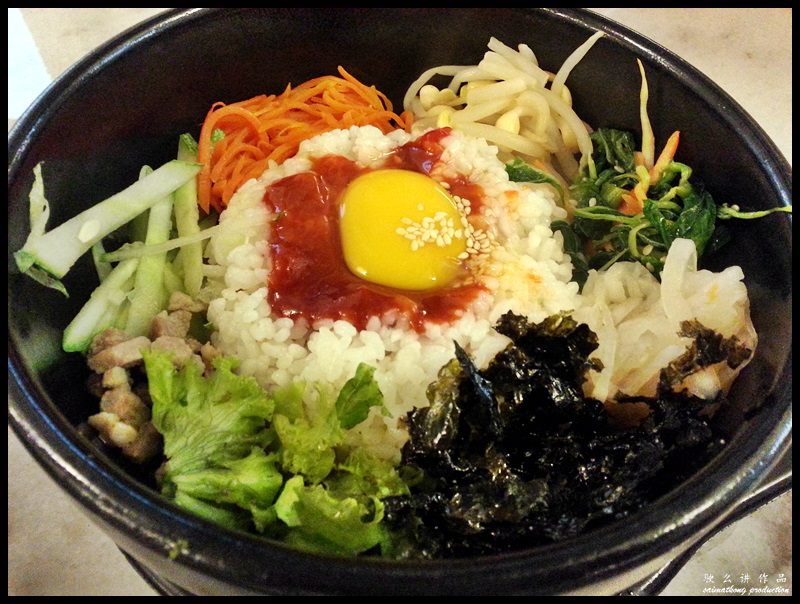 Dolsot-Bibimbap
Dolsot-Bibimbap is white rice in hot pot topped with sauteed and seasoned vegetables, sliced meat and chili pepper paste. A raw egg is cracked on top of the rice. Just stir in all the ingredients thoroughly before eating. Taste wise, it's just so-so. I've tasted better ones.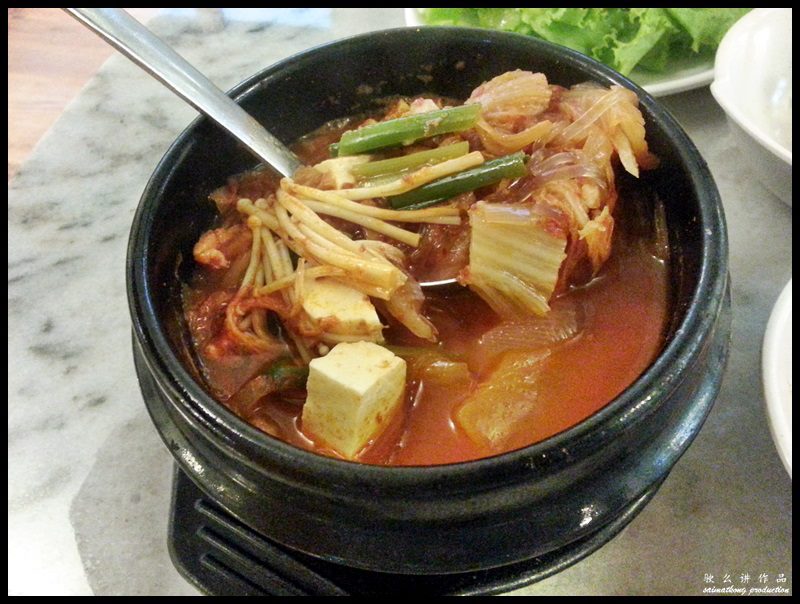 Kimchi-Jjigae (Kimchi Stew Pork & Tofu)
This kimchi-jjigae is served with a bowl of rice. This kimchi soup was served in a stone pot and was still boiling when served on the table. This hot and flavorful soup is loaded with ingredients like scallions, diced tofu, onions, pork and etc. this soup is really appetizing.
Samgyeop-sal (Sliced Pork Belly)
This BBQ Pork Belly was well marinated and cooked just right. The grilled meat was cut into pieces by the servers so that it's easier for us to eat. You could just eat the meat with rice or wrap the meat with lettuce and add condiments like pajori (spicy scallion salad) and ssamjang (a spicy paste made of doenjang mixed with gochujang).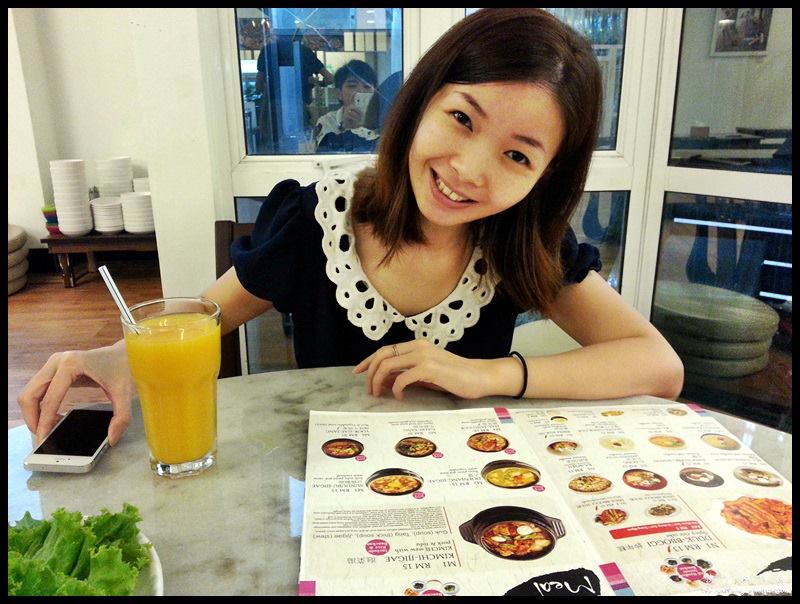 Verdict: When you leave the restaurant, you won't end up smelling like grilled meat. The good service and comfortable environment of this restaurant is worth a second visit.
Seoul Palace Korean BBQ @ Bandar Puteri, Puchong
Address: 35-1 Jalan Puteri 2/6, Bandar Puteri Puchong, 47100 Puchong
Tel: 03-8060 3456
Opening Hours: 11.00am – 10.30pm
Website: www.seoulpalace.my
—
Follow me on Facebook, Twitter, Instagram for more live updates!
Facebook : https://www.facebook.com/smartkong
Twitter : https://twitter.com/saimatkong
Instagram : http://instagram.com/saimatkong

Comments
comments