Restaurant Lek Lek (亞烈家乡美食饭店) doesn't need anymore introduction due to countless blog reviews and press reviews. I was told that this restaurant started from a home-based restaurant well hidden in the village of Serdang before relocated to this current double-storey restaurant in Pusat Perdagangan SK.
We were there for dinner at 7pm and most tables were taken. We were lucky to get a table. Despite the crowds, our food was served promptly.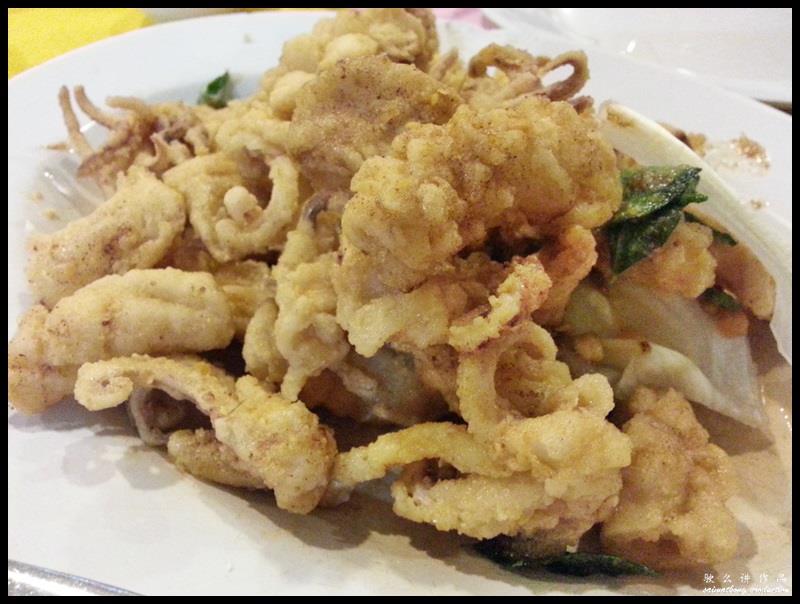 Salted Egg Yolk Squids (RM15)
This dish is simply divine and heavenly. The salted egg yolk make a good combination with the cholesterol high squid. However, for health reasons, we shouldn't eat this often.
Sweet and Sour Pork in Yam Basket (RM22)
The Yam Ring (Fatt Put) is deep fried until crispy and golden. The centre dish is the main attraction of this dish. The sweet and sour pork is thinly sliced and fried until crispy and crunchy. The pork slices is not soggy yet well coated with sweet and sour sauce. If you are a fan of sweet and sour pork like me, you absolutely have to try this!
Steamed Tilapia with chili bean paste (酱蒸非洲鱼)(Cheong Jing Fei Chao) (RM30.80)
This fresh fish is cooked in Cheong Jing style, with mild spicy and sweet taste. The meat is moist and tender.
Signature Homemade Fish (Ma Yao Yu) (化骨龙煎釀马友鱼) (RM36)
This is a signature fish made using the "Yong Tou Fu" stuffing and the Ma Yao Yu skin. It's a special dish but the taste wise, I still prefer real fish!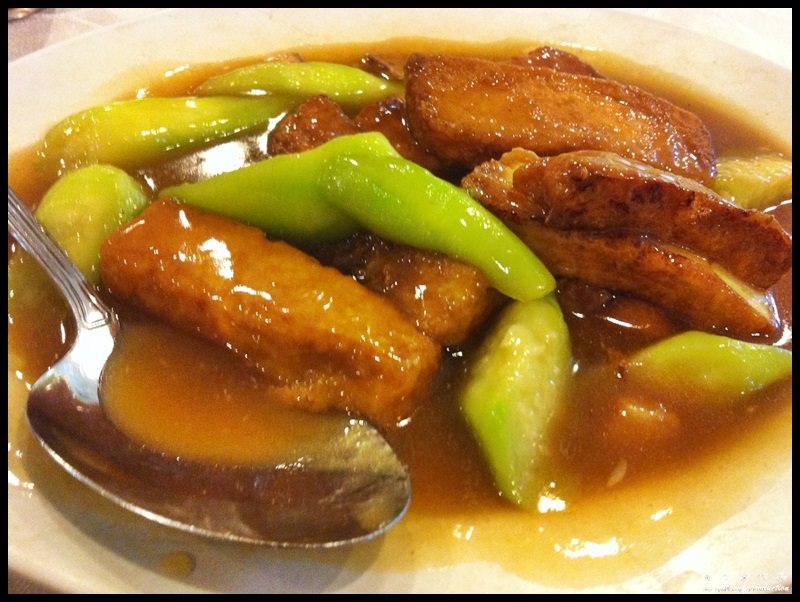 Beancurd with Sweet Gourd (RM10)
In Cantonese, this tofu dish is called 'Seng Kua' Tofu. This simple yet delicious dish; the beancurd is braised with angled luffa gourd.
Homemade Beancurd with Fried Garlic and Shrimp (RM12)
This dish look simple but it is tasty with a homely touch. The tofu was deep fried and topped with garlic fried to a light crisp combined with the sweet minced shrimp.
Four Variety Bean Belacan (aka Four Heavenly King) (四大天王) (RM15)
This is a commonly ordered dish in any Chinese Restaurants. This dish is a combination of stink beans (petai), brinjal, okra and long beans stir fried with spicy hot sambal belacan. Yum!
Claypot with Pork & Salted Fish (RM12)
"Ham Yue Fa Lam Pou" has always been one of my favorite Chinese dish. You can actually eat few bowl of rice with this dish. There's ingredients like ginger, onions, salted fish, pork belly and dried chili. Taste wise, it's passable…usually the salted fish will enhance the taste of this dish. However, I couldn't taste much of the salted dish.
Verdict: There are many interesting dishes which we have yet to try such as Petai Fried Rice, Roasted Pork Knuckle, Fish Paste Stuffed Mackerel and etc. We will return soon to savor other creative yummy dishes in the menu. Stay tuned for the next post!
Restaurant Lek Lek (亞烈家乡美食饭店) @ Seri Kembangan
Address: No 12, Jalan PSK4, Pusat Perdagangan SK, 43300 Seri Kembangan, Selangor Darul Ehsan
Tel: 03 8941 3404
—
Follow me on Facebook, Twitter, Instagram for more live updates!
Facebook : https://www.facebook.com/smartkong
Twitter : https://twitter.com/saimatkong
Instagram : http://instagram.com/saimatkong

Comments
comments