Noodle Village Restaurant 麵香村 @ Bandar Puteri, Puchong
Noodle Village Restaurant 麵香村 is located along the same row as Old School Cafe, Fu Gua Thong Restaurant, Restoran BBQ Soon Hing and Hon Kee Porridge Restaurant in Bandar Puteri, Puchong.
Just as the name suggests, this restaurant serves various selection of noodles. They specialize in pan mee and offers a wide variety of pan mee such as Soy Sauce Pan Mee (Loh Pan Mee), Soya Bean Pan Mee, Spinach Pan Mee, Fried Pan Mee and Chili Pan Mee to name a few. Besides noodles, Noodle Village also serve Northeastern dishes, various types of fried rice, Nasi Lemak and etc.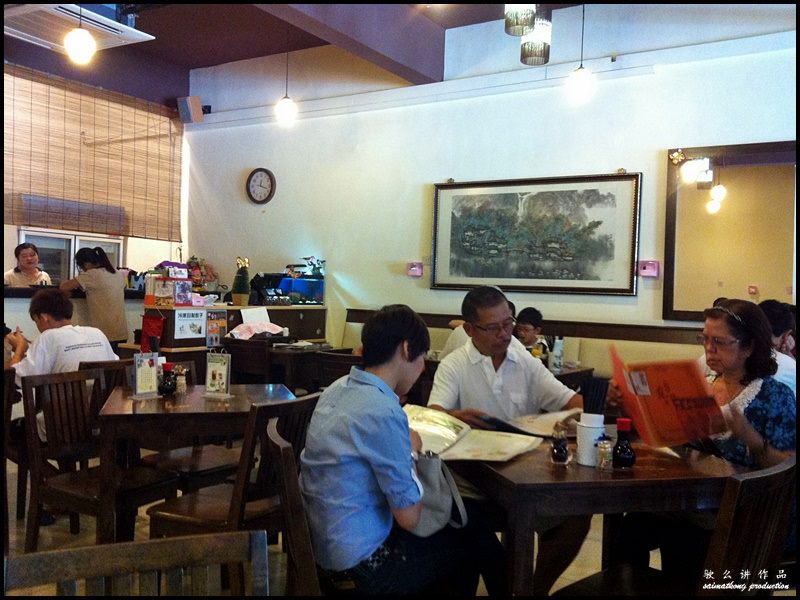 The tables are nicely spaced and there's nice Chinese songs playing softly creating a relaxed atmosphere.
Signature Soy Sauce Pan Mee (RM7.30)
Just like Loh Mee, this Soy Sauce Pan Mee or known as 'Loh Pan Mee' is cooked with cooked with thick brown gravy. This Loh Pan Mee have the usual ingredients such as fried anchovies, black fungus, mushrooms and pork meatballs. This bowl of noodles reminds me of the Loh Pan Mee I tried at Paramount Garden Restaurant 新的天地茶室' many years ago.
Yang Zhou Fried Rice with Chinese Sausage (RM7.30)
This lovely fried rice is cooked with ingredients like egg, french beans, carrots and chinese sausages. The Chinese sausage or 'lap cheong' in Cantonese adds flavor to the fried rice.
Fresh Meat Cabbage Dumpling (RM6.00)
This fresh meat dumpling or "gao zhi" is a mixture of minced pork meat and Chinese cabbage wrapped with dumpling skin. The meat is fresh and juicy while the dumpling skin which is made of flour is not too thick.
Verdict: Cosy environment with good food. I will be back to try their famous Soya Bean Pan Mee.
Noodle Village Restaurant 麵香村 @ Bandar Puteri, Puchong
Address: No. 56, Jalan Puteri 2/4, Bandar Puteri, 47100 Puchong, Selangor
Opening hours: 10am – 10pm daily inclusive of public holiday
—
Follow me on Facebook, Twitter, Instagram for more live updates!
Facebook : https://www.facebook.com/smartkong
Twitter : https://twitter.com/saimatkong
Instagram : http://instagram.com/saimatkong

Comments
comments