If you feel like having good Thai seafood in Phuket, it's best to go to restaurants that are popular locals coz that's where you can get good quality food and coz at good price too. Laem Hin Seafood is one of the island's all-time favourite neighborhood restaurants frequented by the locals. The journey to Laem Hin Pier from Patong Beach takes about 45mins but trust me, it's all worth it! Look out for the "Laem Hin Seafood" and "The Village Coconut Island" signboard on your left.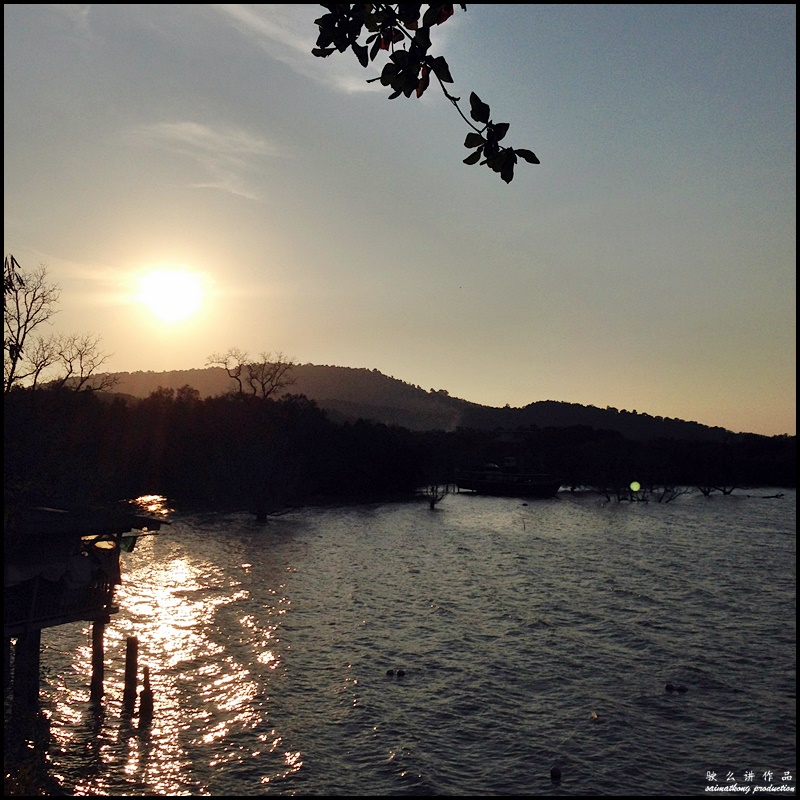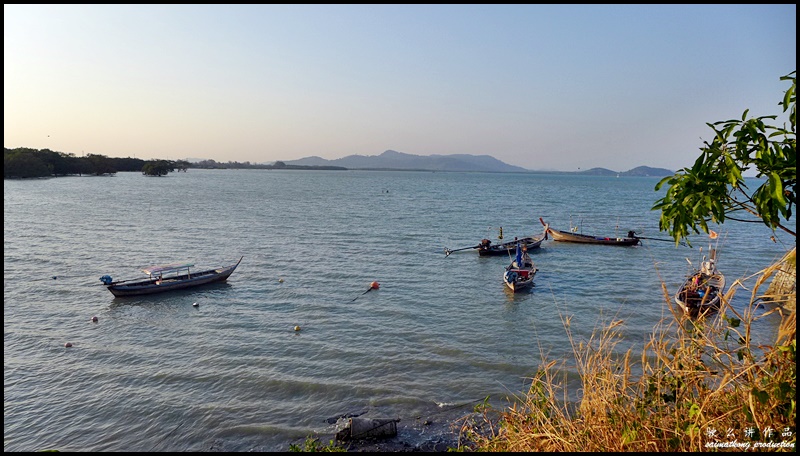 The beautiful sunset in Phuket taken not far away from Laem Hin Pier 🙂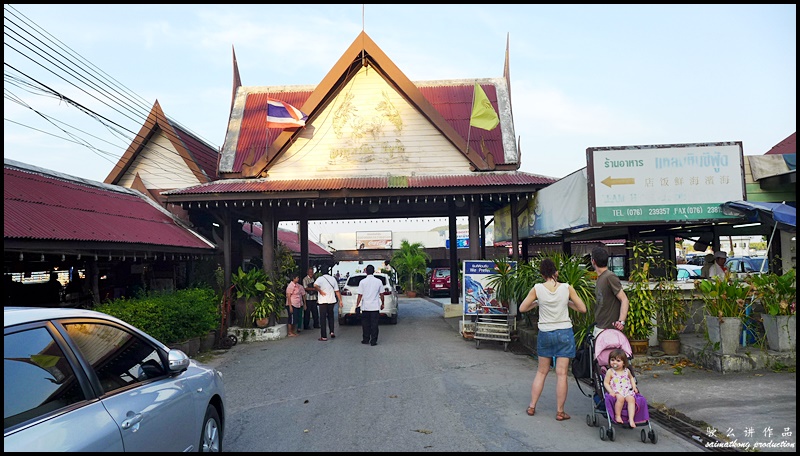 Laem Hin Seafood is set on wooden stilts above the water. At Laem Hin Pier, there are complimentary long-tail boats that will take you to Phuket's famous floating restaurants such as Bang Mud Seafood and The Black Crab Floating Restaurant.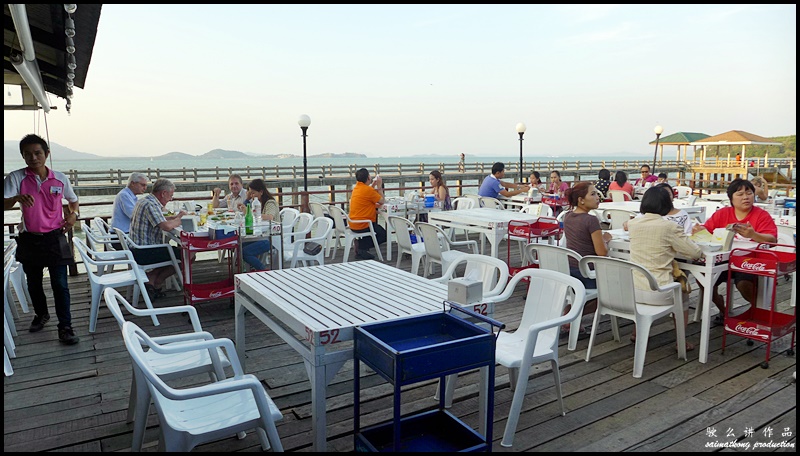 The restaurant has big fish tanks located in the dining area with live fish, prawns, lobster and crabs ready to cook.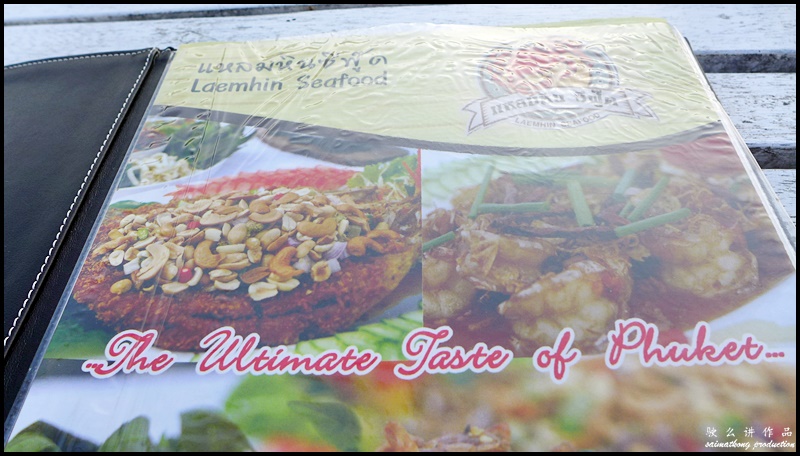 The menu has a huge selection of seafood and there are also other local dishes if you do not like seafood.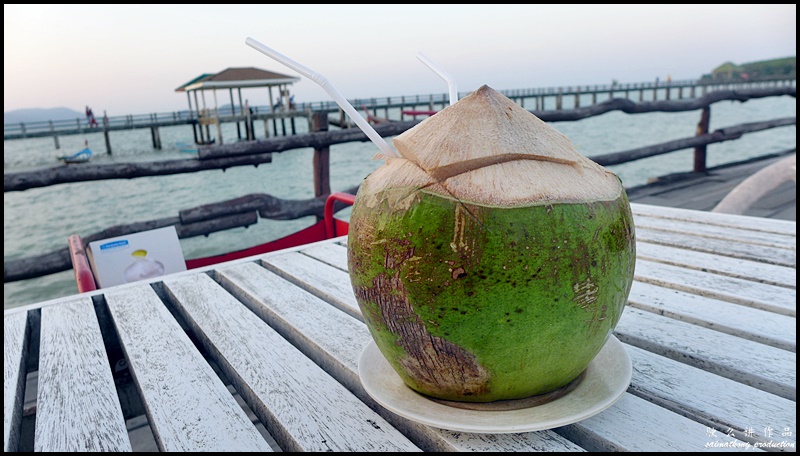 Thailand Fresh Coconut (40baht)
Weather in Phuket is extremely hot and dry, thus this coconut water is perfect to cool down and quench thirst.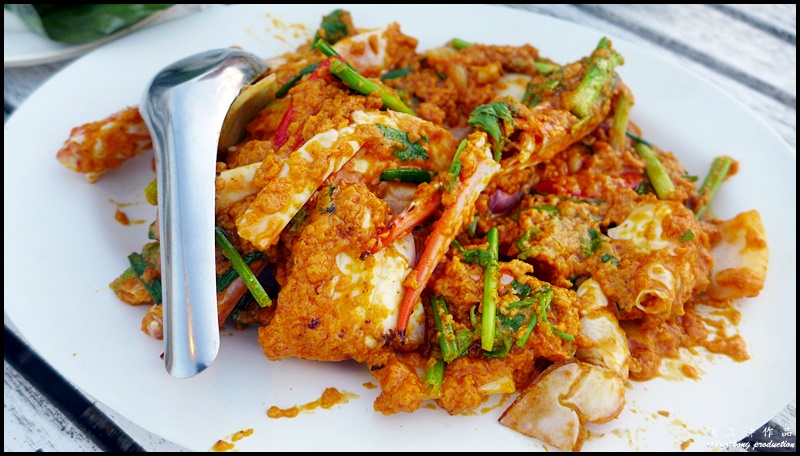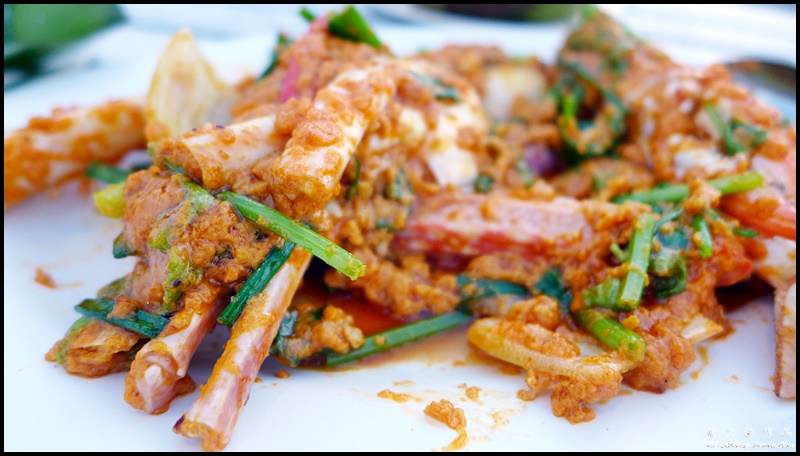 Jumbo Blue Crab in Curry Powder Sauce (180baht)
If you love crabs, you've gotta try this blue crabs cooked with curry powder. It's superbly flavorful and yummy. The crabs are just so very fresh. Love it!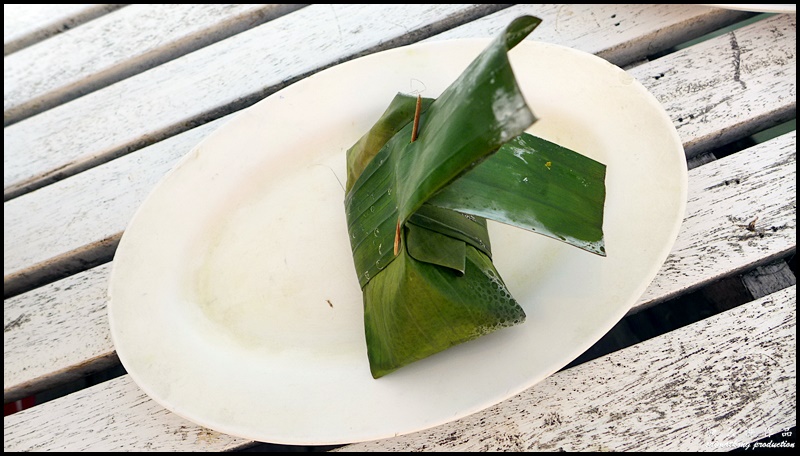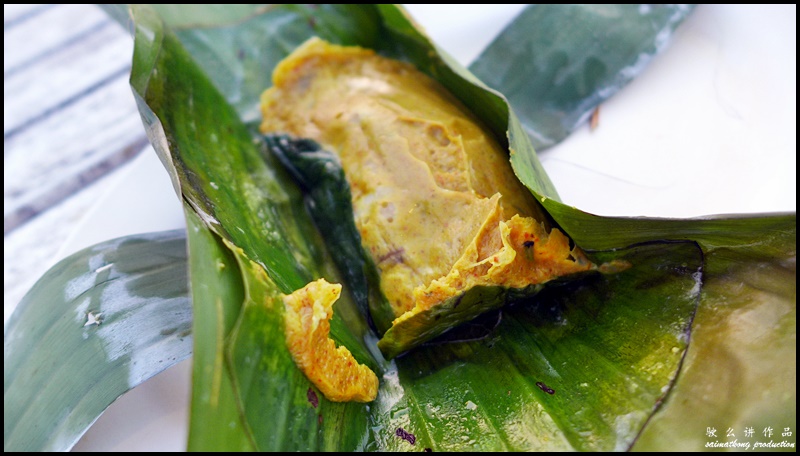 Hor Mok Phuket (15baht)
One of the popular local specialty that you should try in Phuket is Har Mok which is easily found in almost every Thai restaurants. Hor Mok is basically steamed fish curry custard wrapped in banana leaf which is similar to otak-otak found in Malaysia.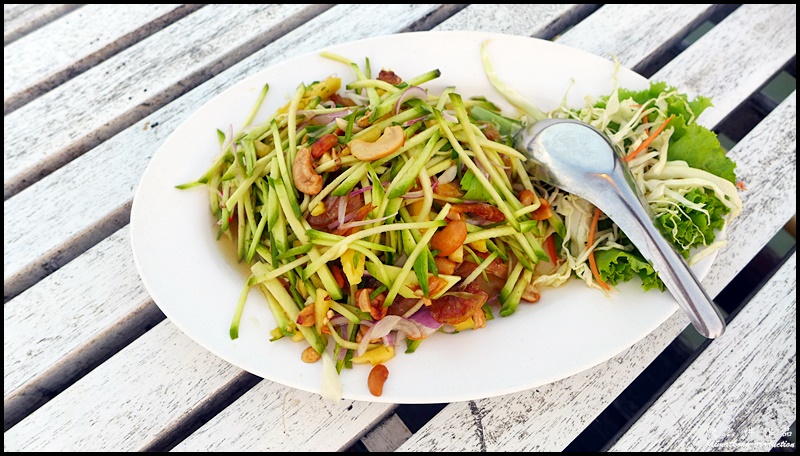 Yum Koong Seab (120baht)
Smoked dried shrimps spicy salad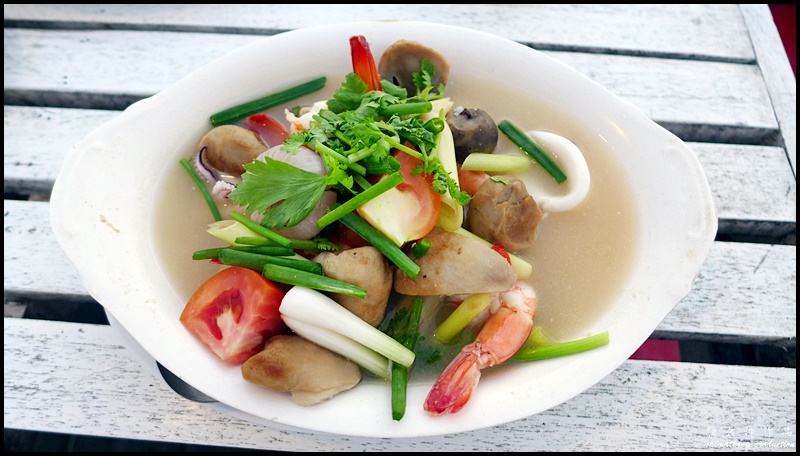 Tom Yum Koong Seafood (120baht)
I've always prefer clear tom yum soup without coconut soup. This seafood tom yum soup at Laem Hin is real good, it's spicy and sour. Absolutely appetising!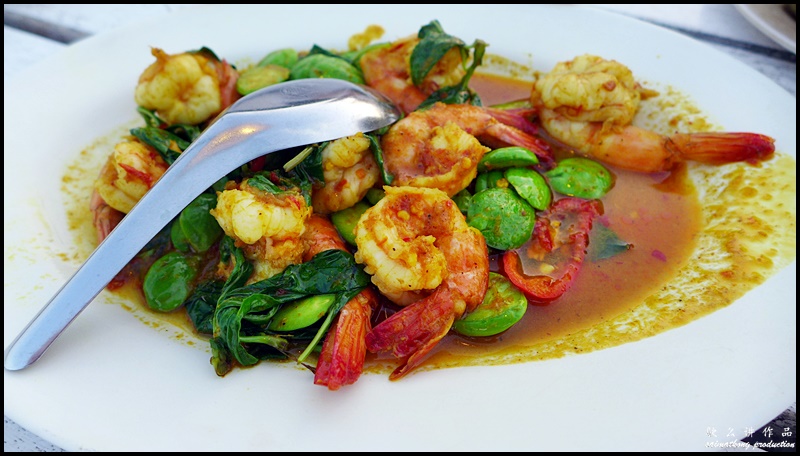 Phuket Style Stir-Fried Red Curry with Prawns and Stink Beans ('Koong Pad Ped Sator) (150baht)
The stir-fried petai with prawns is one lip smacking good dish. The prawns are real fresh and the red curry is spicy but tolerable (I guess that's coz we're used to eating chili in Malaysia too)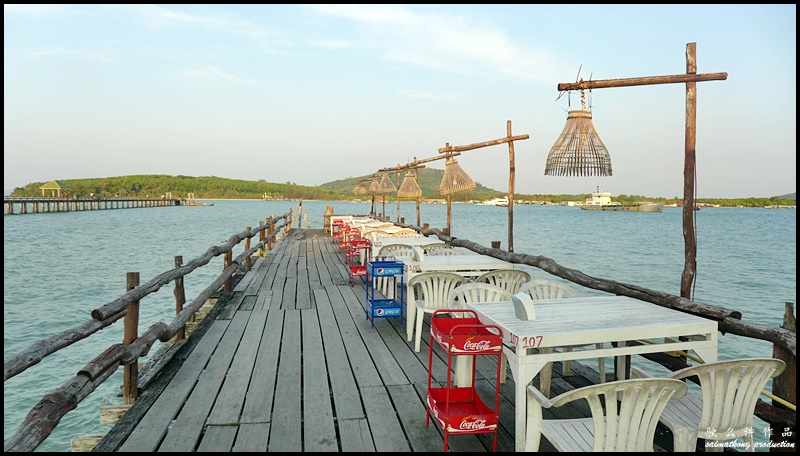 If you're looking for fresh and delicious seafood with amazing view and at reasonable price, Leam Hin Seafood is the place to go. This hidden gem is packed with locals dining with their friends and families. Thumbs up for the good food!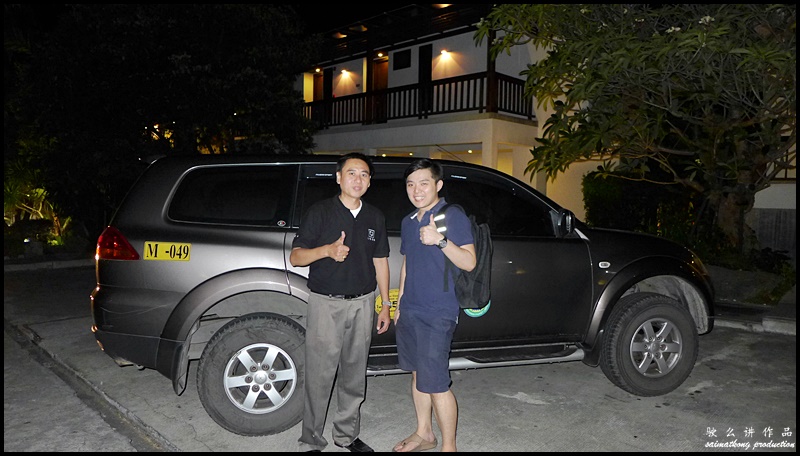 Tips: To get to Leam Hin Pier, it's best to take Uber instead of taxi cox taxi is very expensive in Phuket. Taxi ride to Leam Hin Seafood Restaurants or the other floating restaurants nearby can easily cost 800baht from Patong Beach but you can save few hundred bahts if you take Uber. Sign up with Uber now with this uber promo code "75HG3″ and get 1st free ride up to RM60! ‪#‎uber 🙂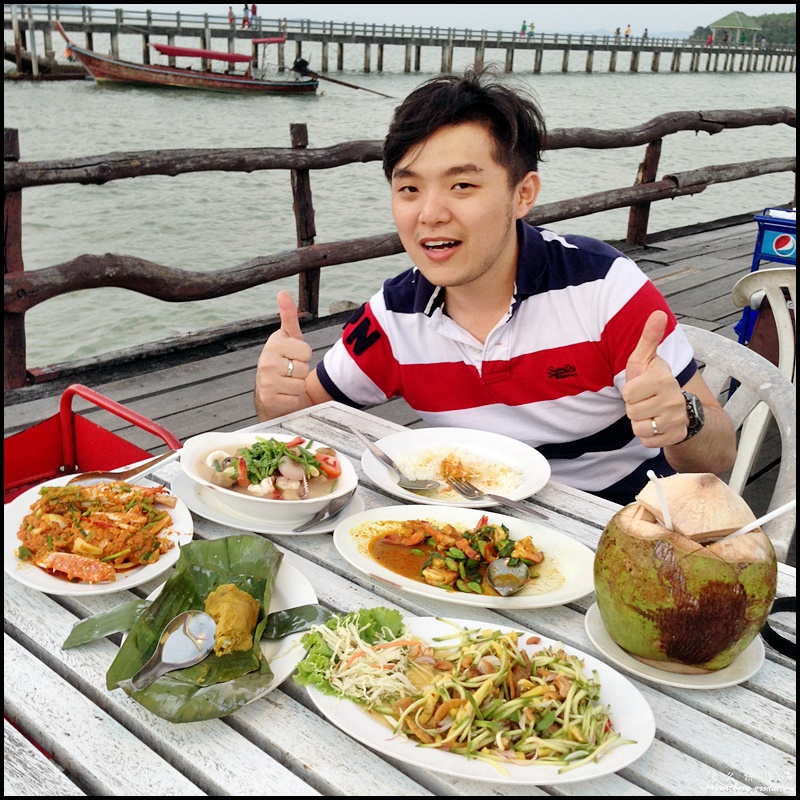 Verdict: Laem Hin Seafood Restaurant is famous among locals for its fresh seafood at very reasonable prices. This restaurant is a bit far from Phuket Town but it's definitely one of the must visit restaurants in Phuket. Leam Hin opens for lunch followed by dinner into late evening. The decor is pretty simple but its surroundings are excellent. This is the place to enjoy delicious and fresh seafood in Phuket with a nice view too 🙂
Laem Hin Seafood Restaurant @ Mueang Phuket District, Phuket
Address: 90/11, Moo 7, Soi Baan Leamhin, Thepkrasattri Road, Koh Keaw, Phuket, 83200 Thailand
Opening Hours: 12pm – 10.00 pm daily
Tel: +66 (0)76 239 357
Comments
comments