Goon Wah Restaurant in Kuchai Lama is famous for their Claypot XO Fish Head Noodle. This restaurant occupies two shop lots and is situated opposite SM Sri Sentosa and SRK Sri Setia in Kuchai Lama.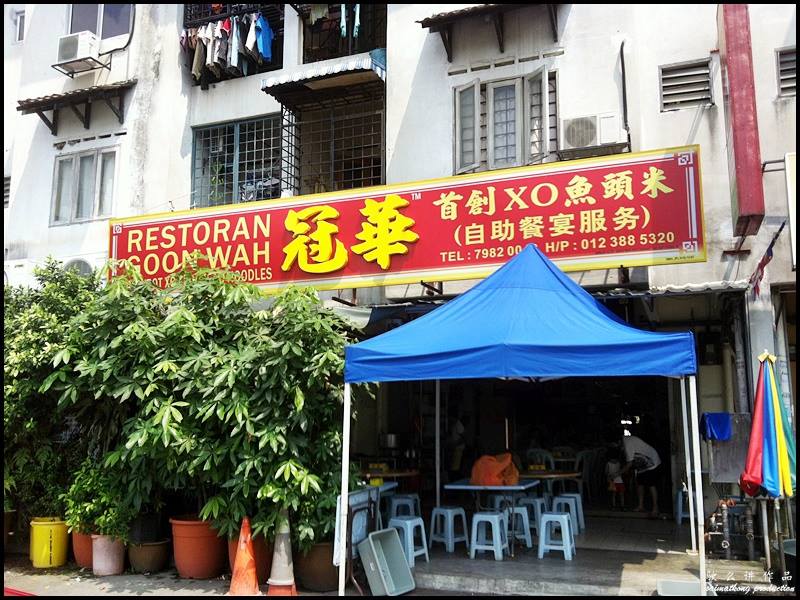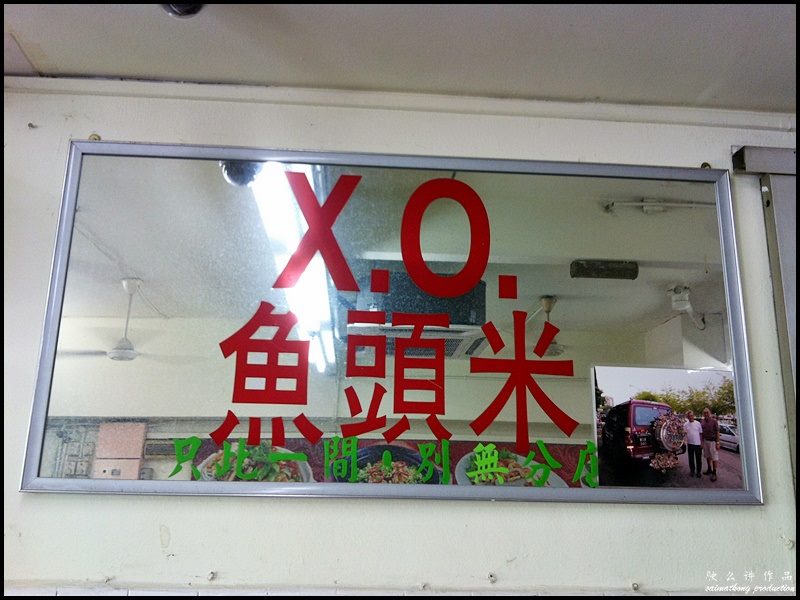 The restaurant have a fairly simple interior and there's a menu written in Chinese on the wall. Goon Wah Restaurant first started out as a buffet catering business for functions, events and parties before venturing to restaurant business.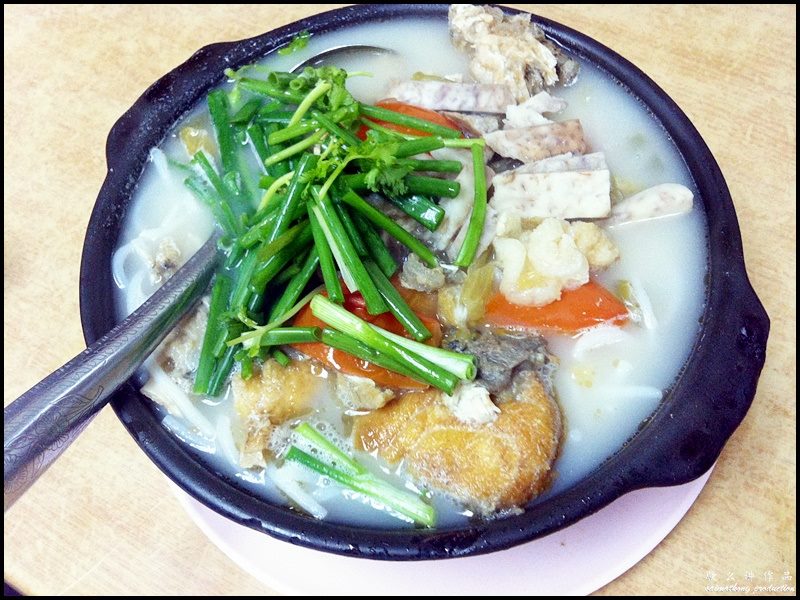 XO Fish Head Noodle (XO鱼头米)
This Claypot XO Fish Head Noodle (XO鱼头米) is one of Goon Wah's signature dishes. Unlike fish head noodle at other places, Goon Wah's version is towards the salty side. Also, thick vermicelli which resemble 'lai fun' is used instead of the usual thin ones. The broth is not milky but quite clear and loaded with ingredients like chunks of fried fish head, spring onions, yam, ginger, tomatoes and salted vege slices. I couldn't really taste the XO but the soup is extremely flavorful and delicious. And did I tell you that you can refill the soup at no charge? YES, soup refill is FOC!!! A highly recommended dish at Goon Wah!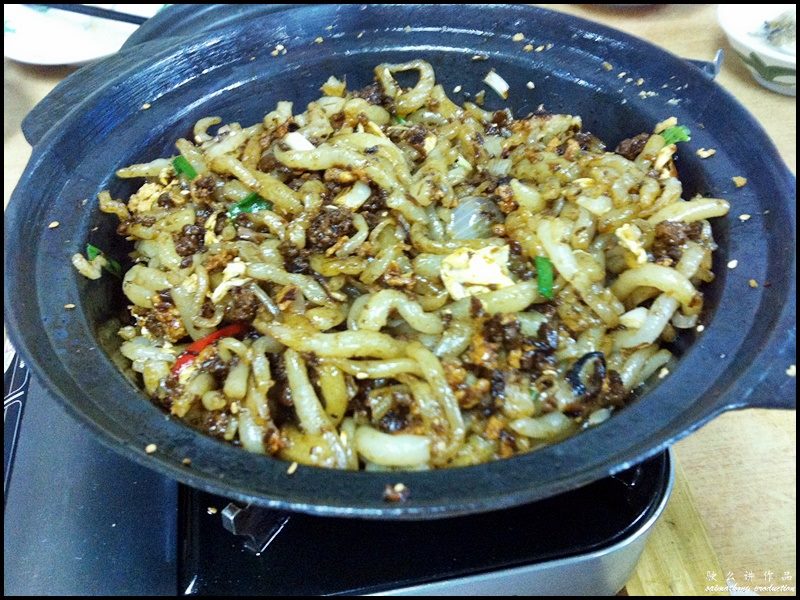 Goon Wah XO Fish Head Noodle 冠华XO鱼头米 @ Kuchai Lama : Claypot Lou Shu Fan 瓦煲老鼠粉
This Claypot Lou Shu Fun 瓦煲老鼠粉 is another famous dish at Goon Wah. The claypot is placed on top of a gas stove to keep the noodles warm. The lou shu fun has generous ingredients like minced pork, fried dried shrimps, spring onions and red chilli. Simply mix all the ingredients together and enjoy the lou shu fun with some sambal belacan for the extra oomph.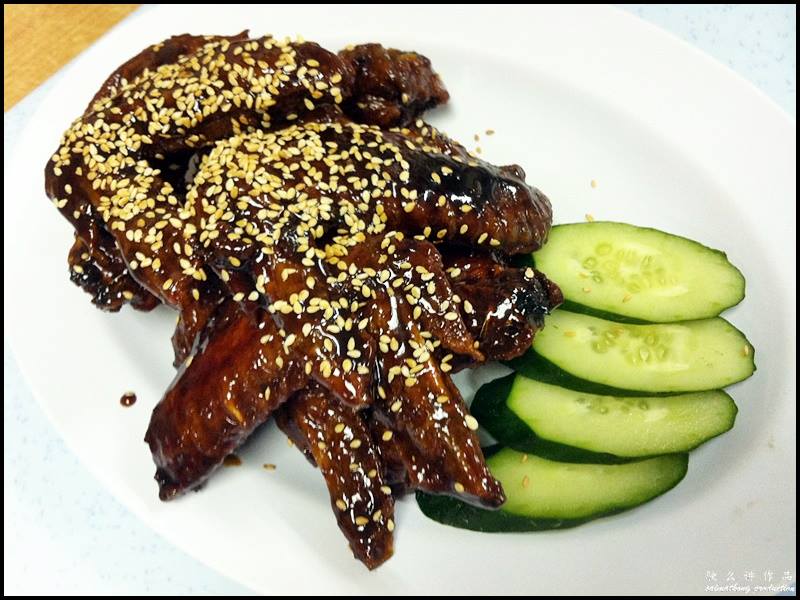 Stout Chicken Wings 黑啤焗鸡翼
The BBQ Chicken Wings 黑啤焗鸡翼 look real appetising. The wings are firstly barbecued before glazed with a sweet and thick caramelised sauce then finally coated with sesame seeds. Good stuff!!! I can tell you that these wings are really addictive and one piece is not enough.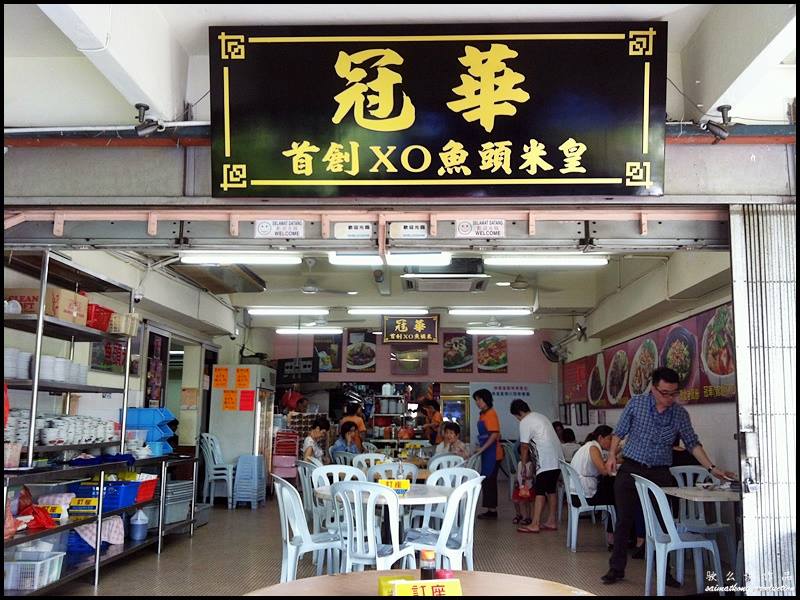 Verdict: Goon Wah Restaurant 冠华 serves delicious food at reasonable price and despite the crowd, service is quite fast. They are only open on weekdays from 9am – 3pm and close on weekends. Hence, this is a good place to go for lunch if you're working nearby. The popular dishes at Goon Wah Restaurant 冠华 includes XO Fish Head Noodle, Claypot Lou Shu Fun, Stout Chicken Wings and Braised Pork Belly with Yam. Do call and make a reservation if you want to sit at the air conditioned room as the place is usually fully packed during lunch hours.
Goon Wah XO Fish Head Noodle 冠华XO鱼头米
Address: G13 & 14, Jalan 3/115C, KP 2, Taman Kuchai Lama,
Off Jalan Kuchai Lama, 58200 KL.
Tel: 03-7982 0048 / 03-79840722
Opening Hours: Monday to Friday 9am – 3pm; closed on weekends
Recommended Dish: XO Fish Head Noodle, Claypot Lou Shu Fun, Braised Pork Belly with Yam, BBQ Chicken Wings
Comments
comments