Craving for ice cream?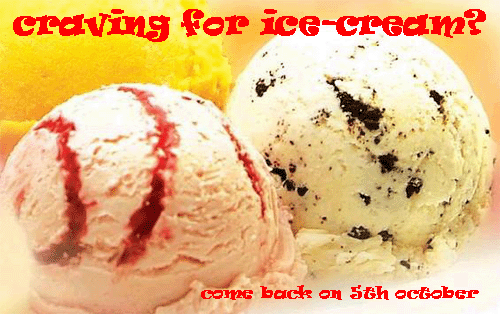 Are you craving for ice cream? Stay tune on October 5th
Comments
comments
Author: Saimatkong
This blog is a platform to share what I love in life: food (eat), travel (play), photography (art) and life (thoughts and ideas). With passion for food, I share my foodie adventures and indulgences here. "There is no love sincerer than the love of food." Traveling makes us a better human being as we recognise the similarities and celebrate the differences of cultures between where we travel to and where we come from. "The World is a book, and those who do not travel read only a page." Photography do more than just capturing the best moments in our lives; they also help us tell our life stories. "Photography is a way of feeling, of touching, of loving. What you have caught on film is captured forever… it remembers little things, long after you have forgotten everything."
You Might Like This
Mycarmat
Are you looking for Custom Car Mat? It's custom suit to your car and it's specially measured by
MyCarMat.com!
Archives
Categories
Facebook
Copyright
This work is licensed under a Creative Commons Attribution 2.5 License. 如有雷同,纯属巧合 © 2003-2021 .:[saimatkong]:.