Coliseum Cafe & Grill Room @ Plaza 33, PJ
Coliseum Cafe & Grill Room is located in the same building as Noble Mansion, Kampachi, D'Cuisine and Tai Lei Loi Kei at Plaza 33, PJ. Established since 1921, Coliseum Cafe is one of oldest Western Colonial-Themed Restaurant in Malaysia.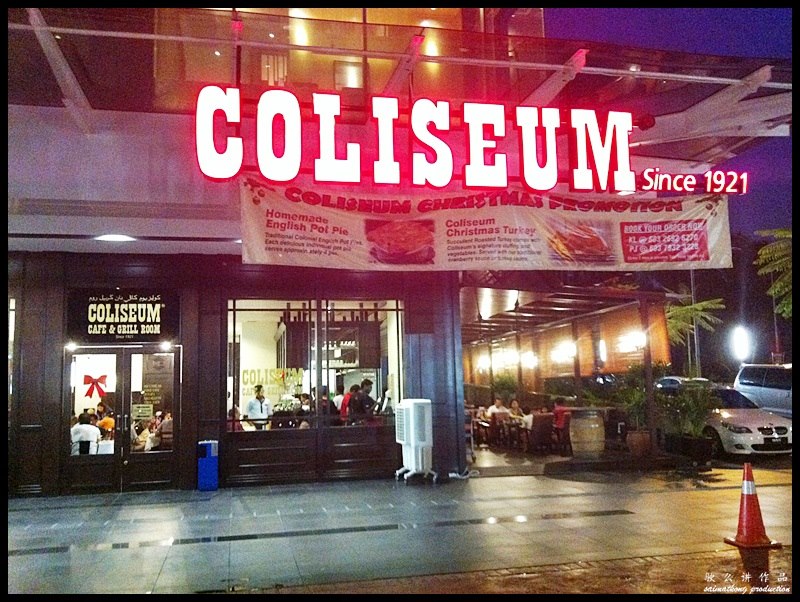 I was told that the old Coliseum Cafe in Jalan Tuanku Abdul Rahman was a popular spot amongst politicians and famous celebrities. With its new branch at Plaza 33, PJ folks can skip the heavy traffic in KL but still get to enjoy delicious and authentic Hainanese cuisine.
Coliseum Cafe is a popular dining spots. The cafe is fully packed during dinner time especially on weekends. We waited for around 30mins to be seated. Oh well, good food are worth the wait right?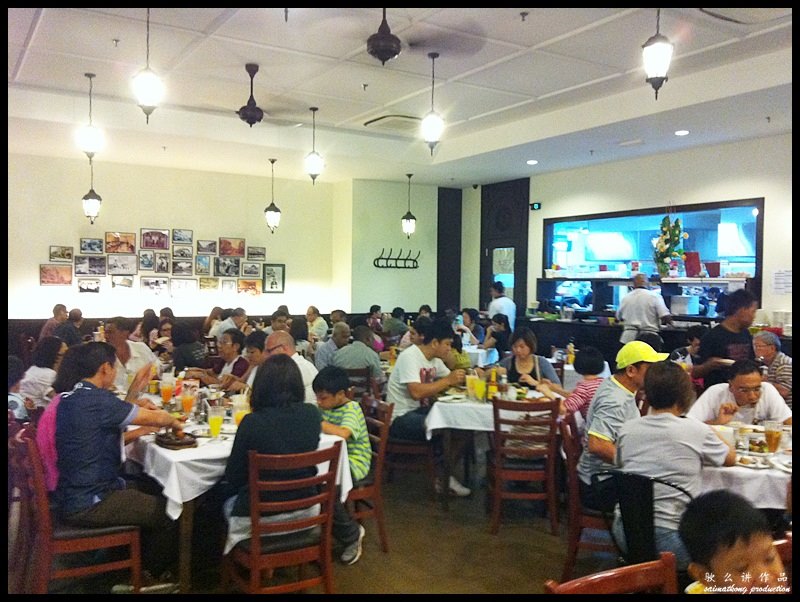 The interior is similar to its KL branch's old-fashioned colonial setting; wooden tables with white tablecloths and set with side plates and cutlery.
The menu has a good selection of food and drinks choices. Coliseum's specialty are sizzling steaks and chicken chops. Btw, Coliseum is pork free. For those who ordered sizzling items, they will bring u a bib to wear to avoid grease splashing on your clothes.
Hainanese Coffee (RM3.20) | Hawaii (RM9.00) | Iced Lemon Tea (RM5.00) | Ice Nescafé (RM5.00) | Fresh Apple Juice (RM8.90)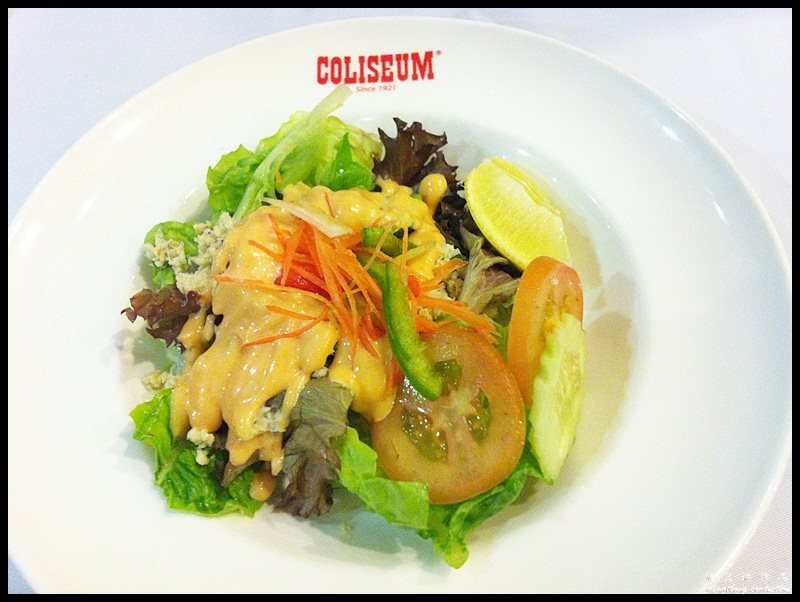 Crabmeat Cocktail (RM14.90)
Started off with crabmeat salad. Simple, light & refreshing.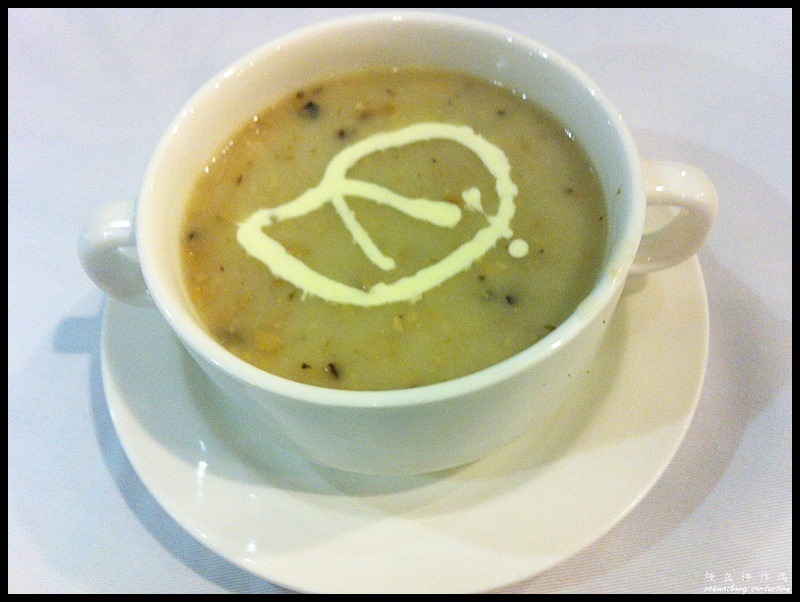 Cream of Mushroom Soup (RM9.90)
The mushroom soup is served with a slice of bread and butter. The soup is hot and flavorful, just the way I like it. Not bad I would say.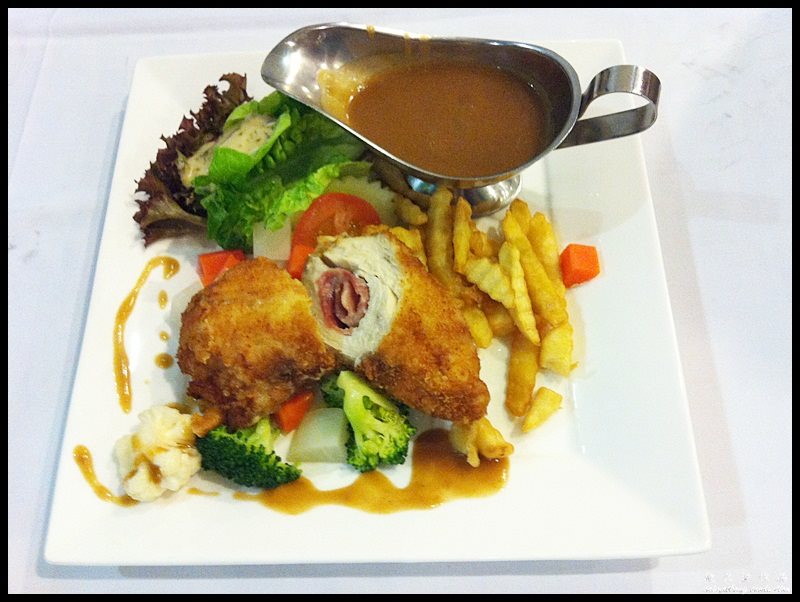 Supreme Chicken Cordon Bleu (RM28.90)
The Chicken Cordon Bleu is served with fries and salad. The chicken was a bit dry and tasteless. If there weren't brown sauce and ham, I figure it'll be completely tasteless. Texture is hard and dry, I figure it's coz chicken breast is used.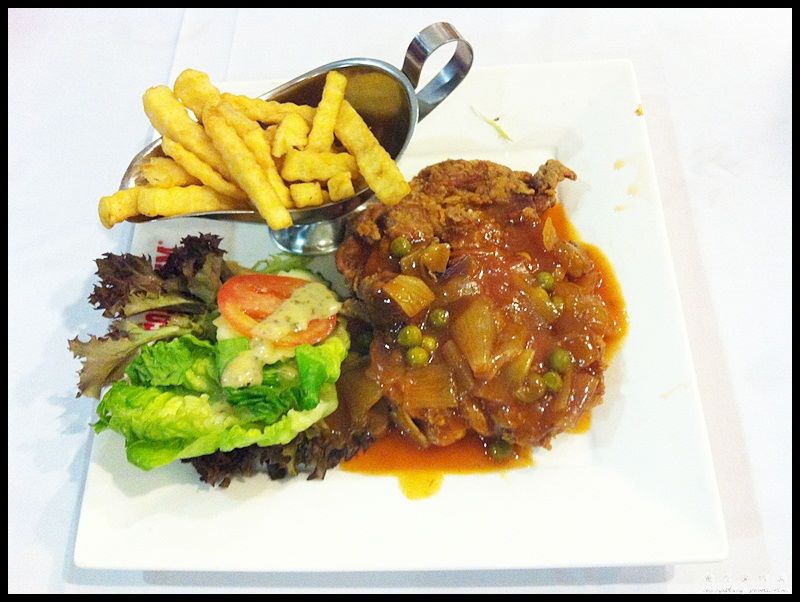 Hainanese Chicken Chop (RM23.90)
The Hainanese Chicken Chop is superb! It's definitely one of the best Hainanese Chicken Chop I've tasted thus far from the famous Yut Kee 益记餐室, Kluang Station and etc. The chicken drumstick is fried till golden brown and crispy while the batter that the chicken was coated in was delicious. The thick homemade sauce with ingredients like onions, mushroom, peas and etc was really flavorful and complemented the chicken chop really well. The Chicken Chop is served with crinkle cut fries and salad.
Sizzling Chateaubriand (RM70.90)
We opted for medium rare for this thick cut of beef tenderloin. This huge slab of chateaubriand is covered with creamy sauce and accompanied with a plate of wedges and salad. When the steak was served, be assured of a very enticing aroma. The texture of this luxurious chateaubriand is remarkably tender and will melt in your mouth.
Sizzling Chicken (RM27.90)
The sizzling chicken which is covered with mushroom sauce is served with fries and salad. The meat is tender and taste wise, it's decent. I would prefer their Hainanese Chicken Chop.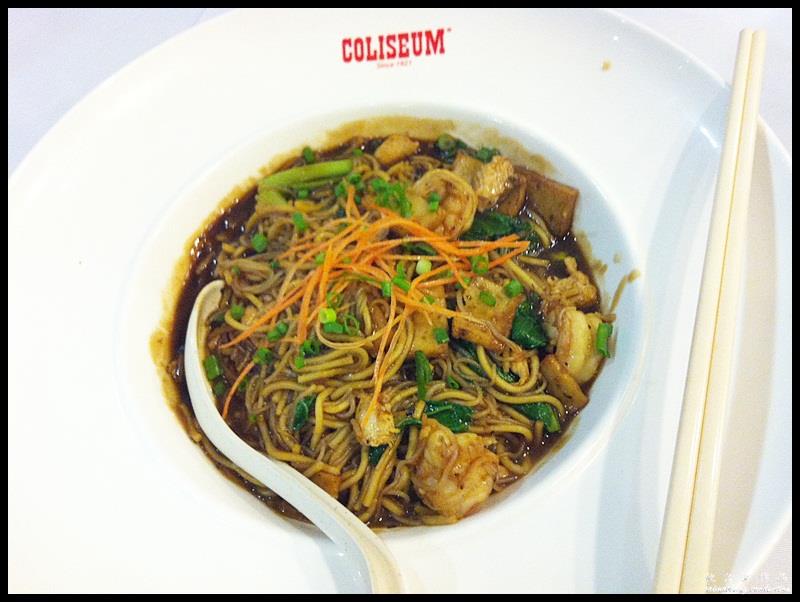 Hainanese Fried Mee & Mee Hoon (RM15.90)
We opted for a mixture of mee & mee hoon. At a glance, Hainanese fried noodles does in some way look similar to Hokkien Mee. It's only when you taste it then you'll know that it taste somewhat different. The Hainanese Fried Noodles has ingredients like fish cake, chicken slices and vegetables.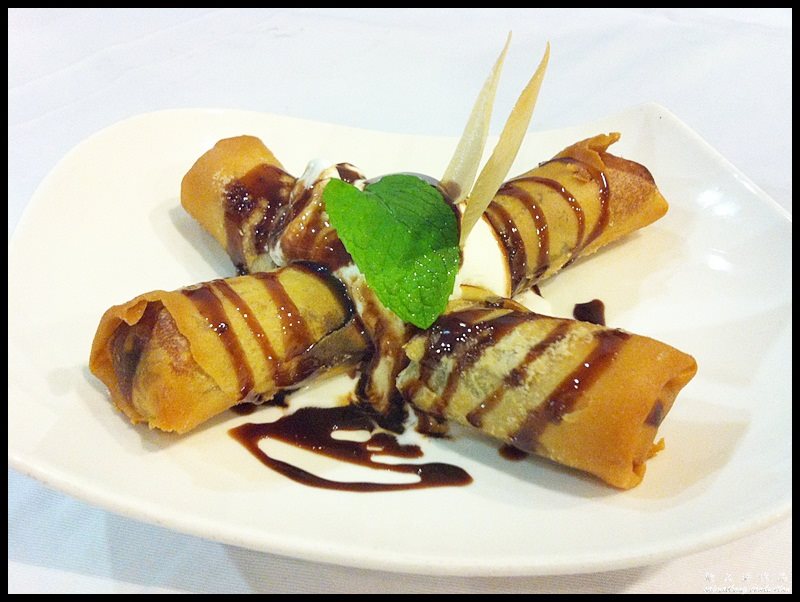 Banana & Chocolate Spring Roll (RM11.90)
This banana & chocolate spring rolls with vanilla ice cream is the perfect dessert to end a yummy meal.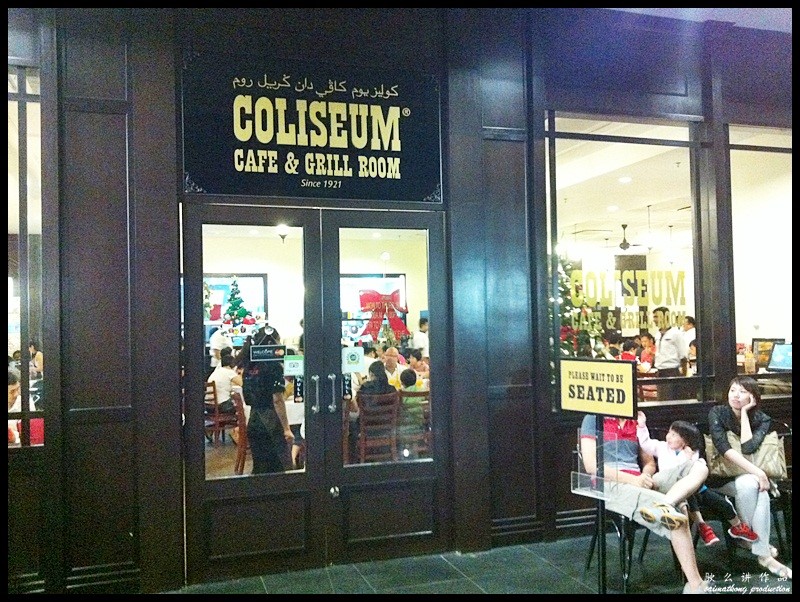 Verdict: Historic restaurant that offers unique dining experience. The place to go with family or friends for special occasions. Service is good despite large crowd. I would be back whenever I have cravings for Hainanese food.
Coliseum Cafe & Grill Room @ Plaza 33, PJ
Address: PG-02, 1, Ground Floor, Plaza 33, 1, Jalan Semangat, Section 13, 46100 Petaling Jaya, Selangor
Tel: 03-7932-3228
Opening Hours: 10am-10pm
Website: www.coliseum1921.com
—
Follow me on Facebook, Twitter, Instagram for more live updates!
Facebook : https://www.facebook.com/smartkong
Twitter : https://twitter.com/saimatkong
Instagram : http://instagram.com/saimatkong

Comments
comments