With CNY 2018 around the corner, many restaurants started offering festive set menu. To me, Chinese New Year is an opportunity for feasting and gathering with family and friends hence it's about indulging in food throughout the festive season.
To celebrate the upcoming Chinese Lunar New Year this year, Executive Sous Chef Kok Chee Kin and his team of talented chefs from Dynasty Restaurant are all set to immerse your senses with Festive Menus that capture the finest flavors of Cantonese cuisine from 2 February until 2 March 2018.
Besides the festive Dim Sum selection, Treasure Pots or Poon Choi (盆菜), there's a superb selection of Set Menus and a line-up of Yee Sang to please all palates.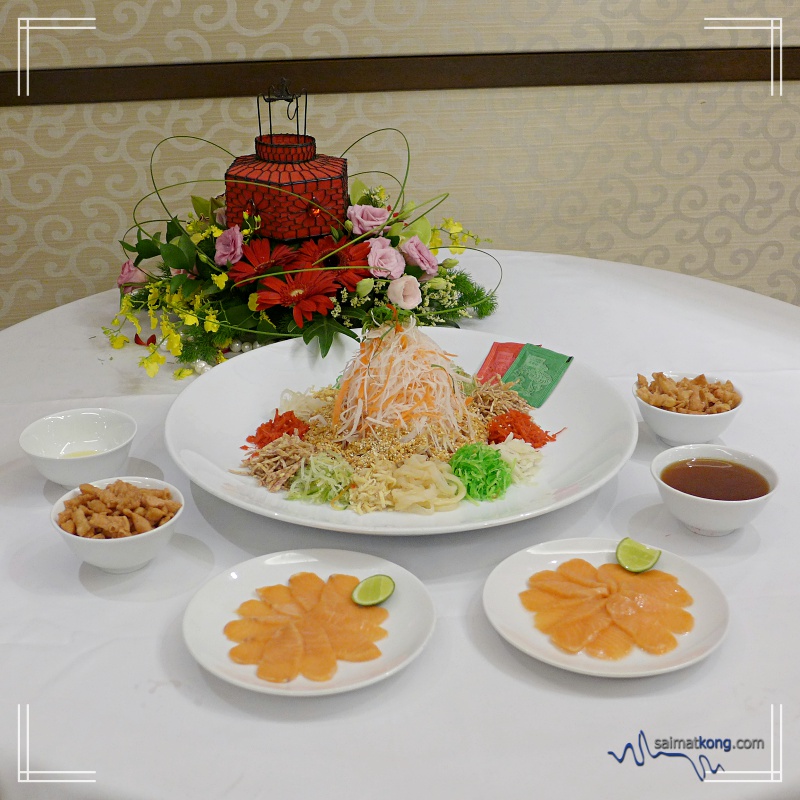 This year, Chef Kin's focus is on the use of traditional ingredients while emphasizing on light and fresh flavors. He created three festive set menus complete with Yee Sang and Dynasty's fortune pastries. I was recently invited to sample some of the festive dishes from the festive set menus. The three festive set menus offered are the Happiness Set which is priced at RM1,788 nett, Fortune Set priced at RM2,188 nett and Longevity Set priced at RM3,388 nett per table of ten persons.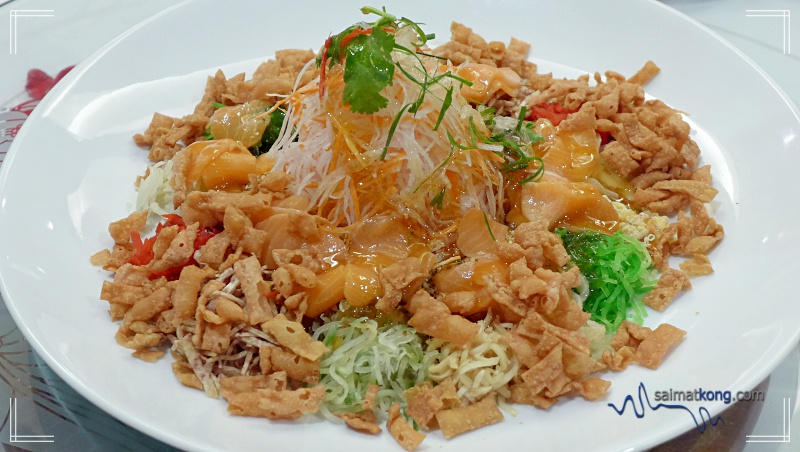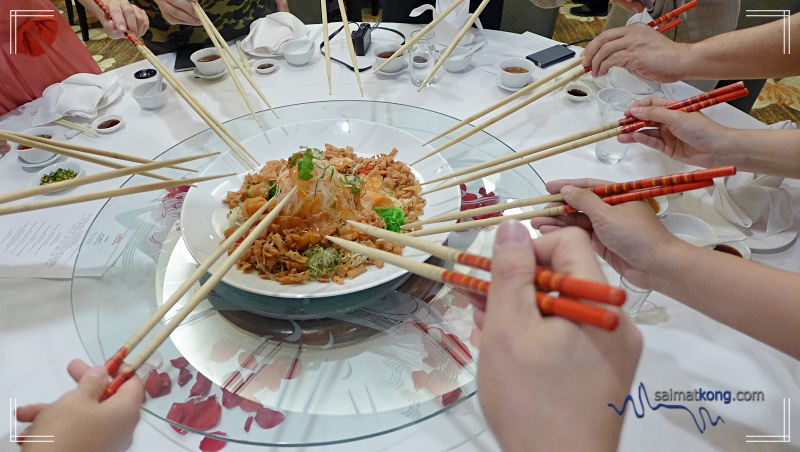 Salmon Yee Sang
We started off with Salmon Yee Sang which is a must in which diners will toss as high as possible for luck and good fortune. Made using fresh shredded vegetables, crackers, Salmon sashimi and sweet dressing, it's a very delicious appetizer.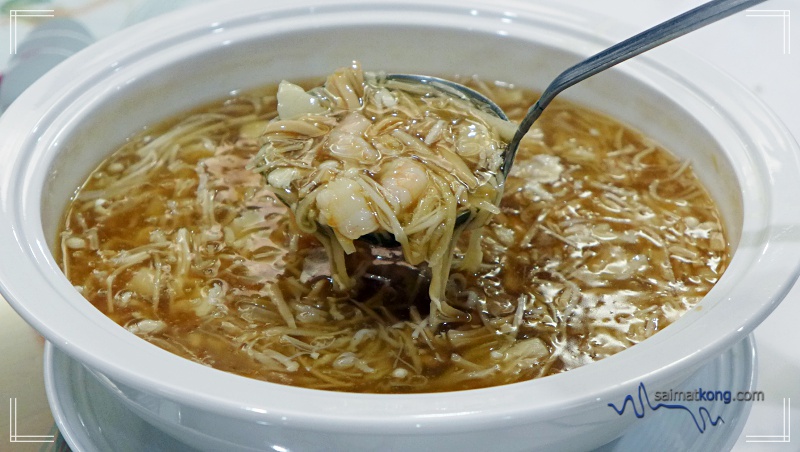 Braised Five Treasure Soup with Crab Meat & Sliced Abalone
This thick rich and hearty soup is loaded with ingredients like dried scallop, fresh scallops, prawns, crab meat and mushrooms.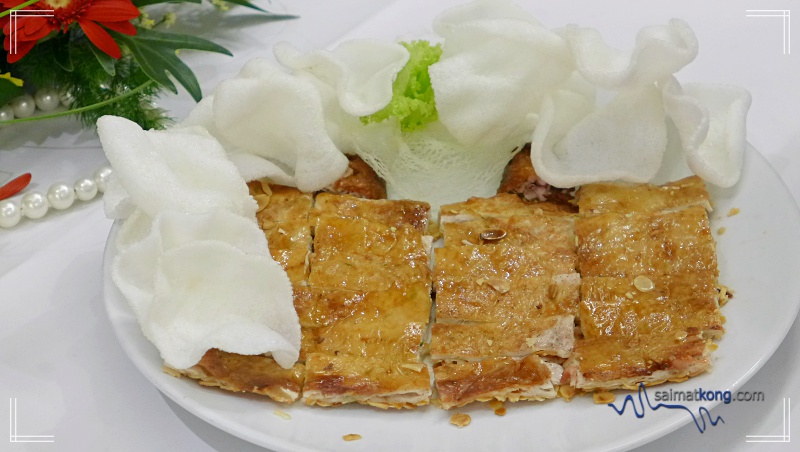 Crispy Almond Chicken
Love the crispy and tasty skin of this Crispy Almond Chicken. The meat is chock-full of flavor and it's so tender. I'm pretty sure kids will love this dish.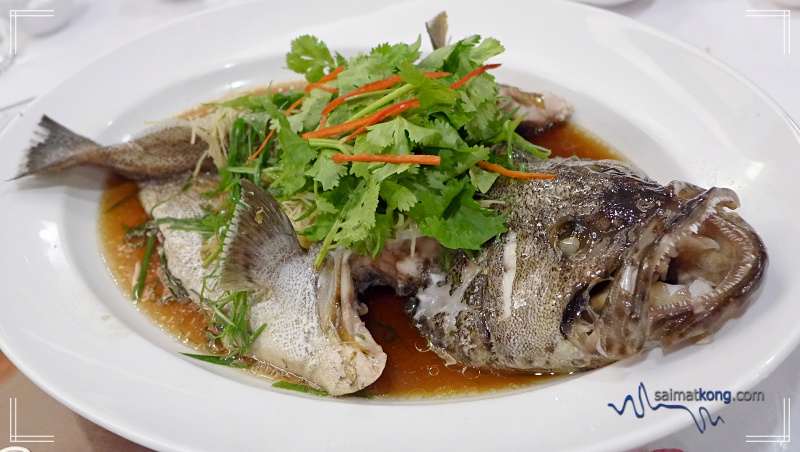 It is customary to have a dish of fish on the table during Chinese New Year for their symbolic meaning. The Chinese character of fish '鱼' in Chinese means you'll always have abundance in your life. The is steamed with shredded ginger, chili and topped with cilantro leaves. The fish was fresh and the chili gave it an extra kick.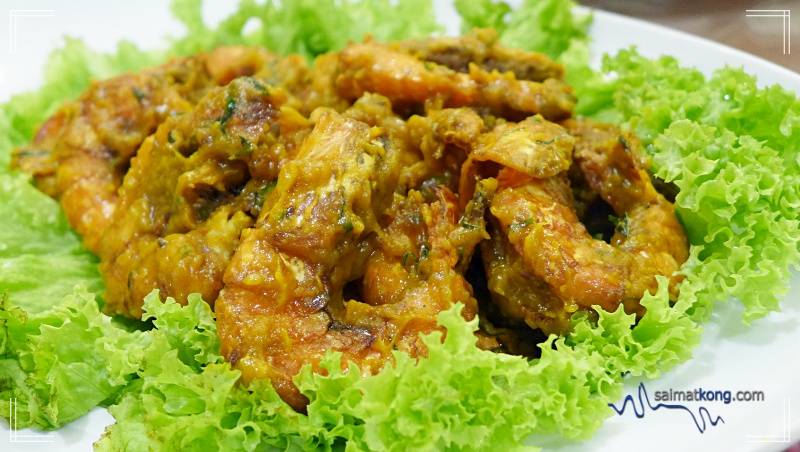 Sautéed Golden Prawns with Pumpkin Cream
The large succulent prawns are deep fried before sautéed with rich pumpkin cream, butter and curry leaves.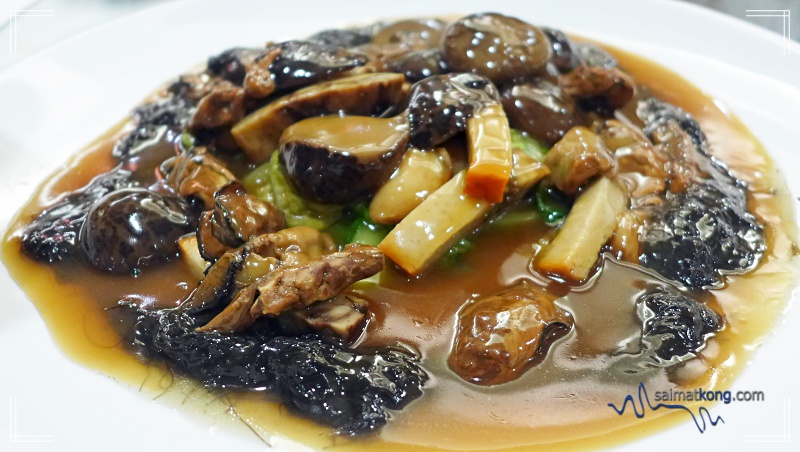 This Braised Mushroom, Dried Oyster, Fatt Choy & Oyster Sauce is also another symbolic dishes often served during Chinese New Year.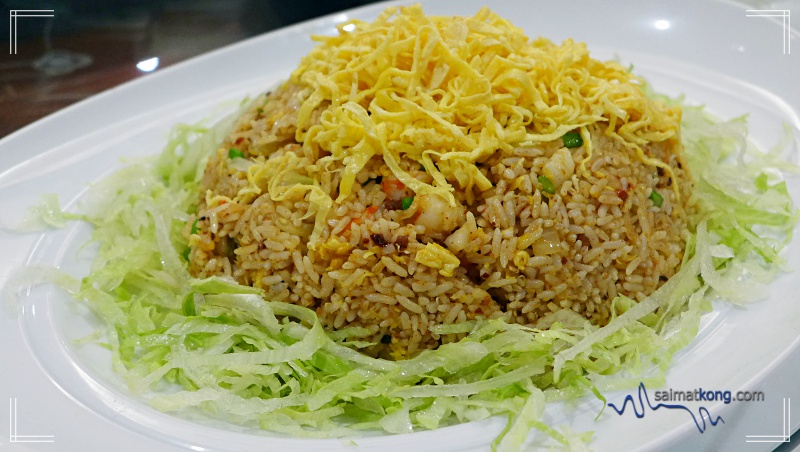 Supreme Seafood Golden Fried Rice with XO Sauce
This Supreme Seafood Fried Rice totally blow our mind. Seafood lovers will definitely love this and the XO Sauce gave it such rest flavor.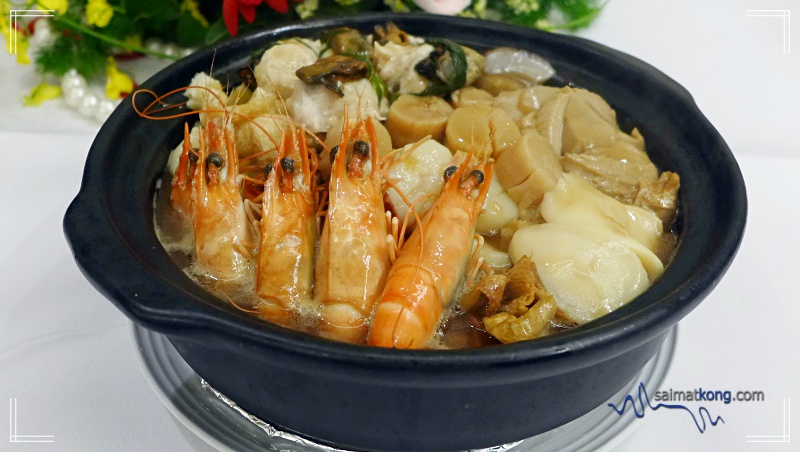 Prosperity Treasure Pot (Poon Chooi 盆菜)
Besides sampling the Happiness Set, we were also served the Prosperity Treasure Pot which is meant for 5 persons and priced at RM488 for dine-in and RM528 for takeaway. This treasure pot is generously loaded with all the premium ingredients such as whole sun-dried scallop, sea cucumber, fish maw, stuffed dried oyster, fresh scallop, flower mushroom, fu kwei abalone, farm chicken, roasted duck, money bag, tiger prawns, fish stomach, coral clam and fungi mushroom.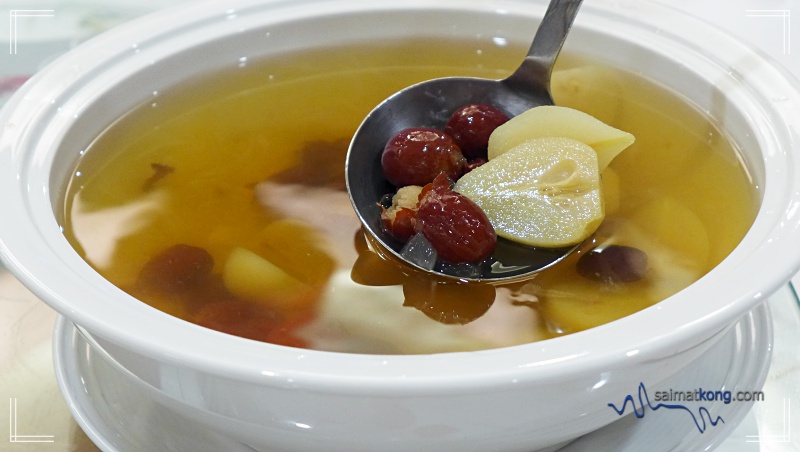 To end the Chinese New Year feast, we had Double Boiled Sweetened Chrysanthemum Tea with Pear, Red Dates and Aloe Vera. We were also served Dynasty's Fortune Pastries which consist of Nian Gao which is deep fried and the other type is steamed before casted with grated coconut.
For smaller group of six persons, you may opt for the 9-course Six Happiness Set at RM1,188 nett while for group of five persons, you can choose for either the 7-course or the 8-course Prosperity Treasure Pot Sets.
Besides Salmon Yee Sang, diners can also choose from other deluxe ingredients such as fruity fiesta and jellyfish as well as various premium toppings such as sea cucumber, abalone and pseudo shark's fin, abalone, jellyfish, scallop, salmon and lobster and mini abalone. Take-away yee sang in "half" and "full" serving can also be arranged for home reunion dinners and special get togethers. The Deluxe Yee Sang is priced at RM118 nett for half portion and RM228 nett for full portion, while the Premium Yee Sang is priced at RM188 nett for half portion and RM368 nett for a full portion.
For restaurant reservations and for more details on the festive set menus, please call 03-2716 9388 or email [email protected]
Location: Dynasty Restaurant, Level 1, East Wing, Renaissance Kuala Lumpur Hotel, Corner of Jalan Sultan Ismail & Jalan Ampang, 50450 Kuala Lumpur, Malaysia. (Parking rate: RM10 flat rate for diners)
Opening Hours: 12.00pm -2.30pm (lunch), 6.30pm-10.30pm (dinner).
Tel: 03-2716 9388
Website: http://www.klrenaissance.com
Comments
comments