Big Chomp Burger @ SS15, Subang
Big Chomp Burger is conveniently located opposite Asia Cafe and same row as Starbucks along the busy street in SS15, Subang Jaya. This burger chain is actually very near to Taylor's and INTI College. Besides this Big Chomp Burger, there are few other burger joints in SS15 like Crayon Burger, Burgertory , Big Hug Burger, The Burger Factory and etc.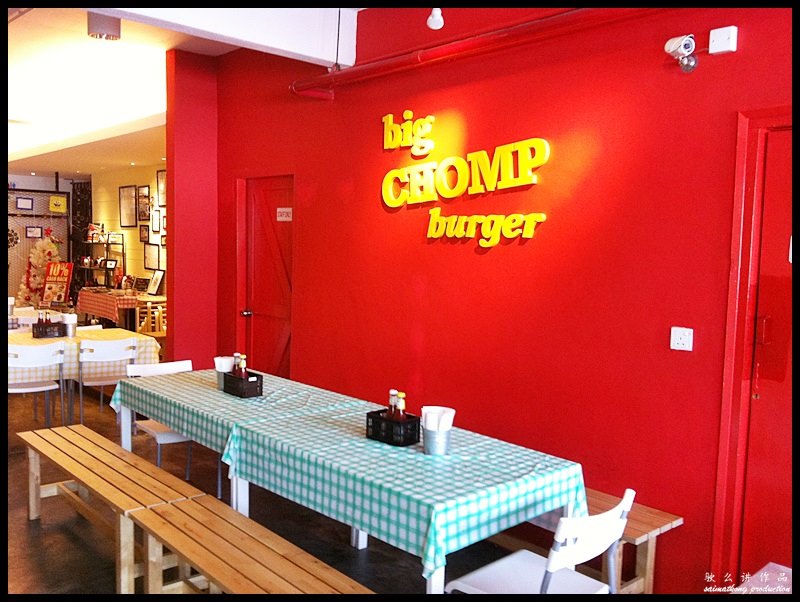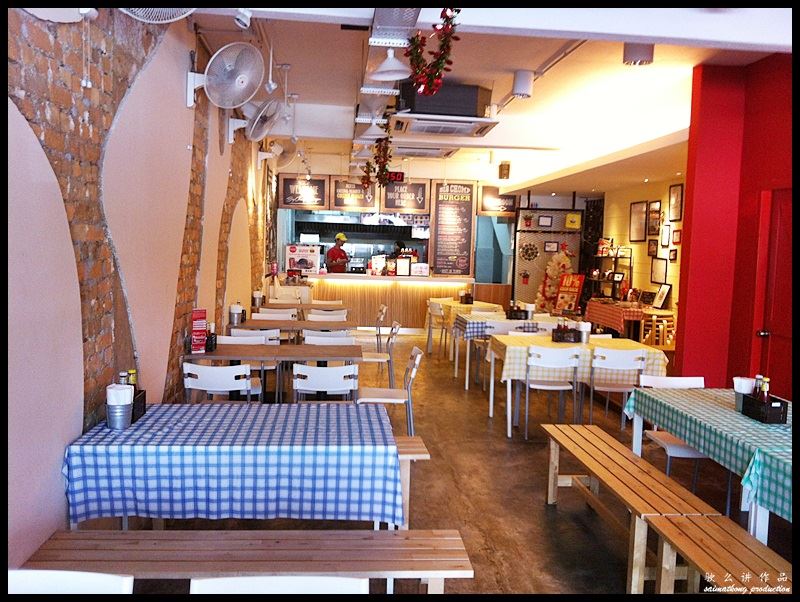 Big Chomp Burger has a bright and modern interior. The place has very good ventilation system so you won't end up smelling like burgers 😉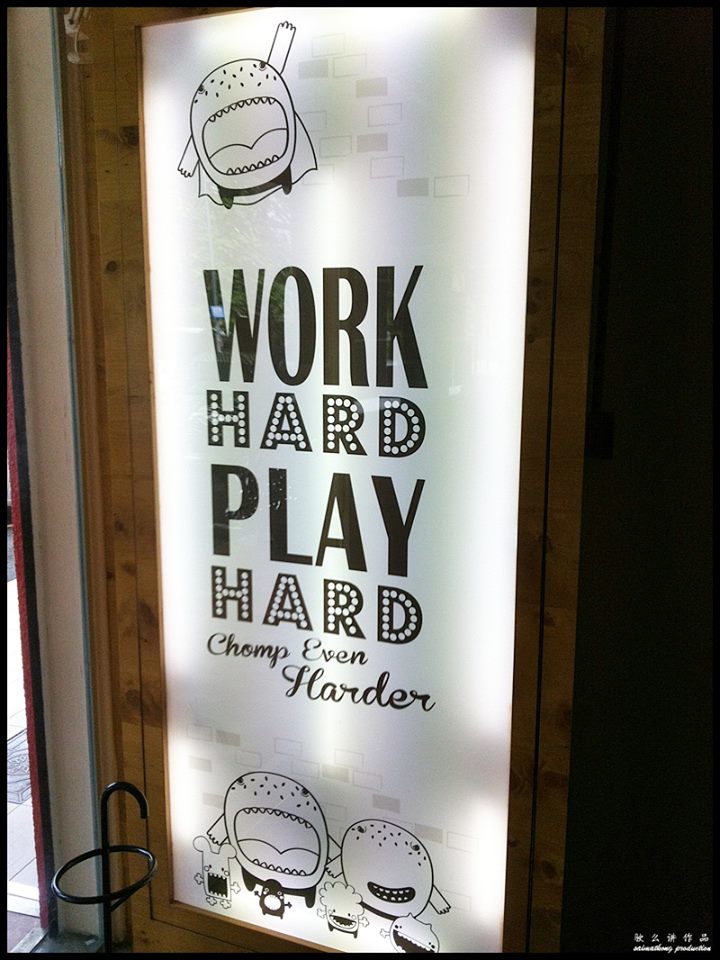 Big Chomp Burger's tagline: Work Hard, Play Hard, Chomp Even Harder!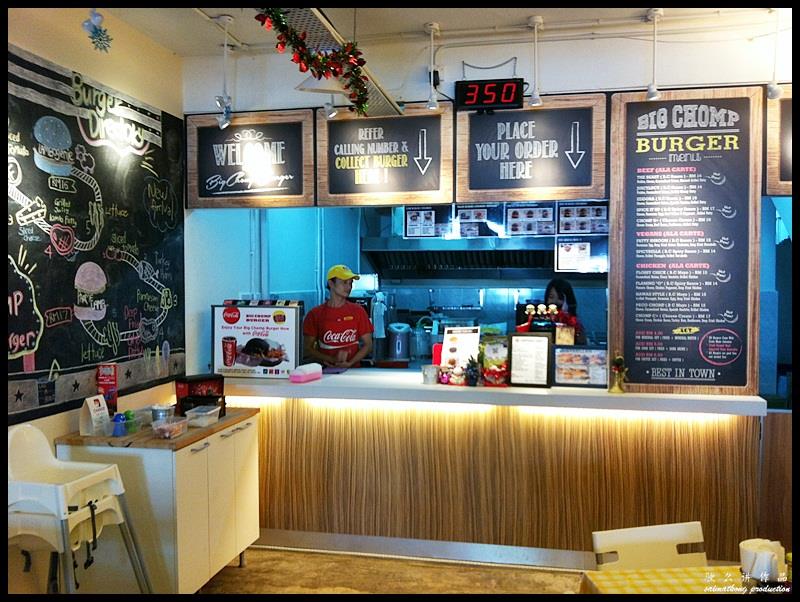 The menu is written on a large piece of chalkboard which is right next to the cashier. The menu is fairly simple with a selection of beef, chicken or vegan burgers. The burger selection includes Chomp B+, Chomp C+, Spicybella, Flossy Chick, The Beast and etc. Big Chomp Burger is pork-free, thus no pork burgers served here.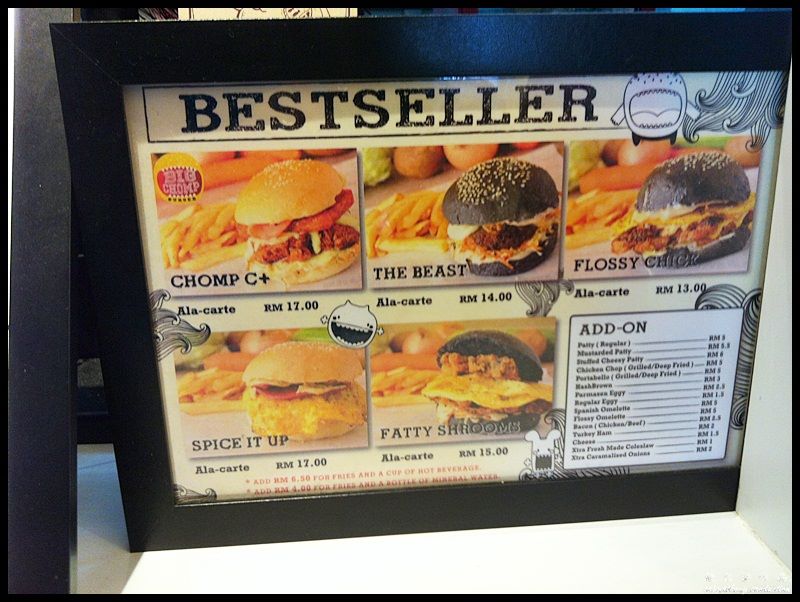 What set this burger chain apart from the rest is that Big Chomp Burger uses coleslaw and fried omelette in their burgers instead of the usual lettuce, tomatoes and cucumbers.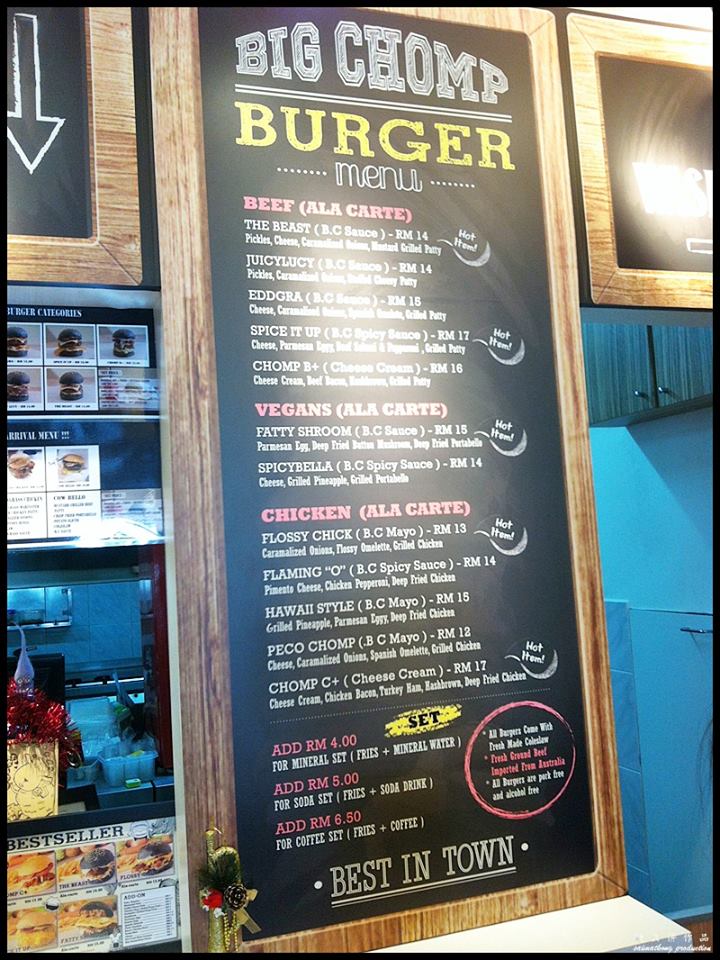 If ala-carte is insufficient, you can always top-up and make it a set. Currently, there are 3 types of sets available at Big Chomp Burger:-
a) RM4 (comes with a bottle of Mineral Water + Fries)
b) RM5 (comes with Bottomless Carbonated Soda + Fries)
C) RM6 (comes with a cup of Coffee + Fries)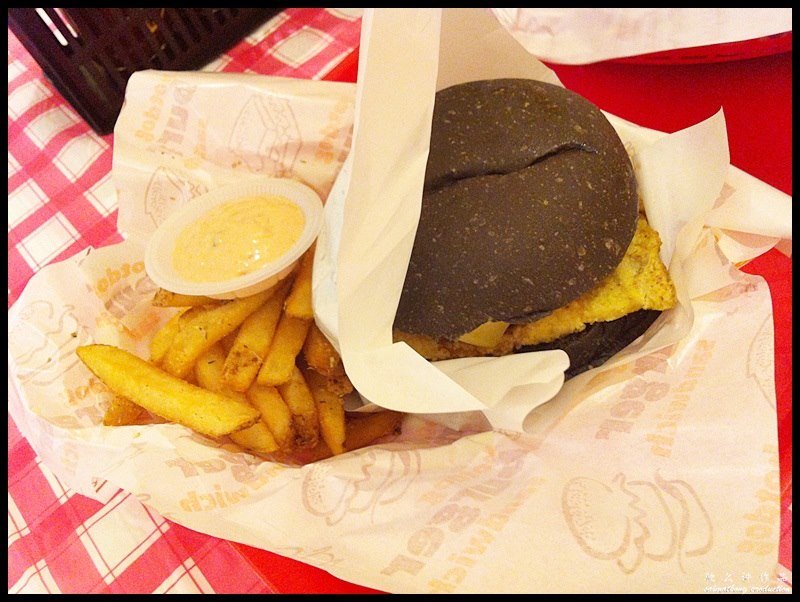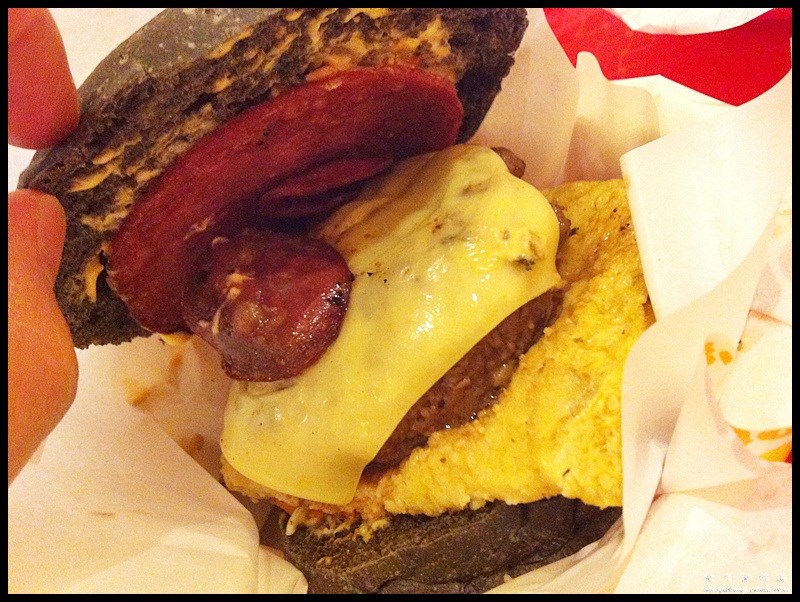 Spice It Up (RM17) add RM4 for a bottle of mineral water & fries
This beef burger consists of a thick juicy beef patty, cheese, fried egg with parmesan cheese, salami and pepperoni. This burger is really spicy to that extent that I couldn't really taste anything else apart from the spiciness. If you can take spicy food, I guess this burger is for you!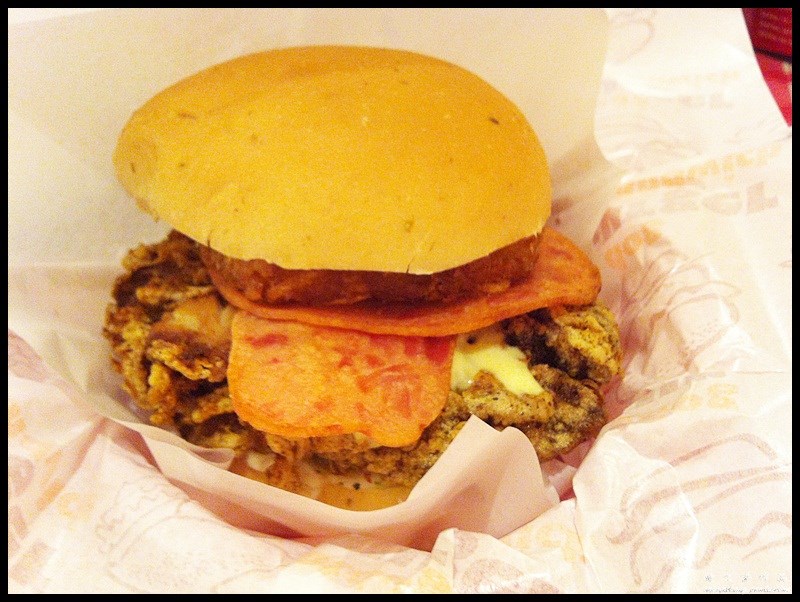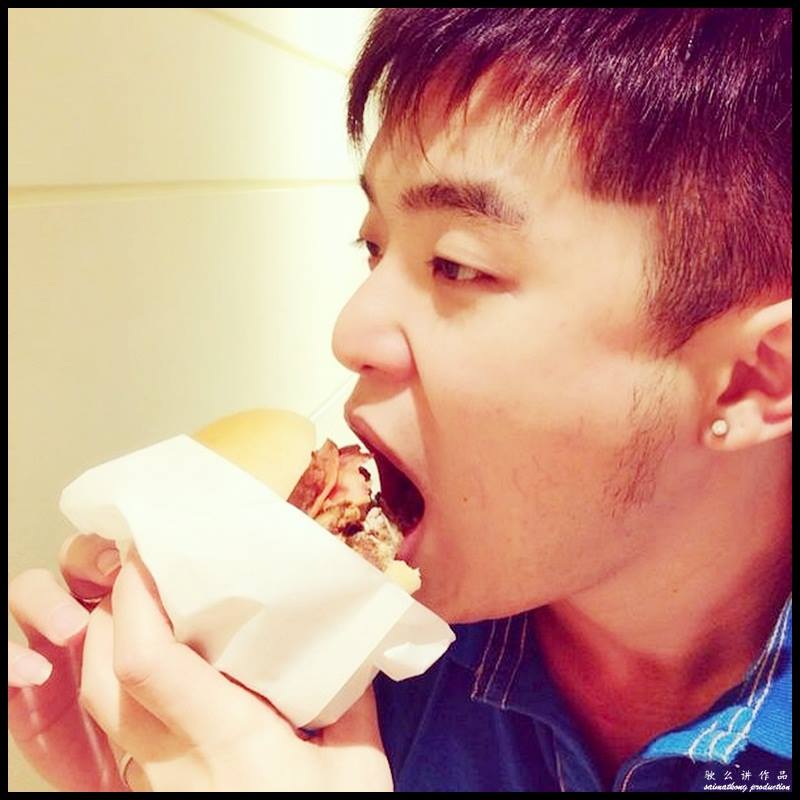 Chomp C+ (RM17)
This cholesterol-laden Chomp C+ burger consists of cheese cream, chicken bacon, turkey ham, hash brown and a really huge deep fried chicken. The thick batter gives an extra crunch factor! Yum… If you love fried stuffs, this burger is for you.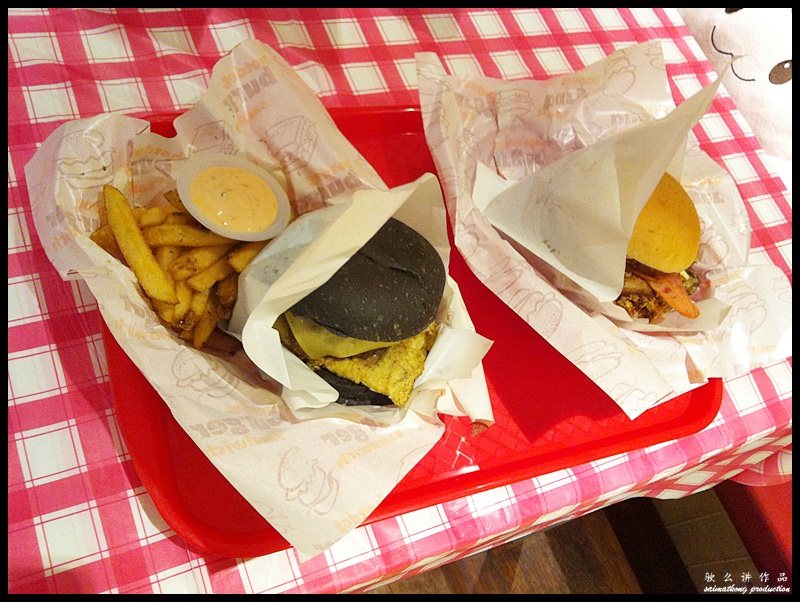 Verdict: When it comes to burger, my vote still goes to myBurgerlab. Still can't get over their awesome burgers! However, Big Chomp Burger is good enough to satisfy my burger cravings 😉
Big Chomp Burger @ SS15, Subang
Address: No.39, Jalan SS15/8A,Subang Jaya, 47500, Selangor
Opening Hours: Monday to Friday (11.00am – 11.00pm)
Saturday to Sunday (12.00pm – 12am)
Website: https://www.facebook.com/BigChompBS
Sony begins Android 4.3 rollout for Xperia Z1 and Z Ultra!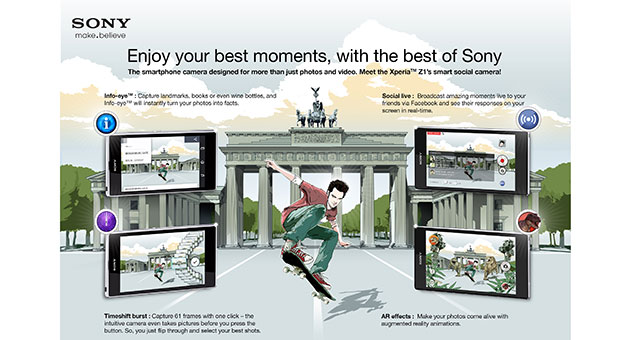 Sony's just announced an upgrade to Android 4.3 (Jelly Bean) for the Xperia Z1 and Xperia Z Ultra, and it's tacking on some of its own enhancements along with the standard performance tweaks.
Read More here >> Review : Sony Xperia Z1
—
Follow me on Facebook, Twitter, Instagram for more live updates!
Facebook : https://www.facebook.com/smartkong
Twitter : https://twitter.com/saimatkong
Instagram : http://instagram.com/saimatkong

Comments
comments