Jolin Tsai Live In Genting Concert
It all began when Jolin bagged the top prize in the MTV singing competition at the tender age of 18. She was then signed on by Universal Music and a year later, her first single 'Living With The World' was released. It was sold in 7-11 stores and garnered very good response, leading to the release of her first album in 1999.
The album, 'Jolin 1019' sold more than 400,000 copies around Asia, and had several versions released around the globe. Following the success of her first album, she released her second album in May 2000, entitled 'Don't Stop'. Many of her songs in the album became extremely popular throughout Asia.
The latest album under her belt is 'Secret Agent J' ??J released in September 2007. This is another definite boost to her career and her popularity is expected to achieve greater heights, besides another round of 'J-Storm'!
Me and few friends wanted to go for this Jolin Tsai Concert again after her last concert her in Kelana Jaya I think last year, but according to my friend, the ticket for RM120 is finished and RM180 is limited for 14 Dec Saturday and also the Geting rooms are all full be it First World, Theme Park Hotel… coz I tried to book but it's not available. So we will skip this Jolin Tsai Concert. =(

Date:
14 December 2007, Fri 8.00pm
15 December 2007, Sat 8.00pm
Venue:
Genting International Showroom
Arena of Stars, Genting Highland
Ticket Price
RM480, RM350, RM250, RM150 & RM100 (14 Dec 2007)
RM550, RM390, RM290, RM180 & RM120 (15 Dec 2007)
Booking Hotline:
603-7711 5000
Axcess outlets
> Axcess PJ
> 1 Utama
> Rock Corner Midvalley
> Tower Records KLCC
> Tower Records Lot 10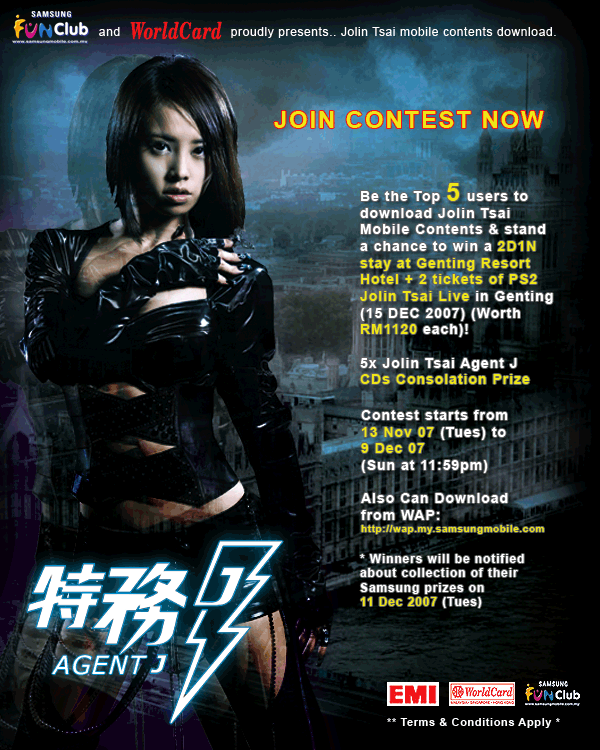 Be the top 5 users to download Jolin Tsai Mobile Contents & stand a chance to win a 2D1N stay at Geting Resort Hotel + 2 tickets of PS2 Jolin Tsai Live in Genting 15 December 2007 worth RM1120 each!
5x Jolin Tsai Agent J
CDs Consolation Prize
Contest starts from 13 November (Tues) to 9 December 2007 (Sun at 11.59pm)
*Winners will be notified about collection of their Samsung prizes on 11 December 2007 (Tues)
Comments
comments