Jacky Cheung World Tour Concert 08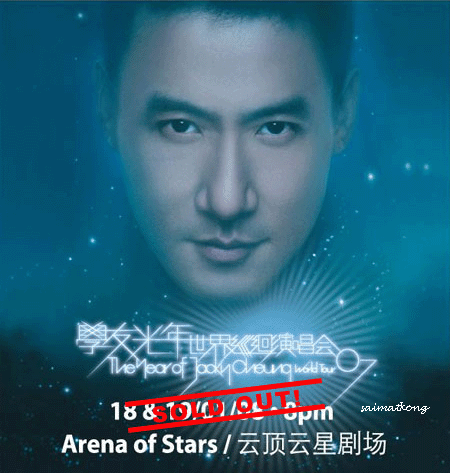 Due to overwhelming response for the concerts on 18 & 19 January 2008, they are adding an additional performance of Jacky Cheung on 20 January 2008. Wow 3 concert in a row… and the most expensive ticket is RM750.00 and cheapest ticket also RM160.00! I think it's worth it as he is the King of Cantopop and don't know whether there's another chance to see Jacky's concert if you miss this one. Get the ticket now as the tickets for 18 & 19 already sold out. Act Fast!
Date: 18 & 19 January 2008 (Friday & Saturday) Sold Out!
Time: 8.00pm
Date: 20 January 2008 (Sunday) Additional
Time: 8.30pm
Venue: Arena of Stars
View Seating Arrangement / Floor Plan
Note: Genting WorldCard and Hong Leong Credit Card members
10% discount off tickets of all price scales, while stocks last.
(Discount for Hong Leong Credit Card members is only applicable for phone booking)
King of Cantopop Jacky Cheung has finally returned to Arena of Stars after 6 long years. The number of awards he has under his belt are just too many to be mentioned. Just 2 years ago, he has won the 'Best Selling Cantonese Album' Award in the Hong Kong IFPI Awards of 2005 with his live album, 'Jacky Live Performance'. In the fast-changing scene of canto-pop, Jacky has been able to maintain his fan appeal and sales records for more than 20 years after his debut, which is unparalleled in the history of Hong Kong pop music.

Although singing has driven Jacky's career, he is also an award-winning actor, and has been acting in many high-profiled movies, including the enormously popular triad drama 'Jiang Hu'. However, proving to his audiences that he is not just another actor or singer, Jacky took on a challenging role of producing and taking a lead role in the Cantopop musical 'Snow Wolf Lake' alongside another veteran singer Sandy Lam and newcomer Kit Chan. Together, they took the stage for more than 43 performances to a full house at the Hong Kong Coliseum.

The year 2007 had been a hectic one for Jacky, having performed over 60 concerts as part of his 'Year of Jacky Cheung World Tour 2007', which started on 18 February 2007 at the Colosseum at Caesars Palace, Las Vegas . But Jacky's not stopping for 2008 and will be bringing more music and entertainment to his fans. Don't miss the chance to watch his live performance this coming January. But hurry, book fast before tickets are all snapped up!
Comments
comments