2008 Sungei Wang Countdown Street Party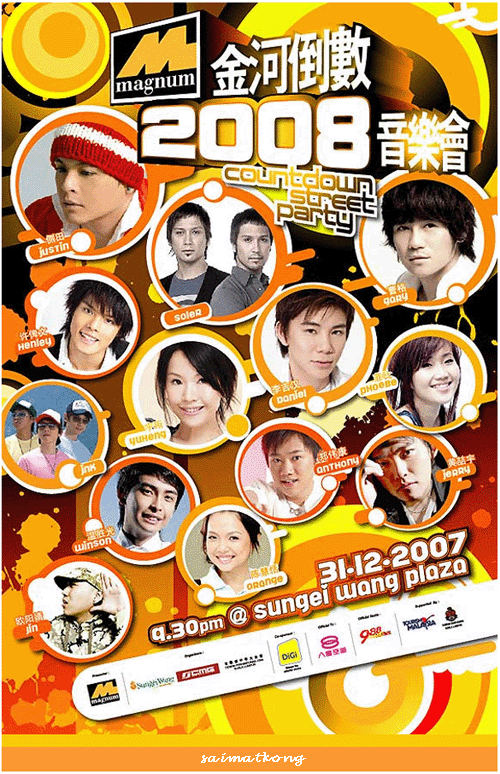 Where to go this new year eve?
2008 Sungei Wang Countdown Street Party
31-12-2007
9.30 @ Sungei Wang Plaza
Are you planning to go Sg Wang countdown with your friends today? It should be a happening place to countdown in KL coz there are so many artistes and it's gonna be hot in Bukit Bintang area. You should be able to see fireworks from KLCC too. Ahhh… so you could enjoy both fireworks display from Sg. Wang itself and KLCC too. Tat's great, but be sure to find a prime spot =p
Artist who's going to perform and get high:
Justin, Soler, Gary Chao, Daniel Lee, Yu Heng, Phoebe, Henley Hii, Orange Tan, Jerry Ooi, Winson Voon, JNK and Anthony Chang…
Jalan Sultan Ismail will be closed tomorrow. So, I suggest you to be there earlier if want to drive if not just take the public transport, Bus, Monorail, LRT, Taxi to avoid the jam. Trust me, it's gonna be jam for hours for sure. Business Hours for LRT will be running till 2am. If you driving there, you can try to park at Imbi there and walk over, the parking fee also around RM5-RM10 I perhaps.
If you don't like jam and all the hassle but still want to catchup the fun, don't worry, the concert will be broadcast live over 8TV to provide people at home a chance to catch it as well, that's good huh? So prepare some food and drinks and enjoy yourself =p
Comments
comments