LITRAK is implementing (LDP Contra Flow) another new traffic scheme to help its highway users from Puchong/ Putrajaya/ Shah Alam bound users towards Kelana Jaya on a three month trial beginning December 8 (next Monday) until February 27 next year.
The new LDP Contra Flow scheme starts at KM21.0 (opposite UOB and HSBC (bank's), right after the IOI Mall, Puchong and users are advised to keep to the most right lane to enter the Contra Flow lane. With the implementation of Contra Flow, LDP users from Puchong/ Putrajaya/ Shah Alam heading to Kelana Jaya will be able to by-pass the heavy traffic between Puchong Jaya and Petaling Jaya Toll Plaza (3KM) during the morning peak. The exit of the Contra Flow is at KM18.0 and the dedicated lane for the contra flow is meant for light vehicles only (cars only).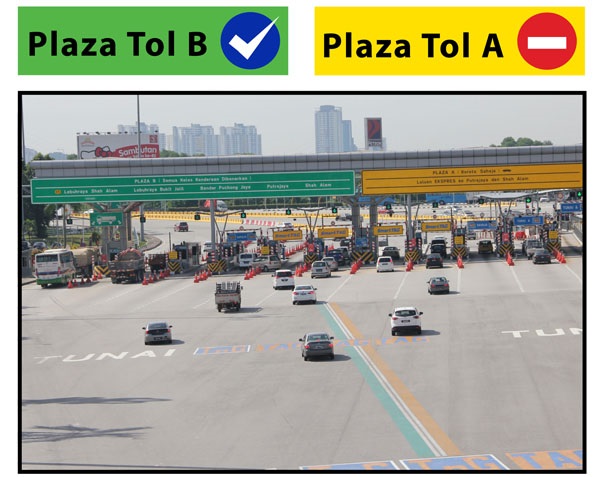 If you're coming from Sunway heading to Puchong or KESAS, please use Plaza B during the LDP Contra Flow 6.30am – 9.30am For TnGo Users Only (cars only)
LDP Contra Flow, aimed at improving the traffic flow on LDP from Putrajaya/ Shah Alam bound users towards Kelana Jaya direction which involve the complete closure Plaza A in the opposite direction from Sunway. Thus, highway users from Sunway to Puchong/ KESAS are advised to use Plaza B during the Contra Flow (6.30am – 9.30am).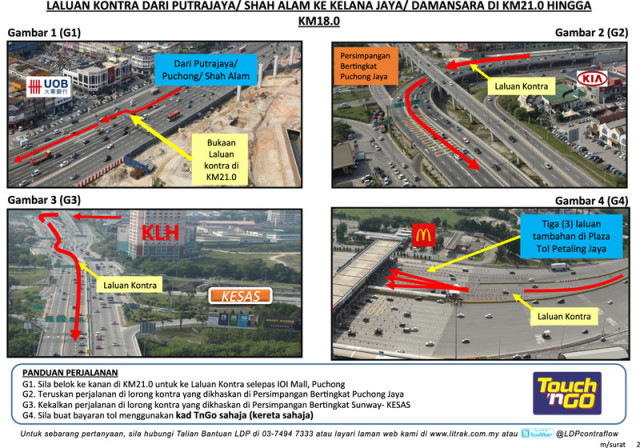 Speaking to reporters during the Press Conference to announce the contra-flow traffic, LITRAK Chief Executive Officer Sazally Saidi said the effort involves extensive preparation and dispensation of huge number of manpower on site.
"We have been studying this option for months now and theoretically the contra-flow should work based on the studies. We are certain that with additional lanes provided for the Puchong Perdana /Putrajaya bound traffic, the traffic flow in Puchong will improve," he said.
He said as in any new traffic scheme, there could be minor hiccups as roads users will need a few days to get accustomed to the system.
"To a large extent, we will have to depend on the road users to be vigilant, adhere to signs posted and be at the correct lanes according to their destination for this system to work entirely," he said.
Sazally said the contra-flow traffic system will begin on 8 December (Monday), 2014 from 6.30 am until 9.30 am daily accept Saturday, Sunday and Public holidays.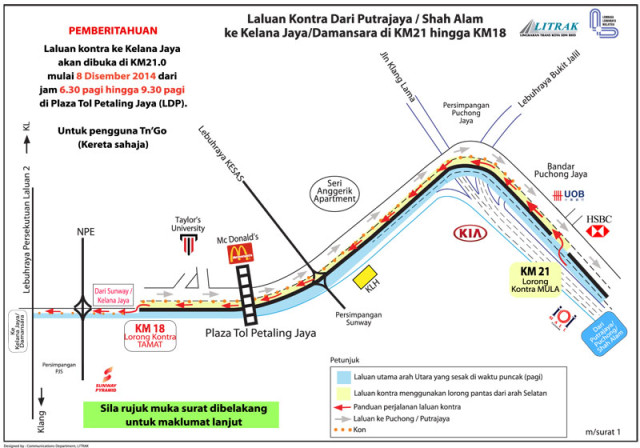 The Highway Ronda team will be stationed at strategic locations and users are advised to adhere to the signage's erected along the stretch to guide roads users. For any traffic info, please call our LDP Helpline at 03-7494 7333
Comments
comments