Hurray! No Visa Required when you travel to Japan! Japan Visa Waiver For Malaysians!
Effective July 1, Malaysian nationals who hold ordinary biometric passports (issued AFTER February 2010) with an embedded microchip will no longer need to obtain a visa for a short-term stay in Japan.
Malaysians holding biometric passport can enter Japan without visa for short term stay up to maximum of 90 days (subject to immigration clearance upon arrival).
Non-biometric passport holders must apply for Japan visa as per normal procedures. Biometric passports are indicated with a security chip logo at the bottom of your passport.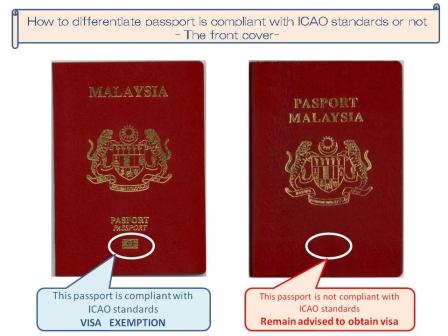 Biometric passports are indicated with the chip logo on the front cover. If your passport front cover does not have this logo, then it is non ICAO compliant. Therefore you will still need to apply for visa.
So start planning your Japan trip now with AirAsia low fare promotions!
25 June 2013

Exemption of Visa for Malaysian Nationals holding biometric passport
with an embedded microchip that is compliant with
ICAO(International Civil Aviation Organization)standards starting from 1 July

1. From 1st July 2013, the Government of Japan has decided to abolish the requirement of short-term visa for Malaysian Nationals who hold ordinary biometric passports with embedded microchip that is compliant with ICAO standards(issued since February 2010) who wish to enter Japan for short-term stay.

However, this visa exemption only apply to Malaysian Nationals holding ordinary biometric passport with embedded microchip that is compliant with ICAO standards. Malaysian Nationals who do not hold ordinary biometric passport with embedded microchip that is compliant with ICAO standards are remain advised to obtain a visa to enter into Japan.

When you plan to visit Japan, please kindly check if your passport is a biometric passport with embedded microchip that is compliant with ICAO standards.

For checking method, click here.

2. In accordance with the above visa exemption, the duration of stay in Japan to be given to Malaysian Nationals at that time of entry inspection will be for maximum 90 days. (Those who plan to stay for more than 90 days or work in Japan, remain requested to obtain a visa as before.)

3. When you enter into Japan, your entry permit will be issued at the entry point by the Japan immigration (This is the same for those who enter into Japan with a valid travel visa). Please take note that you might be asked about your purpose of visiting Japan or requested to submit necessary documents (For example: Return flight tickets & etc.).

Please be aware that you might be denied entry if you are entering Japan for short-term stay but the total duration of your stay in Japan in a year exceeds 180 days.

4. If you have any enquiry, please contact the consular section of Embassy of Japan in Malaysia at the phone number below.

Consular Section, Embassy of Japan in Malaysia Tel: 03-2177-2600

Source : Embassy of Japan in Malaysia
Comments
comments