FitnessFirst Uptown
I received SMS and Email from FitnessFirst informing me that "Fitness First Damansara Uptown CLOSED on 16/12/07 (Sunday)"
Please be informed that there will be electrical calibration work by Damasara Uptown building management on 16/12/07 (Sunday) from approximately 9am-5pm. Hence, there will be a Total Power Outage during this period.

Due to Health and Safety reasons, the Damansara Uptown club will be Closed on this day.

Fitness First Damansara Uptown Home members are welcome to visit any other Fitness First clubs on 16/12/07 to enjoy their workout.

We apologize for any inconvenience this may cause.

Thank you.
So if you are FitnessFirst Uptown Home members, do informed that and go to other FitnessFirst clubs and enjoy yourself =)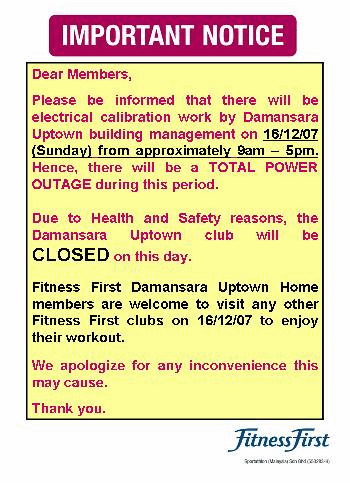 Comments
comments