When I signed up the mobile phone contract with my telco provider, I've always thought that the relationship will be a simple one where I pay for the telco service and the mobile network provides it. But problem arise when things go wrong such as not being able to make phone calls or send SMS or sometimes unable to use the Internet. That is when I realized how important it is to choose the right telco provider.
There were few instances where I got really mad coz of the network issues, to the extent that I thought of terminating my telco line. I'm gonna give two examples of what really happened:-
Scenario 1: I was answering an important call and suddenly the call dropped and the worst thing is I couldn't call the person back.
Scenario 2: I was outside buying something and need to use the Internet to search for some info but I couldn't connect to the internet no matter how many times I tried.
When problems such as calls dropped, failure to connect to internet, couldn't send SMS and others arise, all I could do was to call the customer service of my telco provider to lodge complaints and vent out my frustrations. Most of the time, the usual reply I got from them was that the problems will be resolved but then it'll happen again. There are times when I got really tired and angry when the network issues happen again that I thought of terminating of line but I was told that I gotta pay termination fee. I was like WTF? And then they said that the contract which I signed has that term. I was like WTF again! *bangs my head to the wall for not reading the contract properly before signing
I stumbled upon Altelnativ by chance while browsing through the Facebook timeline. To be honest, the name "Altelnativ" sounds like 'Alternative' and also sound like the mobile phone brand 'Alcatel'. Out of curiosity, I clicked on their Facebook Page to check what is it all about.
Altelnativ is a campaign by Altel, one of the latest telco provider in Malaysia. Altelnativ provides a platform for all mobile phone users to voice out their opinions, suggestions or dissatisfactions about their current telco experience.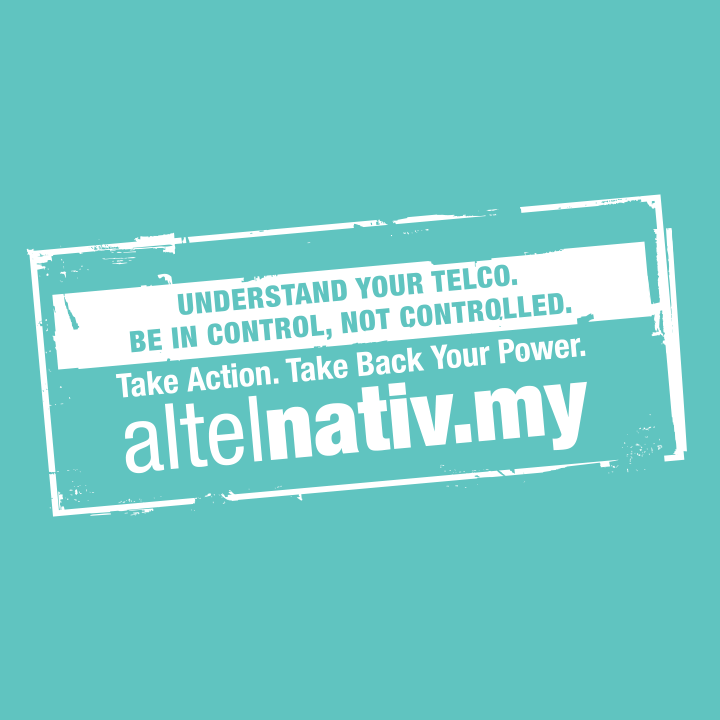 Altelnativ is a platform for Malaysian telco users to vent their anger and frustrations against any bad telco service or bad telco experience they faced from their telco provider.
But Altelnativ is more than just a place to let out your frustrations coz there's a whole lot of other cool benefits too:D
Benefits of Altelnativ:
Community
There's a lively forum for all mobile phone users to ask, share, exchange and receive useful telco advice. If you want to know something just ask or if you think you can help someone else, share with them your knowledge. Basically, the forum is a move to start getting the most from our telco and be in control instead of letting our telco controlling us.
Rewards
The more you share, the more rewards you get! Points will be awarded to active and helpful forum members who offer help to other members. The points can be accumulated which can then be redeemed for cool awards such as movie tickets, free credit, tech gadgets and more.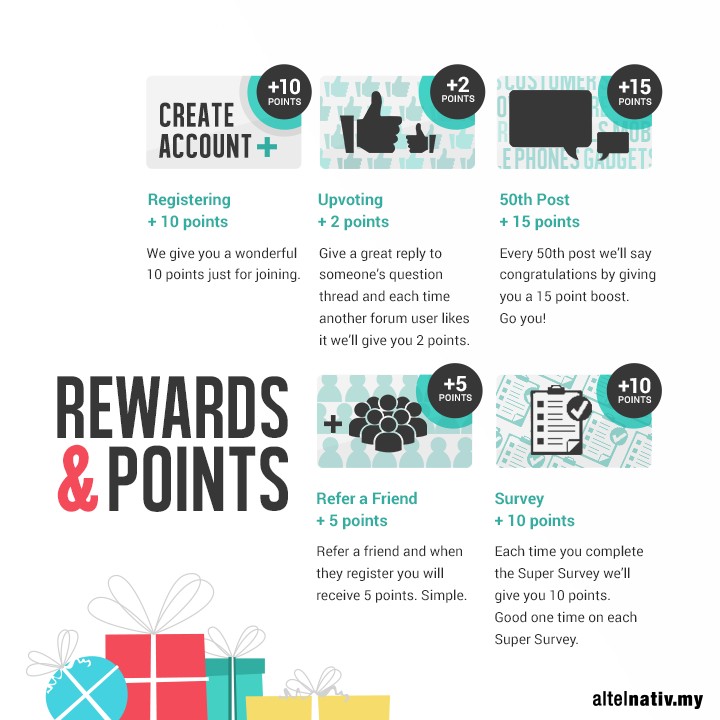 ● Register into Altelnativ forum and receive 10 points.
● Refer your friend and receive 5 points when they register a forum account.
● Every 50 forum posts you make, you will receive 15 points.
● Get your posts upvoted and earn points too.
Be Heard
Do you know that all your amazing feedback and suggestions will be used to develop new telco packages? Hence, voice out and say what you want coz this is the chance for you to get the telco package you've always wanted 🙂
Forum Fun
The discussions in the forum is not all about telcos only. Join other forum members and talk about topics like consumer electronics, food, entertainment, sports and more.
Super Surveys
Take part in the Super Survey consisting of simple questionnaire which is available soon on the site.
So what are you waiting for? Log on to www.altelnativ.my to register an account AND get all your mobile service problems solved at the same time! Check out Altelnativ.my now to know more and share your complaints or questions or even knowledge with us and be rewarded as the same time. If you would like to know the latest news, updates or events, check out their Facebook Page atAltelnativ FB
Comments
comments