In this modern Internet world, computer is an important device for everyone to perform their daily task and activity whether it's web surfing, business work, social networking, check emails, video chat, playing games or others. In the olden days, desktop PCs used to be really heavy, bulky, loud and tend to occupy most of your desk space. Today, things has definitely changed for the better. Gone are the days of heavy and bulky desktop PCs as Intel's innovation of a small desktop PC called Next Unit of Computing (NUC) has redefined the computer desktop.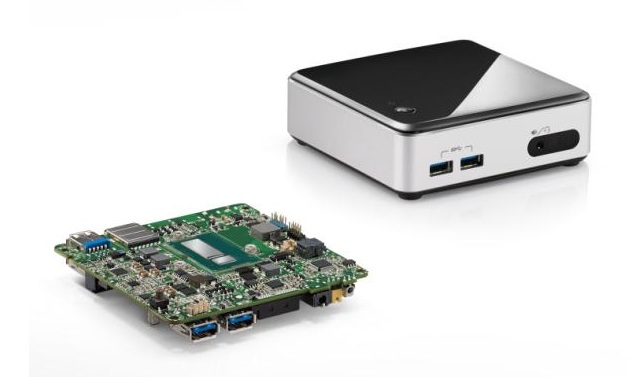 Intel Next Unit of Computing (NUC) is a tiny but mighty computing device. This Intel NUC is small in size but big on performance.
The Intel Next Unit of Computing (NUC) which measures 4-inch by 4-inch is an ultra-compact form factor PC that can serve as Gaming Machine, Home Theatre PCs, Media Servers or even as "Personal Cloud" Storage. Anything your tower PC can do, the Intel NUC may too and in 4 inches of real estate. From home theater to gaming to running a digital jukebox, the Intel NUC has what you need to power your digital potential. With Intel NUC, it's possible to browse social media, check e-mail, and video chat with a friend while keeping your home space uncluttered. The Intel NUC suits end users and is also the perfect solution for business applications that deal in digital signage and kiosks.
Think you know what small can do? Think again and you'll be amazed because Intel's Next Unit of Computing (NUC), is a powerful computer that's packed with exciting applications.
1) Mainstream Gaming Experience to Home TV
Intel® NUC allows gamers to bring their mainstream gaming experience into the living room. With its ample graphics performance, the 4th generation Intel® CoreTM i3 processor on a 4-by-4 inch board and enclosed in a tiny case, can power your mainstream, casual, and indie game catalogue from the couch. What once was an experience only to be had on the small screen of your desktop or laptop can now be realized into a full living room gaming and entertainment experience on your big-screen HD TV.
Intel NUC will fit seamlessly into your current living room setup with its small size, quiet performance, and HDMI connectivity. With services such as Big Picture Mode from Steam, which brings the Steam catalogue of hundreds of games on to your living room TV, the options for a mainstream gaming machine in the living room are extensive. Coupled with a wireless game controller, Intel NUC can provide a portable and powerful experience made possible with Intel® technology.
2) Home Theater Solution
Intel® NUC can be used to build a low-cost high-performance Home Theater PC using the Linux* Mint operating system and the XBMC media center application. Using these components, the end-user will be able to take advantage of Intel NUC's small form factor, low-power, and powerful performance, while enjoying the benefits of open source software in this segment.
3) Media Production
Intel® NUC delivers stunning visuals and edge-of- your-seat performance in an ultra-small package. Powered by a visibly smart 4th generation Intel® CoreTM i5 processor on a 4-by-4 inch board and enclosed in a tiny case, Intel NUC is big on performance yet surprisingly small in size. It's an ideal form factor that can be easily transported to the studio, while packing the horsepower to record, mix, create, and play back amazing audio and video content. Intel NUC is the definitive crowd-pleaser for today's prosumer.
Intel's Next Unit of Computing (NUC) are changing the way companies do business. Powered by Intel processors on a four-by-four-inch motherboard and enclosed in a tiny case, the intelligent device is the perfect solution for business applications such as digital signage and customer service kiosks. Imagine a computing device which is powerful enough to produce stunning visuals with responsive performance. The Intel NUC is small enough to drive digital signage, kiosks, or power other applications in a tight space. Best of all, Intel NUC is low-cost and requires very low power consumption which is ideal for businesses.
As an end user myself, I really love this intelligent and powerful Intel NUC device as it's hard to find a desktop as small as the NUC but can offer so much power. The tiny size of Intel NUC requires just 4 inches of space. It's basically not bigger than an external portable hard drive which makes it easy for me to bring around. Not only the NUC is a powerful computer device, it also performs as a powerful Home Theatre PC (HTPC) that will be able to turn any connected TV into a powerful entertainment device, from streaming content to playing casual games. That simply means I can play games or watch movies on my couch at the living room 😉
This Intel NUC is seriously an awesome device. It comes with a small size that fits easily in your hand but is extremely powerful, low-cost, low power consumption and requires very little space.
For more information on the Intel Next Unit of Computing (NUC), please refer to Intel's website at www.intel.com/nuc
Comments
comments