Intel launches an all-new PC refresher campaign – "Generation Today" : Offering an Experience of A Lifetime
Intel launches an all-new PC refresher campaign – "Generation Today"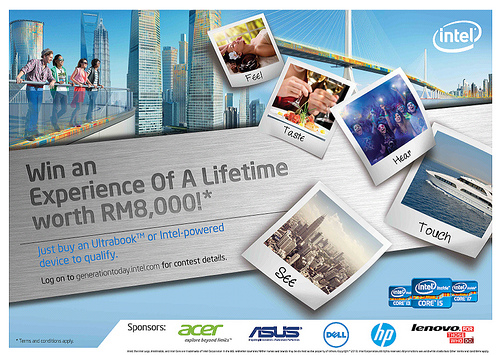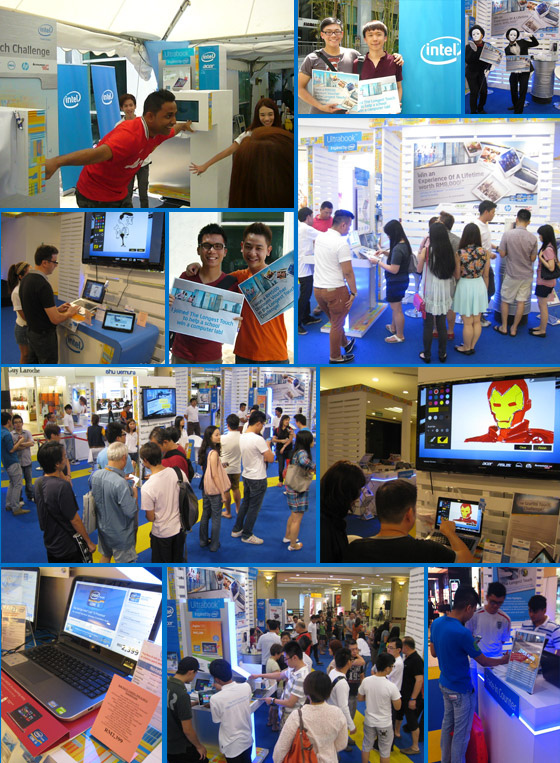 The Generation Today roadshow main focus is to encourage consumers to upgrade their PCs and have the best touch computing experience powered by Intel products with latest technology and to replace the olden day's machine.
Intel named it as "Generation Today" because nowadays the technology is so advanced and everything we do daily is also somewhat related to computer and the older PC that couldn't cope with the fast pace now need to be refreshed with the new technology!
There will be nationwide roadshows, with ecosystem partners, across 14 cities in Malaysia to feature a wide selection of touch-enabled Ultrabooks, convertible tablets and laptops powered by Intel.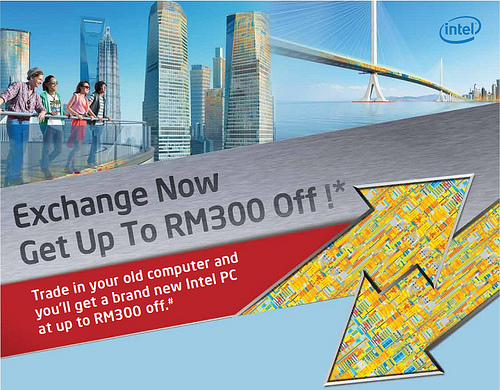 Intel will also offer trade-in deals at the roadshows where consumers who are interested to upgrade to the latest Intel-powered devices will receive rebate vouchers of up to RM300 for trading in old Intel-based desktops or laptops of any brand; the participating partners include Acer, ASUS, Dell, HP and Lenovo.
Catch Intel® roadshow now as you will get double instant rewards totalling up to RM600. Trade in your old working computer and get a brand new Intel® PC at up to RM300 off, plus receive AEON voucher worth of RM300 with terms and conditions apply
The Longest Touch Challenge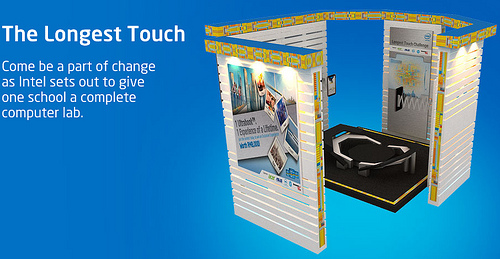 In The Longest Touch, participants will have to stretch their arms to reach out to two touch screen surfaces. Participants are required to push two panels as far apart as possible, if they hit a certain length, they will be rewarded with attractive cash vouchers! If 10,000 participants join the Longest Touch, Intel will present one lucky school a complete computer lab! Get rewarded and participate for a good cause!
Graffiti Touch Challenge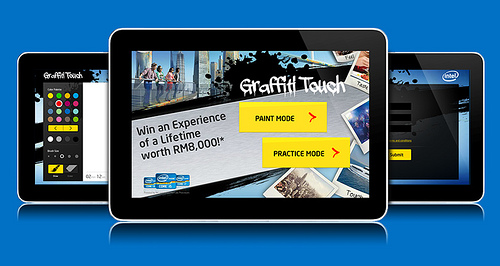 Participants are required to design and draw graffiti within 5 minutes! The top 2 participants submission who design the most creative, original, appealing artwork shall each win one Grand Prize. Each Grand Prize comprise of one Asus Fonepad. The first 500 who complete their graffiti in the most creative, original and appealing design will win a prize! Are you creative enough?
Unlock The Ultrabook Challenge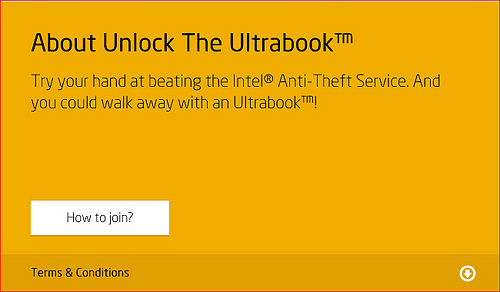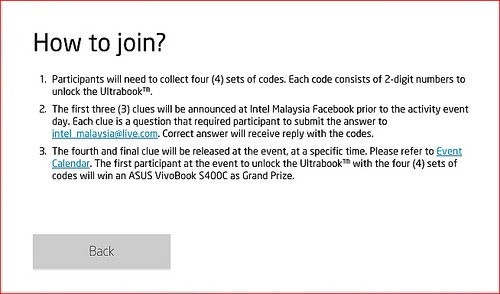 Try answering the below questions and get your final clue at Asia Cafe SS15, Subang Jaya on 14th June 2013, Friday, 5pm:
1. When was the Intel® Anti-Theft Service launched in Malaysia?
2. What is the first 7 inch tablet with phone feature that uses Intel® processor?
3. What is the name of the Intel® 4G LTE modem?
All you have to do is sent in your answers to [email protected] now to get the codes and visit their event to get the final clue that will be released at 5pm! It sound simple right this challenge?
Participants are required to unlock an Ultrabook™ device which has been placed in a locked state using the Intel® Anti-Theft service by getting the four codes from all the four clues given. The first person to unlock the Ultrabook™ that has been placed in the locked state will win an Ultrabook™! While the next five winners gets to walk away with 1 year free subsricption of IATS, so try as hard as you can and get creative to unlock the device! You are permitted to access all the ports of the Ultrabook™ to attempt to unlock the Ultrabook™! So show me your power! :p
Experience Of A Lifetime Contest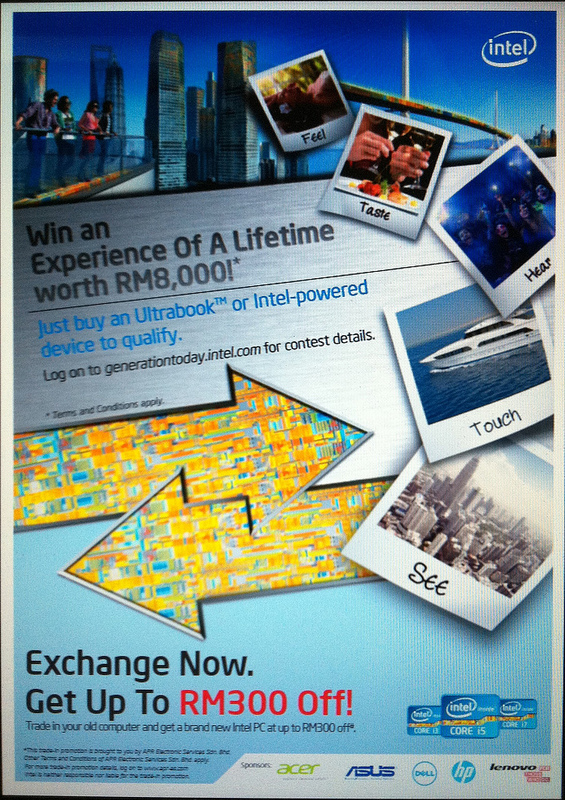 When you buy an Intel-powered devices during the roadshow and at any participating outlets, you are able to join this contest by filling in the contest form and complete with a most creative slogan, "Ultrabook is whole new experience for me, because…"
It's that simple right? If you are that creative and yes! The top 5 contestants who have the most creative, original, exclusive and appealing slogans will win an exclusive experience of a lifetime worth RM8,000! That's not a chance to be missed!
Prizes: 5 x Experience of Lifetime worth of RM8,000
Contest Period: 18 May – 30 June 2013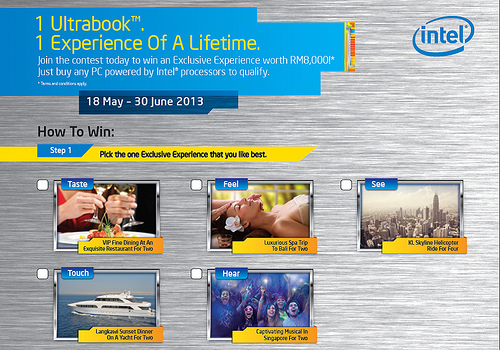 You can choose from the following options:
1) Taste – VIP fine dining at an exquisite restaurant for twin in Kuala Lumpur.
2) Feel – Luxurious spa trip to Bali for 2, including 2 nights hotel accommodation, return flight tickets and one spa session.
3) See – Kuala Lumpur skyline helicopter morning sightseeing tour for four, including 1 night's accommodation!
4) Touch – Langkawi sunset dinner on a yacht for two, including 2 nights hotel accommodation, 2-way transfer to airport, diner package on yacht and return flight tickets!
5) Hear – Captivating musical show tickets in Singapore for 2, including 1 night hotel accommodation and return flight tickets.
Generation Today roadshow have a line up of roadshows from 22nd May till 30th June 2013 with exciting Activities line up.
No
Venue
Exact Location
Event Date
Day
Event Time
1
Asia Café
Area facing INTI Subang
14-Jun
Fri
11am – 8pm
2
TAR University College
Red Brick
17-Jun
Mon
9am – 6pm
3
Kolej IACT
Student common area
19-Jun
Wed
9am – 6pm
4
Publika
West Gate
(Nearby Plan B)
21-Jun
Fri
10am – 10pm
5
Sunway Giza
Ground Floor – Central Boulevard
(in front of Baskin Robbins)
28-Jun
Fri
10am – 10pm
Check out the official site : Generationtoday.intel.com
Follow me on Facebook, Twitter, Instagram for more live updates!
Facebook : https://www.facebook.com/smartkong
Twitter : https://twitter.com/saimatkong
Instagram : http://instagram.com/saimatkong
Comments
comments