Big Apple Donuts & Coffee vs J.Co Donuts & Coffee
Written on January 9, 2008 – 12:38 am | by saimatkong | 25,342 views

Have you tasted the famous donuts from Big Apple or J.Co? They are very famous for donuts and a lot people are dying for it. The queue is damn long I tell you and the queue is never ending. From morning till night and till they close shop also got people queuing. Which donuts taste better? Big Apple Donuts & Coffee vs J.Co Donuts & Coffee!
Personally I had never try both of the donuts yet coz the queue is killing me so I have not tasted any of their donuts yet. I really really want to try out how good the donuts taste as I heard a lot people said it's nice and taste good. It's soft too. Might try one day or who kind enuff to spend me eat? =)
I want to eat DONUTS!!!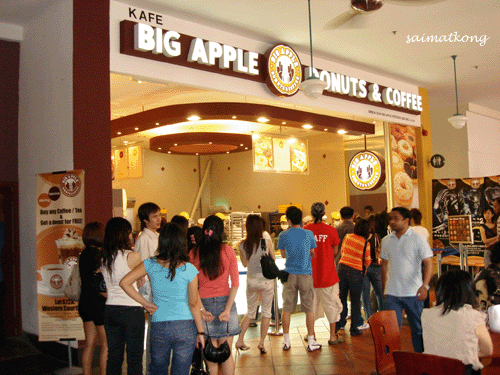 Big Apple Donuts & Coffee Outlets
Lot G72A, Ground Floor
The Street
Western Courtyard
The Curve
Mutiara Damansara
Petaling Jaya
Tel No: 03 – 7726 4250
1Utama Shopping Complex
Lot No: S247A
Location: Second Floor (Near A&W, Burger King)
Zone: Rainforest
Latest @ ??? NiuZeXui, NZX @ Ara Damansara
-The Gardens, Mid Valley
-Pavilion, Bukit Bintang
-Tesco Extra (Cheras)
-Jusco (Seremban 2)
-Jusco (Bukit Tinggi)
a lot coming soon…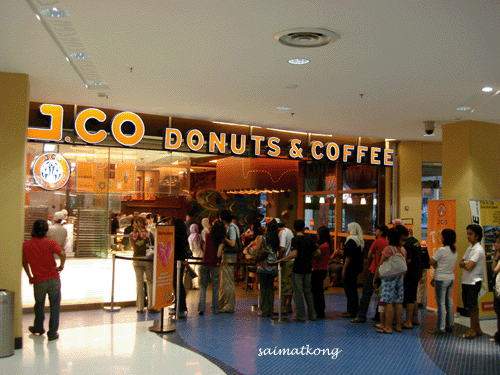 J.Co Donuts & Coffee Outlets
J.Co is originated from Indonesia
Pavilion, Bukit Bintang
Tel No: +603-21417761
Sunway Pyramid
Tel No: +603-5634077
Fax: +603-56340177