New Year's Eve Countdown Celebration @ 1 Utama
Written on December 28, 2007 – 12:00 am | by Saimatkong Tian Leong | 6,382 views
Where to countdown to year 2008 this time? Where to see nice fireworks? Plan ahead to avoid jam and avoid all the hassle. Here's one of the New Year's Eve Countdown Celebration @ 1 Utama. Be there early and see you there!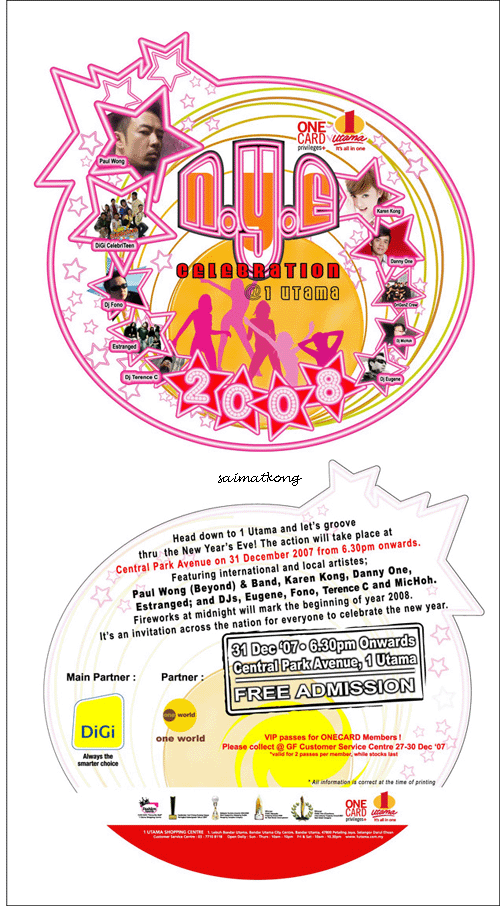 N.Y.E Celebration @ 1 Utama
Featuring International and Local Artistes include: Paul Wong, Digi CelebriTeen, DJ Fono, Estranged, Dj Terrence C, Karen Kong, Danny One, Dj MicHoh, Dj Eugene …
Head down to 1 Utama and let's groove thru the New Year's Eve! The action will take place at Central Park Avenue on 31 December 2007 from 6.30 onwards. Be there early to avoid traffic jam =)
Fireworks at midnight will mark the begining of year 2008. Bye bye year 2007!
It's an invitation across the nation for everyone to celebrate the new year.
VIP passes for ONECARD Members! Yes I'm one of the ONECARD member =p
Please collect @ GF Customer Service Center 27-30 December 2007