The Mid-Autumn Festival is the second most important celebration for the Chinese after Chinese New Year. It's the time to have gathering with family members. And Mooncake Festival is incomplete without eating mooncakes.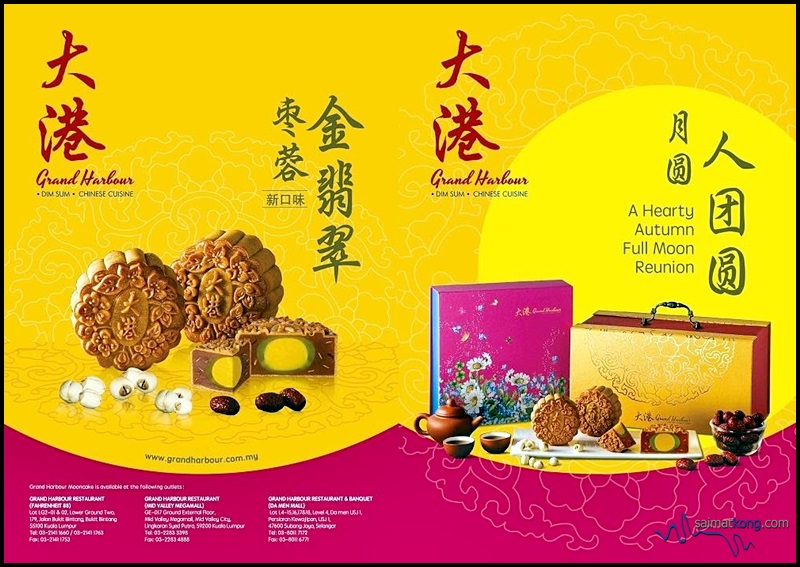 This year, Grand Harbour offers twelve varieties of hand-crafted mooncakes, both traditional and snow skin mooncakes with one new flavour; Golden Emerald Dates mooncake.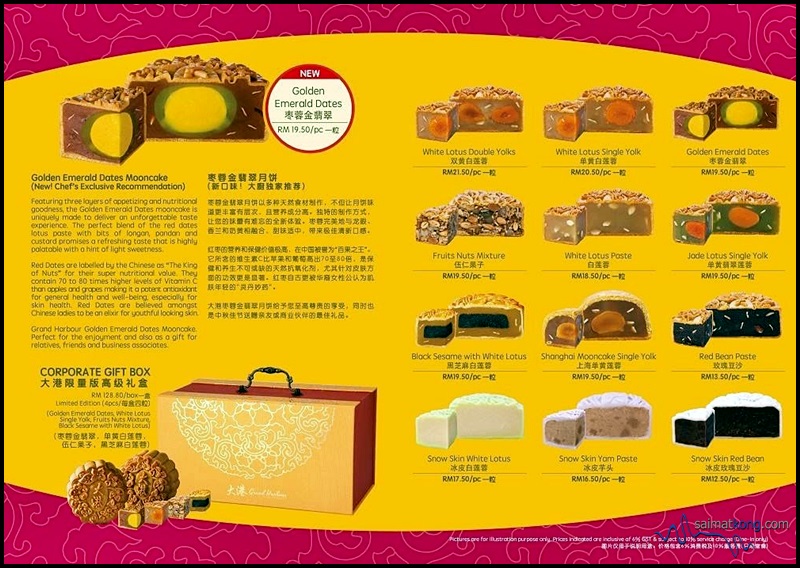 Classic favourites include White Lotus Double Yolks (RM21.50/pc), White Lotus Single Yolk (RM20.50/pc), Fruits Nuts Mixture (RM19.50/pc), White Lotus Paste (RM18.50/pc), Jade Lotus Single Yolk (RM19.50/pc), Black Sesame with White Lotus (RM19.50), Shanghai Mooncake Single Yolk (RM19.50/pc) and Red Bean Paste (RM13.50/pc).
There are three varieties of snow skin mooncakes which include Snow Skin White Lotus (RM17.50/pc), Snow Skin Yam Paste (RM16.50/pc) and Snow Skin Red Bean (RM12.50/pc).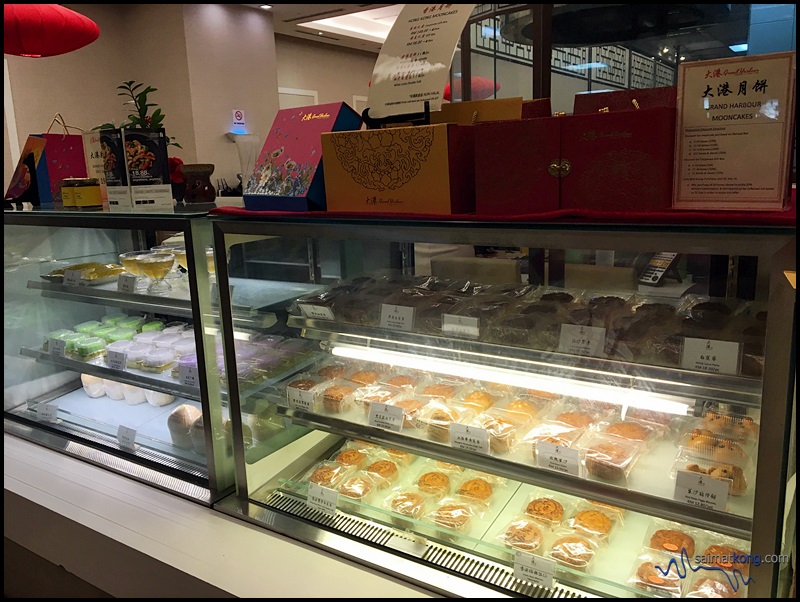 The mooncakes can be purchased from the Mooncake Counter at all their outlets at Fahrenheit 88 KL, Mid Valley KL and Damen USJ.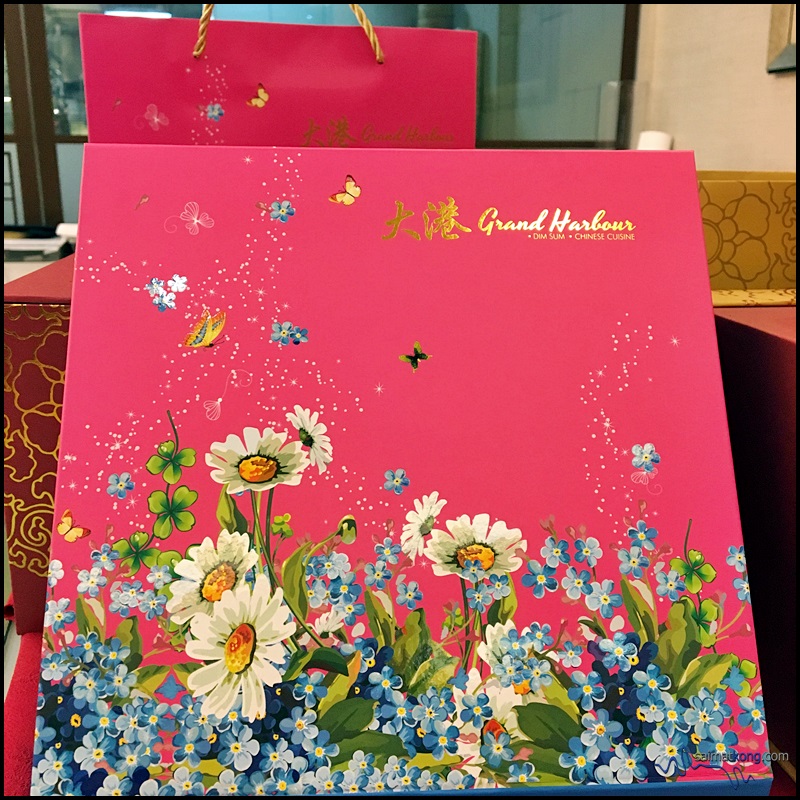 The mooncakes are presented in simple box packaging in bright hues of pink and blue.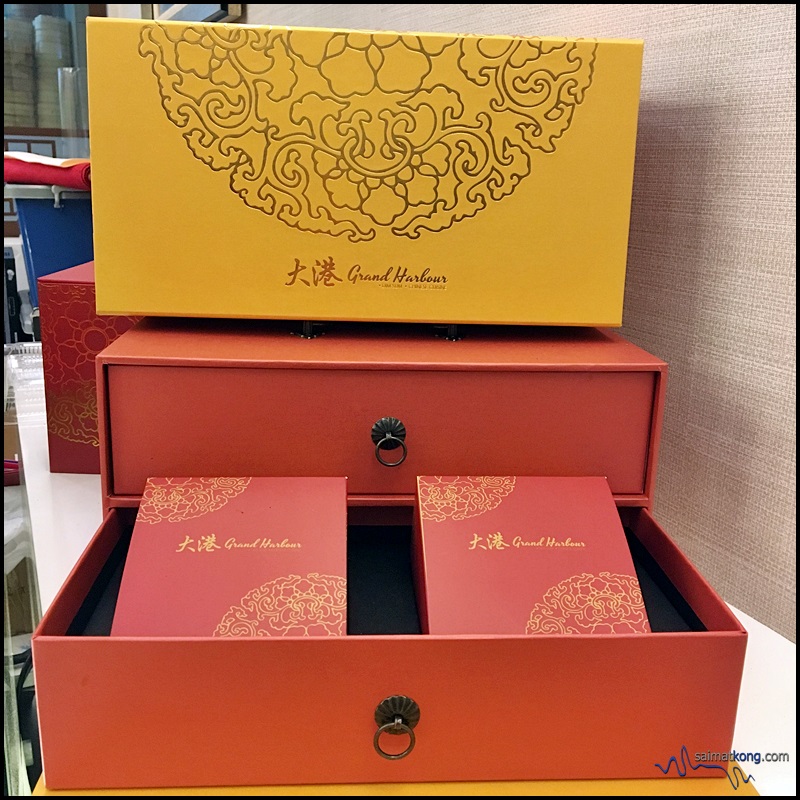 Alternatively, you can get the sturdy and limited edition Corporate Gift Box (RM128.80) which makes an ideal gift for business associates, family and friends. The Corporate Gift Box contains four of their top signature flavours which includes Golden Emerald Dates, White Lotus Single Yolk, Fruits Nuts Mixture & Black Sesame with White Lotus.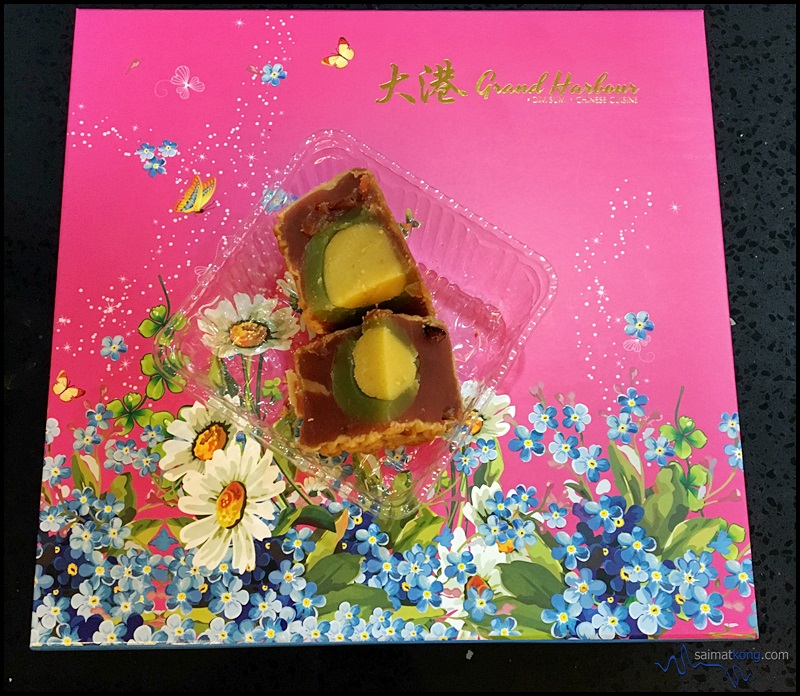 Golden Emerald Dates Mooncake RM19.50/pc – When I opened the packaging, I could smell the aroma of red dates. The Golden Emerald Dates Mooncake is Grand Harbour's new flavour featuring three layers of fillings; red dates lotus paste and longan bits, pandan paste and custard. Red dates (红枣) are known for their antioxidant properties and is labeled as the herbal elixir for youthful looking skin. The filling was moist with a lingering taste of red dates and small bits of longan which were added in for the texture.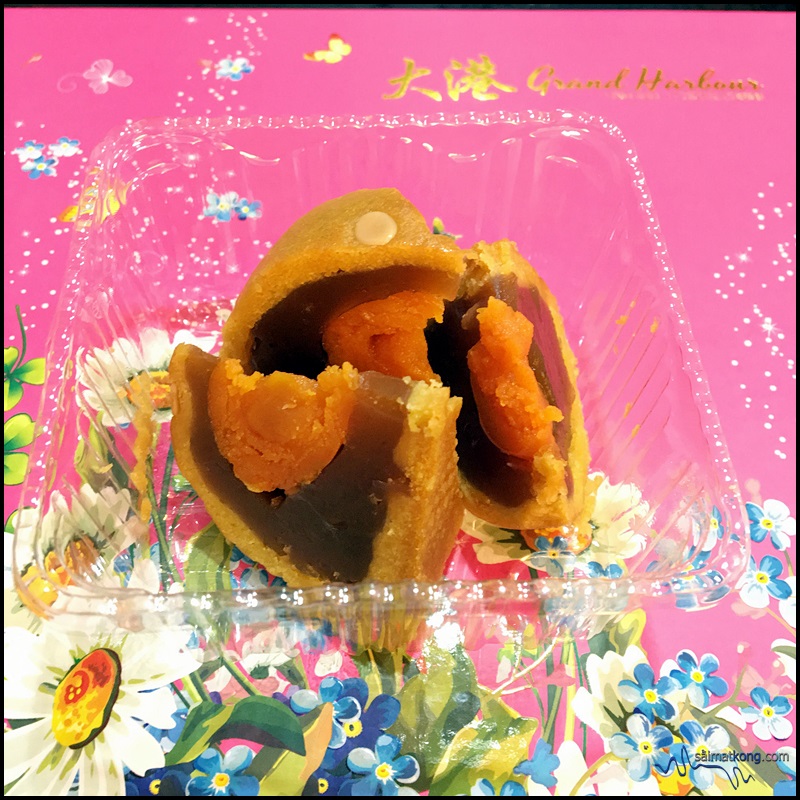 Shanghai Mooncake Single Yolk (RM19.50/pc) – If you're a traditionalist like me, you have got to try this baked Shanghai Mooncake Single Yolk with buttery pastry. It has a smooth lotus paste filling with luscious egg yolk.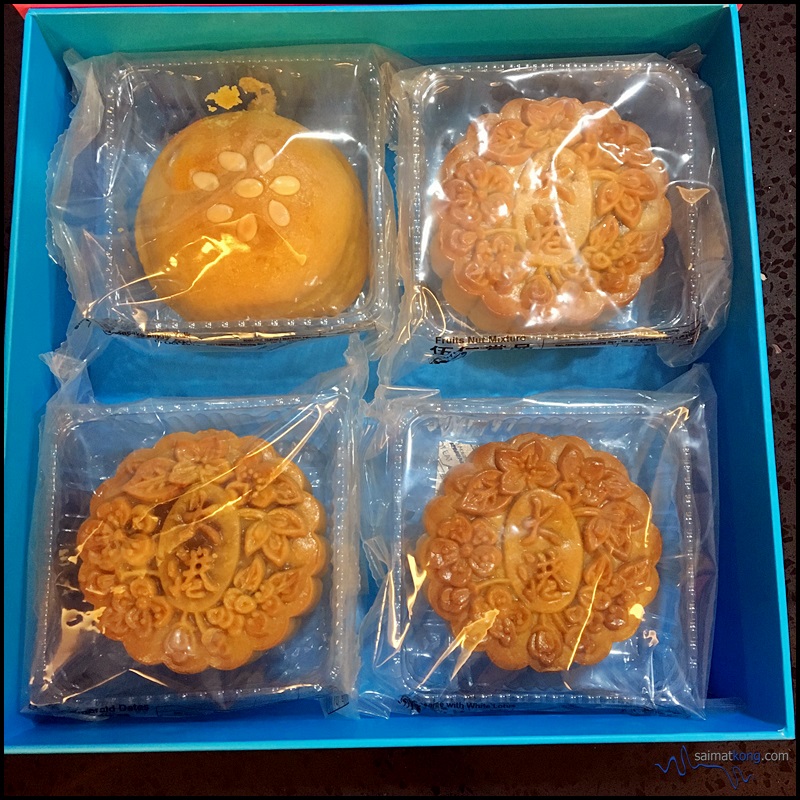 Other recommendations include Black Sesame with White Lotus and Fruits Nuts Mixture. The Black Sesame with White Lotus is not overly sweet and perfect to go with cup of tea.
If you would like to get these Grand Harbour mooncakes as gifts for your family or friends, you still have about a week plus from now to choose and purchase as the mooncakes are available until 15 September.
To get your hands on these delectable mooncakes from Grand Harbour, do visit their following outlets:-
Grand Harbour Fahrenheit 88 KL
Lot LG2-01 (01) & LG2-01 (02),
Lower Ground Two, Fahrenheit 88,
179, Jalan Bukit Bintang,
55100 Kuala Lumpur, Malaysia.
Contact: 03 – 2141 1763 / 2141 1660
Email: gh.f88@grandharbour.com.my
Grand Harbour Mid Valley KL
Lot G (E)-017, Ground External Floor,
Mid Valley Megamall,
Lingkaran Syed Putra, 59200 Kuala Lumpur, Malaysia.
Contact: 03 – 2283 3398
Email: grandharbour.mv@gmail.com
Grand Harbour Damen USJ
Lot L4-15,16,17 & 18,
Level 4, Da:mén USJ, 1,
Persiaran Kewajipan, USJ 1,
47600 Subang Jaya, Selangor.
Contact: 03 – 8011 7172
Email: gh.damen@grandharbour.com.my
—
You can subscribe to
my blog, follow me on Facebook, follow Instagram, follow Twitter and Youtube for more updates!
—
Comments
comments